This post may contain affiliate links meaning that, I may make commission if you purchase through my links. Learn More. 
These self-love poetry books use the power of art and words to create deep and meaningful pieces to inspire self-love, acceptance, and confidence.
Finding true, deep self-love is something that so many of us struggle with.
Whether we are unsatisfied with our physical appearance, feel insecure about who we are and what we are doing, struggle with comparison to others, or face something else entirely – the challenge to cultivate self-love is something we all face.
Ironically, discovering self-love is also one of the most important things you can do for yourself and your life.
But how? Words.
Words are one of the most powerful tools we have. The emotion, capacity, and healing abilities of words can change your life.
When words become art in the form of poetry, they have the potential to evoke deep emotional and mental enlightenment and transformation.
In a society obsessed with comparison, self-doubt, and profiting off of insecurity, choosing to remain committed to a practice of deep self-love is brave, bold, and world-changing.
By adding these poetry books about self-love into your life, you can begin transforming how you think, see, and feel about yourself – from the inside out.
Here are 12 of the best self-love poetry books to help guide you on this journey toward uncovering your truest, happiest, most beautiful self.
12 Deep & Meaningful Poetry Books about Self-Love
Self-Love Notes by Michelle G. Stradford is a beautiful collection of poetry, quotes, and affirmations all about uncovering your truest self – and loving that self fully.
This book is divided into 3 sections, 'Worth, Vision, and Uplift', each focusing on a unique area of healing and self-love.
This book is perfect for anyone who struggles with self-doubt, seeks to unlearn negative self-talk, or battles a pesky inner critic. Overcome the things holding you back from unconditional self-love with this beautiful self-love poetry book.
Rupi Kaur has climbed her way to the top of the poetry charts more than once.
Starting with her first book, Milk and Honey, Rupi has gone on to create two more poetry books and a DIY guided poetry journal that are equally as beautiful as the first.
Rupi's third book, Home Body, is deeply focused on the self.
Healing, growth, reflection, potential, and self-acceptance are all recurring themes in Rupi's third published masterpiece, making it the perfect poetry book for self-love, confidence, and compassion.
Morgan Harper Nichols is one of the most gifted poets and artists in today's world. Sonwriter, musician, mixed media artist, poet, writer, and all-around creative, Morgan Harper Nichols focuses on connection – both with the self and with others.
All Along You Were Blooming is a remarkably beautiful book, visually and emotionally.
In this self-love poetry book, MHN explores the mind, heart, body, and soul as a way to cultivate self-knowing, respect, and deep love.
I have read this book 4 times now… and each time it inspires me in new ways. Truly a remarkable piece of art.
Just as the title suggests, this is the perfect poetry book for self-love. This book has a unique layout that makes it even more special.
This book, titled Self Love Poetry: For Thinkers and Feelers, features poems for the logical/analytical "thinkers" AND for the creative/emotional "feelers". The left side of the book features the literal "thinker" poems, while accompanied by a related "feeler" poem on the right side.
This special layout adds to the specialty and value of this beautiful collection of self-love poetry.
All of these 100+ duo poems in Self-Love Poetry explore authenticity, surrender, resilience, gratitude, and believing in yourself, with the central theme of self-love.
Beautifully and thoughtfully written, this self-love poetry book is healing and therapeutic for a self-love journey.
Exploring self-worth and personal growth, Healing for No One But Me is a collection of poems about overcoming pain, uncertainty, mental illness, grief, and tough times.
Jennae Cecelia's poetry inspires feelings of empowerment and serves as a reminder that, no matter how hard life can feel, you are never alone.
If you are focused on healing yourself and your life, this is the perfect self-love poetry book for you. For times of transformation and immense growth, this book is there for you.
Chidera Eggerue combines poetry, prose, and visual art to create the ultimate self-love poetry book.
The main messages of this book are threefold:
Learn how to celebrate YOU decide your self-worth, take time to heal, and empower yourself in this messy world.
Don't worry about THEM avoid other people's demons and realize that everyone is protecting themselves from something no matter how aggressive their method is.
Feel the togetherness in US sustain and grow healthy relationships and avoid toxicity in your friendships.
If you are seeking empowerment, confidence, and a renewed sense of self-worth, What a Time to Be Alone is the book for you.
Softening Time combines memoir, self-help, inspiration, and poetry into one beautiful self-love poetry book.
Brower draws on her own lived experiences and positions in life. With this focus on her own life, she writes about messages surrounding love, loss, grief, healing, and rebirth.
Softening Time highlights the power of inner work for uncovering a deeper, truer, freer, and happier you.
This is a uniquely beautiful poetry book that can help connect us to our own humanness and inspire us to heal.
Blooming: Poems on Love, Self-Discovery, and Femininity (To the Moon and Back) is a deeply powerful and insightful poetry book for self-love, inner beauty, personal growth, and mental health.
This collection of poetry focuses on turning inward in search of true joy, peace, happiness, and love.
With an emphasis on the self, Blooming inspires positive change in your life through uplifting poetry, positive affirmations, encouraging words, beautiful artwork, deep emotion, and meaningful messages.
If you are seeking a book to evoke a wide range of emotions, this is the one for you.
Petals of Courage by Anne Raynoe is titled as 'A Poetry Book For Women About Self-love, Healing, and Rediscovering Oneself'.
This self-love poetry book is for any woman who is looking to heal, discover herself fully, and learn to appreciate all that she is.
The poems in this book are inspiring and empowering while being raw, honest, and vulnerable, too. Raynoe's balance between feeling pain while finding courage and strength is beautifully done here.
Petals of Courage inspired me to take a breath, turn inward, prioritize myself, and embark on my own healing journey.
Self-proclaimed by the author as a "self-love poetry book", All of You is Welcome Here is a stunning, powerful, and healing collection of poems that will touch your heart deeply.
This book inspires you to get in touch with your emotions and learn to become comfortable with expressing your own humanity.
Through her poetry, Rami explores the deeply complex process of finding self-worth, strength, and self-love with the ultimate goal of finding a home within yourself.
This book feels gentle and soft while deeply powerful and strong. Rami's work is magnetic and magical, making this an absolute must-read for anyone seeking poetry for self-love.
Watering the Soul by Courtney Peppernell is a collection of poems regarding healing, personal growth, self-love, and hope.
Through the deep dive into pain, trauma, letting go, healing, and rising again, this collection is both empowering and emotional.
Letting go of the past is not something that comes easy, but this collection of poems helps remind us of the gifts of turning inward and pursuing true healing.
Yung Pueblo's first poetry book, Inward, explores the "movement from self-love to unconditional love, the power of letting go, and the wisdom that comes when we truly try to know ourselves".
Pueblo, author, poet, speaker, meditator, activist, and philosopher, uses the power of his word to encourage us to turn inward in order to find the deep love, knowledge, and happiness we all desire.
Inward is a (beautifully lyrical) reminder that healing, self-love, and a life free from the limitations of our own minds is possible.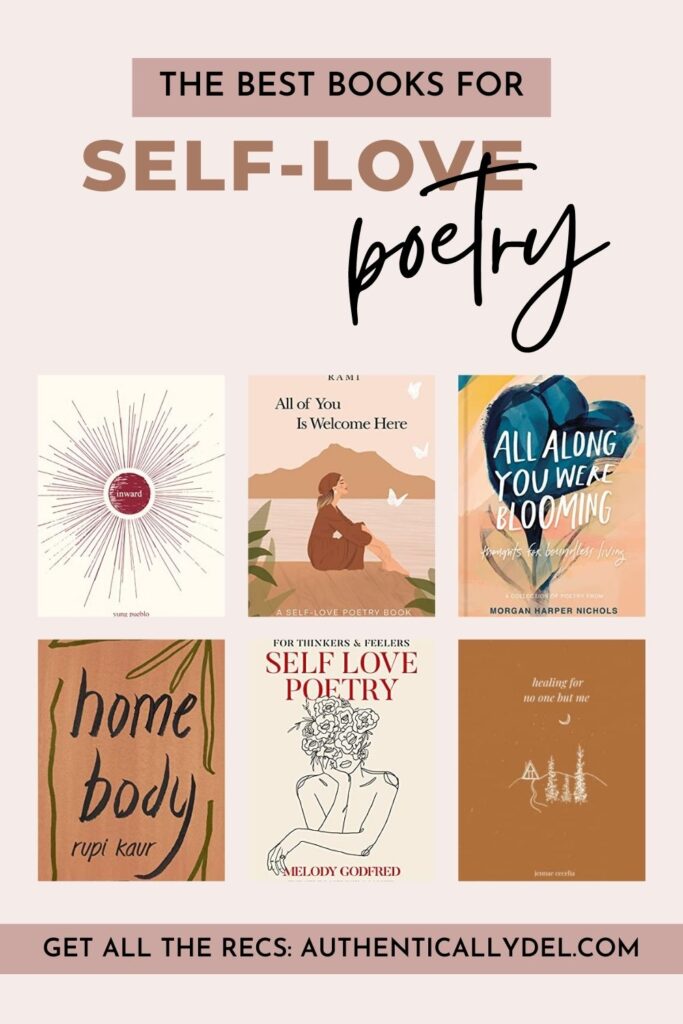 Finding the Best Poetry Books About Self-Love
What makes a poetry book a self-love poetry book?
This list of poetry book recommendations for self-love is all based around one central theme: connection to the self.
In a world that can often feel chaotic, overwhelmingly busy, and distracting, these poetry books are gentle inspirational reminders to foster your connection with yourself.
The relationship we have with ourselves is the most important relationship of our lives.
These poetry books all offer gentle encouragement, inspiration, and empowerment for your own internal relationship and self-love journey.
I hope you find as much comfort and safety in these self-love poetry books as I did.
What is your favorite poetry book? Who is your favorite poet? Leave a comment below letting me know!