This post may contain affiliate links meaning that, I may make commission if you purchase through my links. Learn More. 
Having a healthy relationship with yourself is such an important part of your life. Take yourself on these self-care solo dates to foster self-love and connect deeply with yourself.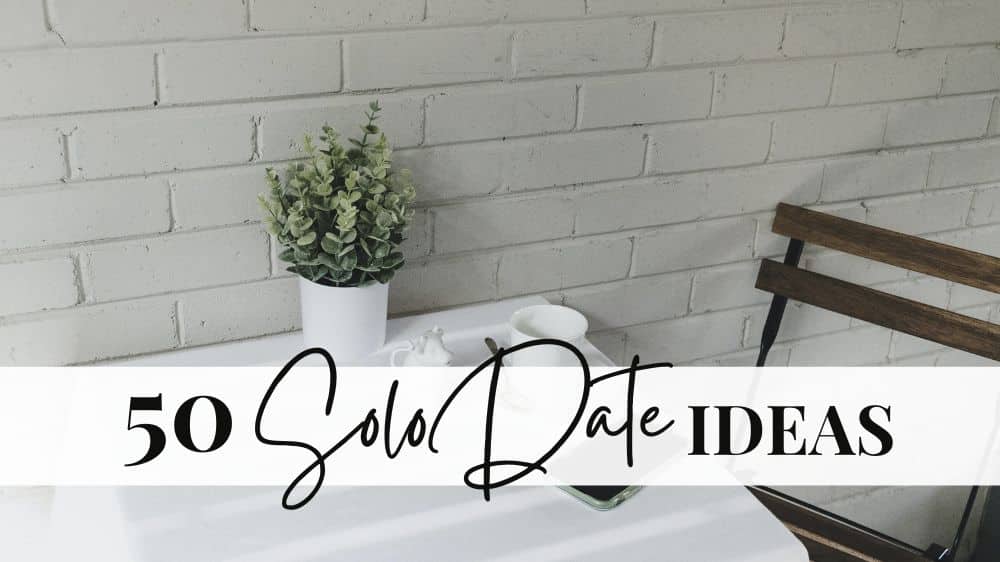 Sure, being in a relationship and going on dates with a partner is fun – but you don't have to have a significant other in order to enjoy a good date.
In a relationship or riding solo, you deserve to enjoy a good date.
You don't need a partner in order to explore new places or experience fun things. (In fact, sometimes things are even more enjoyable on your own!)
Dating yourself is such a fun way to strengthen your relationship with yourself, cultivate self-love, and have some fun.
This post is all about inspiring solo date ideas, how to date yourself, and why dating yourself is so important.
Ready to dive in?
Here are 50 unique, fun, and creative solo date ideas for you to try out.
50 Solo Date Ideas to Show Yourself Love
Want a solo date at home? I got you. Relaxing self-care dates? You'll find 'em here. Need something cheap? No problem. Completely free solo dates? You got it.
No matter what mood you are in, you're bound to find the perfect single-date activity here.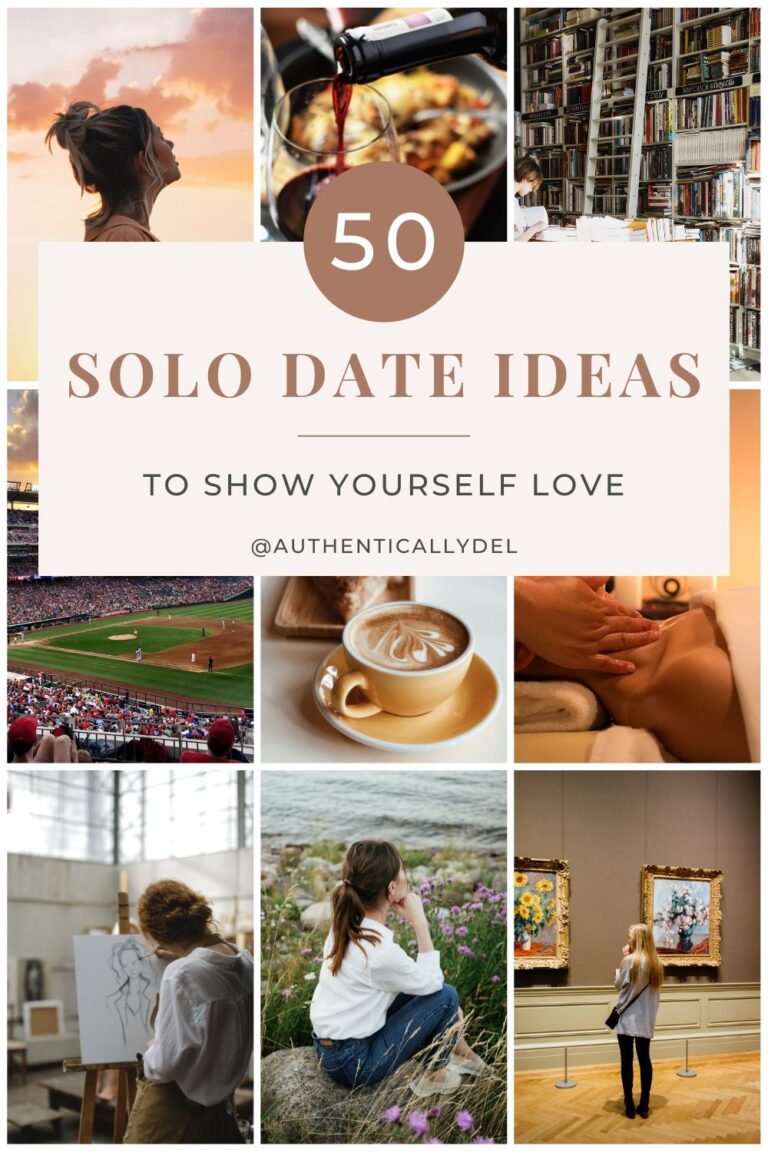 At-Home Solo Date Ideas
Here are some solo date ideas that can be done entirely from the comfort of your own home (aka – pants are optional).
1. Sip and Paint
Get yourself a paint-by-numbers kit or a fun freehand paint set and a canvas. Pour yourself a glass of your favorite wine (or non-alcoholic beverage!) and sip while you paint.
2. Start a New Book
Reading is one of my favorite ways to spend alone time. Nothing beats a relaxing night, a good book, and no one around to interrupt. Ahhh, sweet serenity.
Check out my reading posts or my favorite 5-star books if you're in need of some inspiration for your next read.
3. Take a Self-Care Shower
There are quick, get-the-job-done showers and then there are self-care showers. When done right, a shower can be a full, relaxing, self-care experience.
4. Have an Online Shopping Spree
Let's be honest. Treating yourself to something you've been wanting is a total mood boost. It's even better when you can do it from the comfort of your couch or bed.
Place an online order for that splurge item you've been eyeing for months now. You deserve it.
READ: 15 TESTED SPLURGE ITEMS ACTUALLY WORTH THEIR PRICE
5. Spice Up Your Space
Rearrange your bedroom, redecorate your living room, tackle a home-improvement project… do anything that will add joy to your living space! Make your home as happy and comforting as possible.
6. Bake a New Sweet Treat
Not only is baking a fun activity, but eating said baking is a great post-activity reward. Tackle one of those decadent dessert recipes that have been on your Pinterest board for years. Enjoy every bite.
7. Plan a Dream Vacation
Allow yourself to have fun with this. Create Pinterest boards, watch travel vlogs, check out fun sightseeing opportunities, make a dream trip itinerary… let your mind wander!
8. Have an At-Home Spa Night
Treat yourself to the whole ordeal. Manicure, pedicure, face mask, hair mask, etc. Pamper yourself on your solo date night at home. You deserve it!
9. Make Yourself a Special Dinner
Test out a new dinner recipe (or make an old favorite). A happy tummy is a happy life. Allow yourself to fully embrace the joys and sensations of good food. Food can be a self-care love language.
10. Have a Movie Night
Not just sit on the couch and watch a movie… have a full-blown movie night. Homemade popcorn (I adore my air popper for this), candy, sweatpants… heck, you can even make a fort if you want to!
Turn on a new movie or an old comfort film and enjoy your solo date night movie marathon.
11. Start a DIY Project
To Pinterest we go! Find a fun DIY project that you can tackle by yourself.
Some great DIY projects include:
making candles
creating artwork
building a birdhouse
card-making
painting pottery
knitting, crocheting, sewing
wreath-making
12. Have an At-Home Dance Party
Who says you need to go out to the clubs to have fun? Crank up some feel-good music, pour yourself a drink of choice (alcoholic or not!), and dance like nobody's watching. (Cause nobody is… another perk of being solo!)
13. Start a Blog
Whether it's simply a hobby blog (how mine started), a side-hustle (where mine grew), or something you want to make your full-time job (where mine is now), starting a blog is such a fulfilling activity that you can do 100% solo!
If you love to write, connect with others, share your story/passions, and create fun things, consider starting a blog. It's one of the best things I've ever done.
14. Start a Garden
Whether you start an indoor garden in your house or take to your backyard to plant some fresh seeds, gardening is the perfect relaxing, self-care solo date idea.
Get Fruit & Veggie Gardening Seeds Here
15. Snacks & Game Night
Make yourself a nice charcuterie board or set up an ice cream sundae bar and enjoy your snack with a fun solo game.
My Favorite Solo Games and Puzzles:
Free Solo Date Ideas
On a budget and looking for cheap or free date ideas you can do by yourself? Check these out.
16. Go for a Walk Outside
Get some fresh air!
17. Take Yourself on a Drive
Play some good music and just cruise!
18. Relax in Your Backyard
Something about the fresh air and natural light that is a total mood boost.
19. Go Window Shopping
Like shopping… but FREE! You get the excitement of getting up and out of the house to wander a store, but you can still stick to your budget. Doesn't get much better than that, right?
20. Attend a Local Street Fair or Market
Just wandering and looking at all the unique things is fun enough! No need to spend a dime.
21. Sit on the Beach
If you live near the water, take yourself out to just sit and enjoy the peaceful presence of the beach.
22. Pick Yourself a Bouquet of Flowers
Wander nature and pick yourself a flower or two to take home and add to your space. Such a great way to add some cheer into your life!
23. Write Yourself a Love Letter
When was the last time you wrote yourself a letter of appreciation? Now's the time to do it. Grab some pen and paper and write yourself something nice.
READ: 50 UNIQUE HANDWRITTEN LETTER IDEAS
24. Watch the Sunrise/Sunset
If you're a morning person, catch the sunrise. If you're a night person, wait for the sunset. These are two completely free shows of natural, breathtaking beauty and stillness.
25. Make a Solo Date Idea Jar
Grab an old mason jar or glass container and some paper or popsicle sticks. Write down some of your favorite solo date ideas from this list and put them in a jar to choose from later.
(Tip: color code these by category – free, at-home, outdoors, budget range, weather-dependent, etc.)
26. Go for a Run
Hit the road! Nothing like a good sweat to get those endorphins pumping.
27. Have a Digital Detox
Put the screens away. Take some time away from social media and mindless scrolling and focus your time and attention on caring for yourself. It's so good for your mind!
READ: 250 FUN THINGS TO DO INSTEAD OF BEING ON YOUR PHONE
28. Redeem Rewards Points or Gift Cards
It's technically free then, right?
29. Take Yourself on a Picnic
Pack yourself a picnic snack from home and head out to enjoy a solo picnic date!
30. Attend a Free Local Event
Check out what's going on in your community. Free dance class at the YMCA? Cooking class at a local bakery? Poetry class at a community center?
You may be surprised by the free solo date opportunities that are available to you in your city.
Fun & Adventurous Solo Date Ideas
Looking for something extra special and memorable for your solo date activity? Here are some out-and-about solo date ideas!
31. Visit a Museum
Take yourself on a date to a local museum. Wander leisurely and take it all in.
32. Play Tourist in Your Own City
Pick out all the fun spots of your city (or a nearby city) and have a full day playing tourist in your own home!
33. Go Wine Tasting
Wine, charcuterie boards, and your own company? Doesn't get much better than that.
34. Go to the Theatre
Whether it's a local movie theatre or a more grand performance theatre, getting out to catch a show is the perfect fun solo date idea.
35. Take Yourself Out to a Nice Dinner
Take the extra time to dress up and make yourself feel beautiful. This IS a fancy dinner date after all.
36. Go Secondhand Book Shopping
I adore secondhand bookstores. This is the perfect solo date for my fellow book lovers.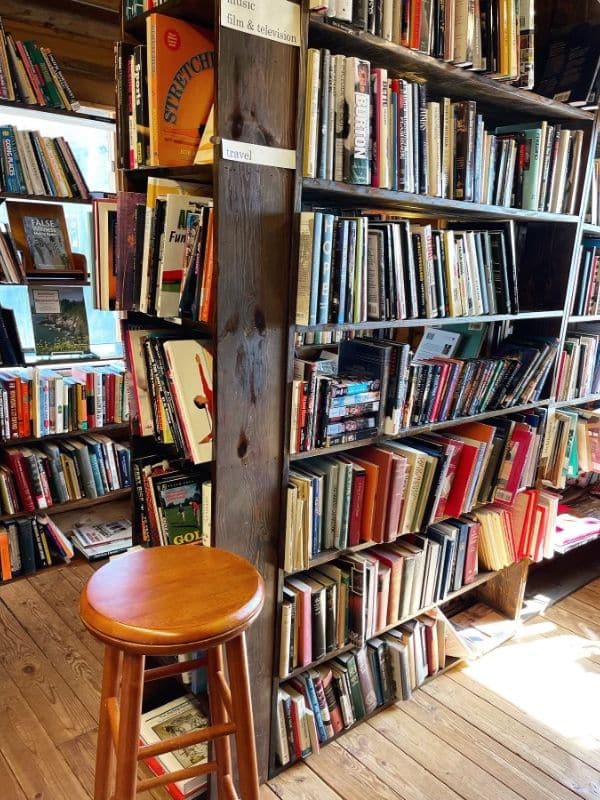 37. Go Dancing at a Club or Bar
Into the nightlife scene? Head out and enjoy some good music and dance by yourself!
38. Take a Dance Class
Ballroom, jazz, ballet, barre, tap, hip hop… the opportunities are endless!
39. Attend a Sporting Event
Go root, root, root for the home team. (Enjoy some stadium food while you're there!)
40. Book a Solo Weekend Getaway
If you're really looking to go all out, book yourself a solo weekend vacation filled with all your favorite things.
41. Take a Pottery Class
Do a quick Google search for local pottery classes – and then go get creative!
42. Book a Solo Spa Day
Ahhh… zen. Who doesn't love a good spa day?
43. Attend a Fundraiser Walk for a Cause
There are always fundraiser walks for various causes happening! Find one that speaks to you and go walk in it.
44. Go Camping
Solo camping is such a great way to spend quality time with yourself and nature. Just be sure you pick a safe location and let someone know where you'll be!
45. Read at a Local Coffee Shop
There's something extra special about taking the time to read outside of the home. Go to a local coffee shop (or library or bookstore!), sip a fun beverage, and get lost in a book.
46. Go to a Comedy Show
Comedy shows and open-mic nights are so perfect for laughing, letting loose, and having FUN.
47. Take a Cooking Class
You get out, have fun, AND learn to cook something new and delicious. It's a win/win situation.
48. Go Sightseeing
You could even book a full sightseeing tour!
49. Tour a Winery or Brewery
Take yourself on a solo adult night out.
50. Go to a Concert
Go to a concert or show for a musician/band you love! Sing your heart out.
Why Should You Date Yourself?
A healthy relationship with yourself is the foundation of all you do.
When operating from a place of self-love and self-respect, you are able to move through the world with a sense of confidence and security.
No matter what, you can know you have yourself to rely on.
In our world, we put a lot of emphasis on our relationships with others. This is so important, too – of course! We want healthy relationships, friendships, and connections with others.
(Did you know that a lack of human connection can even put our physical health at risk?)
Dating yourself is not an encouragement to ONLY prioritize your solo time. Rather, it's an invitation to work on fostering a healthy connection with yourself as well.
Beleive it or not, taking time for ourselves actually allows us to show up better for other people.
It's crucial to fill up our own cups before we try to pour our time and energy into others.
Learning why and how to date yourself (and trying out these solo date ideas) is a tool for improving your self-love and building that strong foundational relationship with yourself.
After all, the relationship with yourself is the longest one you'll ever have!
How Do You Date Yourself?
You now have these 50 amazing solo date ideas, but how do you even date yourself?
The first thing you need to know is that there is no right or wrong way to date yourself.
That's half the beauty of solo dating – the only person you have to please is yourself!
That said, here are some tips for actually starting to date yourself.
5 Tips for Dating Yourself:
Schedule solo dates in advance. Just as you would with a date with someone else, plan and schedule your solo date. I love to plan my solo date days at the start of a new month to be sure I'm making time for them!
Create a list of solo date ideas. Keep a running list of solo dates you'd like to do. That way, when it comes time to execute your date, there's no indecisiveness to discourage you from going.
Make a solo date jar. Similar to a self-care jar, make a jar of solo date ideas to grab from when you need a new idea. You can color-code the dates by category (free, at-home, etc.) so you always get what you're in the mood for. (GET FREE SEFL-LOVE JAR TAGS HERE)
Treat it like you would a date with someone else. That means no brushing it off, no canceling 5 minutes before, and no halfway doing it… show up for yourself the same way you'd show up for someone you love!
Go the extra mile. Make it special! Get dressed up. Wear that nice piece of jewelry. Have that fancy champagne. You deserve to be pampered the same way you'd pamper a loved one.
It's Time to Date Yourself
This is the sign you were looking for. It's time. Pick a solo date idea from this list and make time for it this week.
Which solo date will you try first? Leave a comment below letting me know!
Happy Dating!