This post contains affiliate links meaning that, at no additional cost to you, I make a small commission if you purchase through my links. For additional information, visit my affiliate disclosure. 
Sundays are for resetting, in every way possible. Use these 101 Sunday motivation quotes to get your mind set up and refreshed for a great week ahead.
Do you have a love/hate relationship with Sundays?
I know I do.
On one hand, I love the cozy vibes, the relaxation, and the subtle undertones of getting excited for a fresh week.
On the other hand, the "Sunday Scaries" do sometimes creep up and leave me dreading the week and feeling like I want to curl into a ball, avoid reality, and give up on being a functioning human. (Please tell me I'm not alone.)
That said, no matter how I'm feeling about the upcoming week, I'm always seeking some sort of Sunday motivation or inspiration.
Having a good Sunday mindset is key for starting your week off on the right foot.
Use these Sunday motivation and inspiration quotes to get you in a good headspace for a fresh week!
101 Sunday Motivation Quotes
Sunday Morning Motivation Quotes
Happy Sunday! It's a great day to have a great day.
What you do today can improve all your tomorrows. —Ralph Marston
Good morning, Sunday! Today will be beautiful.
This Sunday is full of opportunity.
I can make this Sunday anything I choose.
It's Sunday! I will choose to start this week off in the best way possible.
With the new day comes new strength and new thoughts. —Eleanor Roosevelt
Write it on your heart that every day is the best day in the year. —Ralph Waldo Emerson
I can choose to make today a great day.
Every day, wake up with the thought that something wonderful is about to happen. —Unknown
It's a fresh day. Wake up and smell the blessings!
In one minute, you can change your attitude, and in that minute, you can change your entire day. —Spencer Johnson
A new day and a new week… think of all the opportunities.
Wake up in the morning and get excited about the potential in front of you.
The sun is a daily reminder that we too can rise again from the darkness, that we too can shine our own light. —S. Ajna
Just one small positive thought in the morning can change your whole day. —Dalai Lama
A new day is a fresh start. I have the power to choose the way I interact with the world around me.
A Sunday morning is like a hot cup of coffee. Fresh, energizing, motivating, and full of joy.
I don't have to wake up, I get to wake up.
Each morning we are born again. What we do today is what matters most. —Buddha
This new day will bring me new strength, new joy, and new ideas.
I have always been delighted at the prospect of a new day, a fresh try, one more start, with perhaps a bit of magic waiting somewhere behind the morning. —J. B. Priestley
I am excited by the fresh opportunity of a Sunday morning.
Each morning can be a beautiful morning.
It's a fresh morning and a fresh week. I will choose to change the world, improve the world, and enjoy the world.
Sunday Motivation for the Week Quotes
I will rest on Sunday, so I can change the world come Monday.
Sundays allow me to enter the week refreshed and prepared for success.
I will fill my cup today so be full tomorrow.
Sunday is a good day to save the world in one's pajamas. -Adrienne Posey
A Sunday well spent brings a week of content.
Sunday is a perfect day to choose a new path in life.
This Sunday, I will rest my mind, body, and soul to come back better than ever.
Sunday is your best day. You know you had an amazing week. Time to recover and think about how you are going to kill the next one. — Unknown
This is Sunday, and the question arises, what'll I start tomorrow? – Kurt Vonnegut
I will not be afraid of the changes and challenges that will come this week.
Today I will rest. Tomorrow I will change the world.
I will use today to enter the week from a place of confidence and poise.
Sunday is the golden clasp that binds together the volume of the week. — Henry Wadsworth Longfellow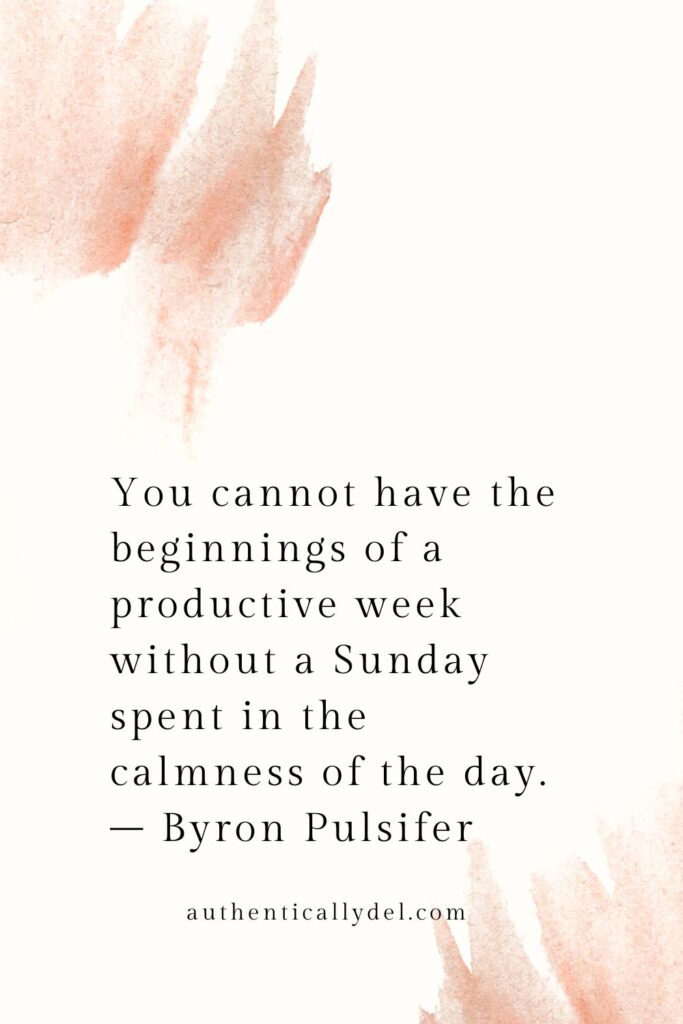 Sundays are the reset button to clear the mind for a week of new opportunities.
The inspiration in the air of a Sunday leaves me excited for what this fresh week will bring.
Without Sunday, I wouldn't know when to put on the brakes of a hurtling life. — Byron Pulsifer
You cannot have the beginnings of a productive week without a Sunday spent in the calmness of the day. – Byron Pulsifer
Do not waste a single Sunday. If you don't waste Sundays, you will be less likely to waste Mondays, Tuesdays, and Wednesdays. — Matthew Kelly
I can enter my week with a full battery only if I use my Sunday to recharge.
Sunday clears away the rust of the whole week. — Joseph Addison
Funny Sunday Quotes
Although I understand that all days are equal with 24 hours each, most of us agree that Friday is the longest day of the week and Sunday the shortest! – D.S. Mixell
Sundays should come with a pause button.
Weekends don't count unless you spend them doing something completely pointless. —Bill Watterson
Each day has 24 hours – except for Sundays. Sundays last about 2 minutes.
Warning: Going to sleep on Sunday will cause Monday.
The goal of Sunday is to leave my home as little as possible. —Mark Morris
Sunday is the day when I prepare for the week ahead by making improbable To-Do lists and browsing Pinterest for ideas on how to decorate my imaginary mansion. — Nanea Hoffman
Sundays are the reason I have trust issues. One moment you're relaxing, then BOOM! It's Monday all over again.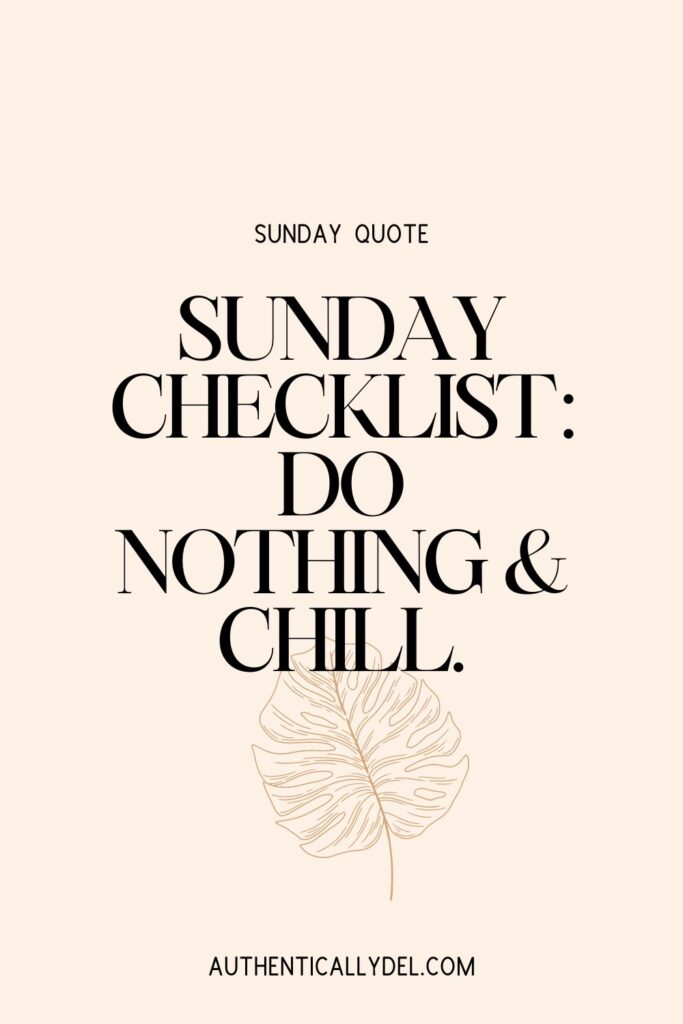 There cannot be a crisis next week. My schedule is already full. – Henry Kissinger
It's Sunday! I am 100% motivated to do absolutely nothing!
You know what Sunday is… it's a day with a lot of potential for naps. — Polly Horvath
Sunday To-Do List: Nap, Eat, Read, Repeat
My only goal for Sunday is to leave my house as little as possible.
Sunday evenings often feel like the weekend is over before it's even begun. — Catherine McCormack
I would love Sundays.. if only they didn't give birth to Mondays.
Dear Sunday, how could you leave me so quickly?
Procrastination is my sin. It brings me naught but sorrow. I know that I should stop it. In fact, I will—tomorrow. – Gloria Pitzer
It's Sunday. My brain is out of office. Try again tomorrow.
Sundays are filled with endless opportunities… for naps.
If your Sunday doesn't involve chocolate and yoga pants, you're doing it wrong.
I Love Sunday Quotes
Sunday checklist. Do nothing & chill. – Unknown
Sunday. Rest day. Snuggle day. Happy day.
Sunday is the perfect day to refuel your soul and to be grateful for each and every one of your blessings. — Unknown
Today is Sunday, so please conduct yourself accordingly. Sleep in, sip tea, lay around in your pajamas, listen to good music, and indulge yourself in an afternoon nap. — Unknown
Sunday. Take it slow and give your soul a chance to catch up with your body. — Unknown
The frantic pace of life is only interrupted by the quietness of Sunday. – Byron Pulsifer
Sundays are for good coffee, good books, and good rest.
Sometimes I have loved the peacefulness of an ordinary Sunday. It is like standing in a newly planted garden after a warm rain. You can feel the silent and invisible life. – Marilynne Robinson
Sundays… Sleep until you're hungry. Then eat until you're sleepy.
See life through the lens of a Sunday morning and everything will be easy."
Sundays – the day to be selfish with your time, focus, and energy.
Saturdays are for adventure; Sundays are for cuddling. — Unknown
Sunday, the day for the language of leisure. — Elfriede Jelinek, The Piano Teacher
I have to be alone very often. I'd be quite happy if I spent from Saturday night until Monday morning alone in my apartment. That's how I refuel. — Audrey Hepburn
On this lovely Sunday, remember to take a deep breath and relax. Enjoy your family, your friends, and indulge yourself in a nice cup of coffee. — Unknown
Mindset & Motivation Quotes for Sundays
I would rather die of passion than of boredom. – Vincent van Gogh
Everything you've ever wished is on the opposite aspect of worry. -George Addair
The best time to plant a tree was 20 years ago. The second best time is now. ―Chinese Proverb
If you're too comfortable, it's time to move on. Terrified of what's next? You're on the right track. ―Susan Fales-Hill
If people are doubting how far you can go, go so far that you can't hear them anymore. —Michele Ruiz
You can either experience the pain of discipline or the pain of regret. The choice is yours.
Don't be afraid to give up the good to go for the great. —John D. Rockefeller
People who wonder if the glass is half empty or full miss the point. The glass is refillable. —Unknown
One step can change your path forever. Step boldly.
Hard work beats talent when talent doesn't work hard. ―Tim Notke
The only difference between ordinary and extraordinary is that little extra. ―Jimmy Johnson
The big secret in life is that there is no secret. Whatever your goal, you can get there if you're willing to work. ―Oprah Winfrey
You must do the thing you think you cannot do. ―Eleanor Roosevelt
You don't need to see the whole staircase, just take the first step. ―Martin Luther King Jr.
When we strive to become better than we are, everything around us becomes better too. — Paulo Coelho
Nobody gives you power. You just take it. ― Roseanne Barr
Love your family, work super hard, live your passion. — Gary Vaynerchuk
Small is not just a stepping-stone. Small is a great destination itself. ―Jason Fried
Take your victories, whatever they may be, cherish them, use them, but don't settle for them. —Mia Hamm
Courage doesn't always roar. Sometimes courage is a quiet voice at the end of the day saying, "I will try again tomorrow." —Mary Anne Radmacher
If you change the way you look at things, the things you look at change. — Wayne Dyer
More Sunday Motivation Tools
If you're looking for more Sunday motivation, it's time to take actionable steps to improve your mindset, get motivated, feel inspired, and prepare for the week.
Use the 3 tools below to make this fresh week a great one!
Sunday Meditation
Use this meditation from Headspace to fight off any Sunday scaries and focus on a positive mindset instead.
Headspace is my absolute favorite app for meditation. Along with their free YouTube content, you can find countless meditation, mindset, and wellness resources in their app.
Meditation and mindfulness is one of my absolute favorite daily habits I've picked up!
Journal & Reflect
Taking time to be intentional about your thoughts and focus on self-reflection is key for a great week.
One of my favorite Sunday motivation routines is to set aside time (even just 5-10 minutes) for some daily reflection.
I use my guided journal, but you can also brain dump in a plain journal, a piece of paper, or even in the notes on your phone.
Prioritizing introspection and reflection is key to an improved mindset.
Plan for the Week Ahead
One of my favorite ways to feel motivated on Sundays is to take a glance at what I have planned for the week!
READ: 20 Best Planners for Success
Busting out my planner is always a must on Sundays.
Sunday planning isn't intended to be stressful or overwhelming, but rather to give you a sense of control over your week and allow you to make time for things that feel joyful or exciting!
Watch Exactly How I Plan on Sundays:
I swear by my planner throughout the week. To me, setting myself up for success on Sunday means taking time to plan ahead.
This also sparks Sunday motivation and excitement for the week!
Where do you find your Sunday motivation?
In quotes? Rest? Meditation? Planning? Journaling?
What inspires you and motivates you on Sundays? How do you get excited for the week?
Leave a comment below letting me know!