This post may contain affiliate links meaning that, I may make commission if you purchase through my links. Learn More. 
Here is your ultimate guide to reading Taylor Jenkins Reid books in order, complete with a free printable Taylor Jenkins Reid reading checklist.
From her first novel in 2013 to her recent work on TV show adaptation, Taylor Jenkins Reid's work only continues to grow in popularity.
As one of the leading names on the fiction and romance charts, Taylor Jenkins Reid's best-seller books are adored by fans worldwide.
TJR has seen so much success already but thankfully doesn't seem to be slowing down anytime soon. Frequently dropping new releases and working hard on adaptations for her already adored work, she is a hard-working lady!
Whether you are a new Taylor Jenkins Reid lover or an existing fan looking to learn more about your favorite author, this post is here for you.
This guide will walk you through all the Taylor Jenkins Reid books in order, giving you all the fun facts and details you could ever need.
Welcome to the ultimate guide to all things Taylor Jenkins Reid.
Who Is Taylor Jenkins Reid?
Not only is Taylor Jenkins Reid a total BookTok sensation, but she is also a GoodReads Choice award winner, New York Times bestselling author, Reese's Book Club pick, Best of Amazon winner, and Book of the Month selection.
Before TJR became the author we know and love today, she got her early start working in film production as a casting assistant and later co-writing the television show 'Resident Advisors'.
She also worked at a high school leading up to her first published novel in 2013.
In addition to her talent as an author, Reid is an incredible human, wife to husband Alex, and mother to daughter Lilah.
Taylor Jenkins Reid's husband, Alex Jenkins Reid, is an American screenwriter and has played a part in the film/TV adaptations of some of her own work.
As of now, Reid lives in Los Angeles with her family and continues working hard to produce work for all of us to enjoy.
About Taylor Jenkins Reid's Books
How many books does Taylor Jenkins Reid have?
Taylor Jenkins Reid is the author of 8 published novels and 1 short story.
As of 2023, Taylor Jenkins Reid's most recent novel is New York Times bestseller Carrie Soto is Back.
What genre does Taylor Jenkins Reid write?
Taylor Jenkins Reid writes books in a variety of genres, topics, tropes, and settings. Because of this, it really feels like there is a TJR book for every reader.
From historical fiction (Carrie Soto is Back), tragedy and grief (Forever, Interrupted), and '70s rock 'n roll (Daisy Jones + The Six), to family drama (Malibu Rising), old-school Hollywood (Seven Husbands of Evelyn Hugo), and authentic romance (After I Do) – Taylor Jenkins Reid really does it all.
What was Taylor Jenkins Reid's first book?
Taylor Jenkin Reid's first published novel was Forever, Interrupted published July 9, 2013.
To this day, Forever, Interrupted is a book beloved by many of TJR's fans.
What is Taylor Jenkins Reid's most recent book?
Carrie Soto is Back is Reid's most recent novel, originally published in 2022 and rereleased in paperback in July 2023.
With a 4.23/5 star rating, nearly 500,000 GoodReads reviews, and thousands of raving BookTok videos, it's safe to say that her latest book was well received by her fan base.
Carrie Soto is Back is also the Goodreads Choice Award Winner for Best Historical Fiction (2022).
What is the best Taylor Jenkins Reid book?
Based on GoodReads ratings, Taylor Jenkins Reid's most loved book is The Seven Husbands of Evelyn Hugo with a 4.4/5 star overall rating.
However, her other works are not far behind in the rankings.
Daisy Jones & the Six and Carrie Soto is Back are tied for 2nd with a 4.23/5 star GoodReads rating.
One True Loves and Malibu Rising hover right above a 4/5 star rating, followed closely by After I Do, Maybe in Another Life, Evidence of the Affair, and Forever, Interrupted.
While these ratings reflect the GoodReads reviews of millions of readers, the "best Taylor Jenkins Reid book" is totally up to you! With her wide variety of genres and topics, you can fall in love with your own unique favorite.
Taylor Jenkins Reid Books in Order of Release
Forever, Interrupted (2013)
After I Do (2014)
Maybe in Another Life (2015)
One True Loves (2016)
The Seven Husbands of Evelyn Hugo (2017)
Evidence of the Affair (2018)
Daisy Jones & The Six (2019)
Malibu Rising (2021)
Carrie Soto is Back (2022)
Taylor Jenkins Reid Books Ranked in Order of Rating
(These ratings are based on the average GoodReads rating at the time of this post.)
Seven Husbands of Evelyn Hugo (4.44/5)
Daisy Jones & The Six (4.23/5)
Carrie Soto is Back (4.23/5)
One True Loves (4.08/5)
Malibu Rising (4.06/5)
After I Do (3.97/5)
Evidence of the Affair (3.9/5)
Maybe in Another Life (3.81/5)
Forever, Interrupted (3.68/5)
Reading Order of Taylor Jenkins Reid Books
Now that you have all 9 TJR books in order of release date and in order of popularity/rating, it's time to answer what you really need to know… Where do you start? How should you read these books?
Do you have to read Taylor Jenkins Reid books in order?
No! Every one of Taylor Jenkins Reid's books can be read as a standalone, meaning that there is no specific order to reading her books.
While some of her books are written within the same universe and connected in minor ways, they are not connected enough that you need to read them in any specific order.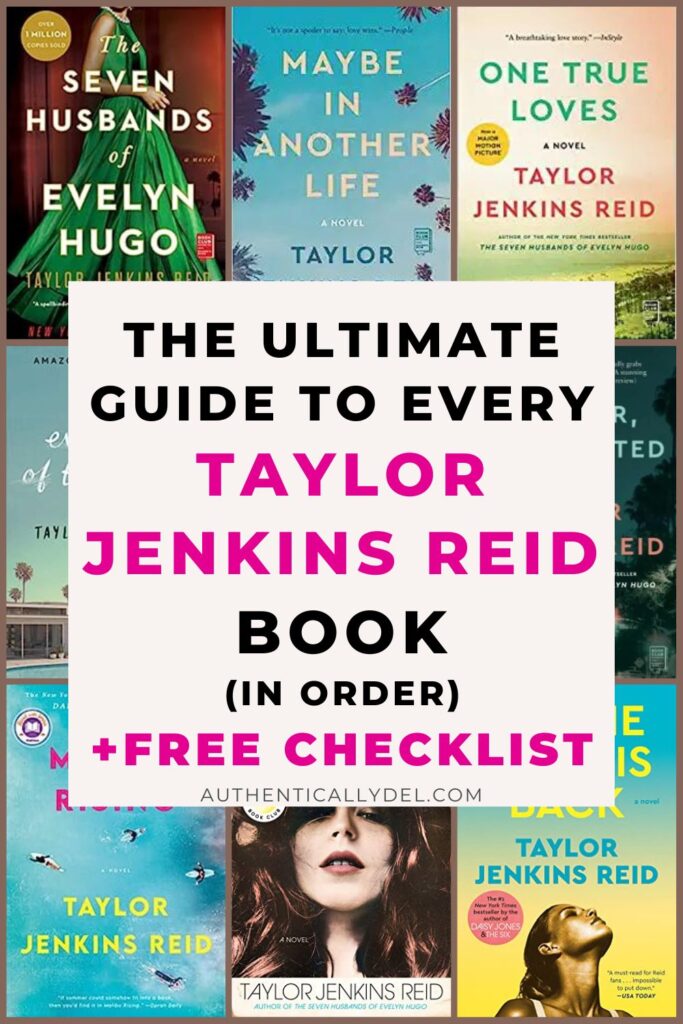 What Taylor Jenkins Reid book to read first?
If you have never read Taylor Jenkins Reid and are unsure where to start, I recommend starting with whichever plot or genre appeals to you most.
If you are totally lost and want a guide to reading Taylor Jenkins Reid in order, try this:
Start with The Seven Husbands of Evelyn Hugo followed by Daisy Jones & The Six, Malibu Rising, and Carrie Soto is Back. This will allow you to notice the recurring characters that TJR plants throughout her novels, connecting them all into one shared universe.
As for the other TJR romance books (her first 4 releases and her short story), read these in any order at any time – these are 100% standalone.
My first Taylor Jenkins Reid book was The Seven Husbands of Evelyn Hugo. I read this first simply because I saw it all over BookTok and wanted to give it a shot!
From there, I slowly fell in love with the author behind the books, making me want to work my way through them all. I devoured book-after-book by TJR but with no particular order in mind.
Are Taylor Jenkins Reid books connected?
Yes and no. Multiple Taylor Jenkins Reid books exist within the same literary universe but are not connected in a way that requires you to read them in any particular order.
Each Taylor Jenkins Reid book can be read as a standalone.
However, by taking place in the same universe, you will recognize repeat characters popping up throughout various TJR books.
I love when authors connect their books in this way. You can still read them in any order, but this makes for a fun and familiar surprise when you see a name you recognize while reading along!
Which Taylor Jenkins Reid books are connected?
All of Taylor Jenkins Reid's more recent historical fiction releases are connected by existing in the same literary universe. This includes The Seven Husbands of Evelyn Hugo, Daisy Jones & The Six, Malibu Rising, and Carrie Soto is Back.
While each of these can be read as a standalone and will make complete sense without any of their companion novels, there is a fun underlying connection when reading them all together.
Taylor Jenkins Reid Character Crossovers
Be on the lookout for these well-known TJR characters!
Mick Reva (The Seven Husbands of Evelyn Hugo, Daisy Jones & The Six, Malibu Rising, Carrie Soto is Back)
Celia St. James (The Seven Husbands of Evelyn Hugo, Malibu Rising)
Carrie Soto (Carrie Soto is Back, Malibu Rising)
Warren Rhodes (Daisy Jones & The Six, Malibu Rising)
Brandon Randall (Malibu Rising, Carrie Soto is Back)
Summary of Every Taylor Jenkins Reid Book (in Release Order)
Want a glimpse into the TJR universe to know which book to pick up first? Here you will find the publisher summary of every single TJR book released to date.
"Have you ever heard of supernovas? They shine brighter than anything else in the sky and then fade out really quickly, a short burst of extraordinary energy. I like to think you and Ben were like that . . . in that short time, you had more passion than some people have in a lifetime."
Elsie Porter is an average twentysomething and yet what happens to her is anything but ordinary. On a rainy New Year's Day, she heads out to pick up a pizza for one. She isn't expecting to see anyone else in the shop, much less the adorable and charming Ben Ross. Their chemistry is instant and electric. Ben cannot even wait twenty-four hours before asking to see her again. Within weeks, the two are head over heels in love. By May, they've eloped.
Only nine days later, Ben is out riding his bike when he is hit by a truck and killed on impact. Elsie hears the sirens outside her apartment, but by the time she gets downstairs, he has already been whisked off to the emergency room. At the hospital, she must face Susan, the mother-in-law she has never met—and who doesn't even know Elsie exists.
Interweaving Elsie and Ben's charmed romance with Elsie and Susan's healing process, Forever, Interrupted will remind you that there's more than one way to find a happy ending."
At the age of twenty-nine, Hannah Martin still has no idea what she wants to do with her life. She has lived in six different cities and held countless meaningless jobs since graduating college. On the heels of leaving yet another city, Hannah moves back to her hometown of Los Angeles and takes up residence in her best friend Gabby's guestroom. Shortly after getting back to town, Hannah goes out to a bar one night with Gabby and meets up with her high school boyfriend, Ethan.

Just after midnight, Gabby asks Hannah if she's ready to go. A moment later, Ethan offers to give her a ride later if she wants to stay. Hannah hesitates. What happens if she leaves with Gabby? What happens if she leaves with Ethan?

In concurrent storylines, Hannah lives out the effects of each decision. Quickly, these parallel universes develop into radically different stories with large-scale consequences for Hannah, as well as the people around her. As the two alternate realities run their course, Maybe in Another Life raises questions about fate and true love: Is anything meant to be? How much in our life is determined by chance? And perhaps, most compellingly: Is there such a thing as a soul mate?

Hannah believes there is. And, in both worlds, she believes she's found him.
In her twenties, Emma Blair marries her high school sweetheart, Jesse. They build a life for themselves, far away from the expectations of their parents and the people of their hometown in Massachusetts. They travel the world together, living life to the fullest and seizing every opportunity for adventure.

On their first wedding anniversary, Jesse is on a helicopter over the Pacific when it goes missing. Just like that, Jesse is gone forever.

Emma quits her job and moves home in an effort to put her life back together. Years later, now in her thirties, Emma runs into an old friend, Sam, and finds herself falling in love again. When Emma and Sam get engaged, it feels like Emma's second chance at happiness.

That is, until Jesse is found. He's alive, and he's been trying all these years to come home to her. With a husband and a fiancé, Emma has to now figure out who she is and what she wants, while trying to protect the ones she loves.

Who is her one true love? What does it mean to love truly?

Emma knows she has to listen to her heart. She's just not sure what it's saying.
Aging and reclusive Hollywood movie icon Evelyn Hugo is finally ready to tell the truth about her glamorous and scandalous life. But when she chooses unknown magazine reporter Monique Grant for the job, no one is more astounded than Monique herself. Why her? Why now?
Monique is not exactly on top of the world. Her husband has left her, and her professional life is going nowhere. Regardless of why Evelyn has selected her to write her biography, Monique is determined to use this opportunity to jumpstart her career.
Summoned to Evelyn's luxurious apartment, Monique listens in fascination as the actress tells her story. From making her way to Los Angeles in the 1950s to her decision to leave show business in the '80s, and, of course, the seven husbands along the way, Evelyn unspools a tale of ruthless ambition, unexpected friendship, and a great forbidden love.
Monique begins to feel a very real connection to the legendary star, but as Evelyn's story near its conclusion, it becomes clear that her life intersects with Monique's own in tragic and irreversible ways.
Dear stranger…
A desperate young woman in Southern California sits down to write a letter to a man she's never met—a choice that will forever change both their lives.
My heart goes out to you, David. Even though I do not know you…
The correspondence between Carrie Allsop and David Mayer reveals, piece by piece, the painful details of a devastating affair between their spouses. With each commiserating scratch of the pen, they confess their fears and bare their souls. They share the bewilderment over how things went so wrong and come to wonder where to go from here.
Told entirely through the letters of two comforting strangers and those of two illicit lovers, Evidence of the Affair explores the complex nature of the heart. And ultimately, for one woman, how liberating it can be when it's broken.
Everyone knows DAISY JONES & THE SIX, but nobody knows the reason behind their split at the absolute height of their popularity . . . until now.

Daisy is a girl coming of age in L.A. in the late sixties, sneaking into clubs on the Sunset Strip, sleeping with rock stars, and dreaming of singing at the Whisky a Go Go. The sex and drugs are thrilling, but it's the rock 'n' roll she loves most. By the time she's twenty, her voice is getting noticed, and she has the kind of heedless beauty that makes people do crazy things.

Also getting noticed is The Six, a band led by the brooding Billy Dunne. On the eve of their first tour, his girlfriend Camila finds out she's pregnant, and with the pressure of impending fatherhood and fame, Billy goes a little wild on the road.

Daisy and Billy cross paths when a producer realizes that the key to supercharged success is to put the two together. What happens next will become the stuff of legend.

The making of that legend is chronicled in this riveting and unforgettable novel, written as an oral history of one of the biggest bands of the seventies.
Four famous siblings throw an epic party to celebrate the end of the summer. But over the course of twenty-four hours, the family drama that ensues will change their lives forever.

Malibu: August 1983. It's the day of Nina Riva's annual end-of-summer party, and anticipation is at a fever pitch. Everyone wants to be around the famous Rivas: Nina, the talented surfer and supermodel; brothers Jay and Hud, one a championship surfer, the other a renowned photographer; and their adored baby sister, Kit. Together the siblings are a source of fascination in Malibu and the world over—especially as the offspring of the legendary singer Mick Riva.

The only person not looking forward to the party of the year is Nina herself, who never wanted to be the center of attention, and who has also just been very publicly abandoned by her pro tennis player husband. Oh, and maybe Hud—because it is long past time for him to confess something to the brother from whom he's been inseparable since birth.

Jay, on the other hand, is counting the minutes until nightfall, when the girl he can't stop thinking about promised she'll be there.

And Kit has a couple secrets of her own—including a guest she invited without consulting anyone.

By midnight the party will be completely out of control. By morning, the Riva mansion will have gone up in flames. But before that first spark in the early hours before dawn, the alcohol will flow, the music will play, and the loves and secrets that shaped this family's generations will all come rising to the surface.

Malibu Rising is a story about one unforgettable night in the life of a family: the night they each have to choose what they will keep from the people who made them . . . and what they will leave behind.
Carrie Soto is fierce, and her determination to win at any cost has not made her popular. But by the time she retires from tennis, she is the best player the world has ever seen. She has shattered every record and claimed twenty Grand Slam titles. And if you ask Carrie, she is entitled to every one. She sacrificed nearly everything to become the best, with her father, Javier, as her coach. A former champion himself, Javier has trained her since the age of two.
But six years after her retirement, Carrie finds herself sitting in the stands of the 1994 US Open, watching her record be taken from her by a brutal, stunning player named Nicki Chan.
At thirty-seven years old, Carrie makes the monumental decision to come out of retirement and be coached by her father for one last year in an attempt to reclaim her record. Even if the sports media says that they never liked "the Battle-Axe" anyway. Even if her body doesn't move as fast as it did. And even if it means swallowing her pride to train with a man she once almost opened her heart to: Bowe Huntley. Like her, he has something to prove before he gives up the game forever.
In spite of it all, Carrie Soto is back, for one epic final season. In this riveting and unforgettable novel, Taylor Jenkins Reid tells her most vulnerable, emotional story yet.
Taylor Jenkins Reid Film & TV Adaptations
Here is your ultimate guide to Taylor Jenkins Reid books that are existing or soon-to-be movies or TV series.
One True Loves (Movie, 2013, YouTube & Apple TV)
Daisy Jones & The Six (TV Series, 2023, Amazon Prime)
The Seven Husbands of Evelyn Hugo (Movie, TBD, Netflix)
Malibu Rising (TV Series, TBD, Hulu)
One True Loves (2023 Film)
Taylor Jenkins Reid and her husband, Alex, teamed up to co-write the movie adaptation of her beloved book, One True Loves.
This movie stars Phillipa Soo as main character Emma Blair, Simu Liu as Sam, and Luke Bracey as Jesse.
One True Loves (the film) was released on April 14, 2023, and can be purchased on YouTube, Apple TV, and Google Play, among other streaming/movie networks.
Daisy Jones & The Six (TV Mini-Series)
Daisy Jones & The Six took to the screen with an Amazon Prime TV mini-series in March 2023.
This series was taken on by Reese Witherspoon's production company, Hello Sunshine, after Witherspoon selected Daisy Jones and The Six as her book club selection in March 2019.
Staring Riley Keough, Sam Claflin, and Camila Morrone, the 10-episode series does a great job of bringing TJR's beloved characters to life.
The Seven Husbands of Evelyn Hugo (Film)
It has officially been announced that Evelyn Hugo will be coming to our screens with a Netflix film adaptation.
Taylor Jenkins Reid is set to executive produce this film, alongside writer Liz Tigelaar (Little Fires Everywhere) and director Leslye Headland.
As per Netflix, this film is still in the pre-production phase with the release date to be determined!
READ MORE ABOUT THIS FILM ADAPTATION FROM NETFLIX HERE
Malibu Rising (TV Series)
Riva family fans? This is for you!
Malibu Rising has been taken on by Hulu for a TV series adaptation.
Liz Tegelaar (yes, the same writer as the Evelyn Hugo project), Brad Mendelsohn, Stacey Silverman, and Jennifer Gwartz are rumored to be in charge of this project.
The screenplay, which will be closely based on Reid's book, will be written by Amy Talkington and Tegelaar.
The Malibu Rising TV series has yet to solidify a release date.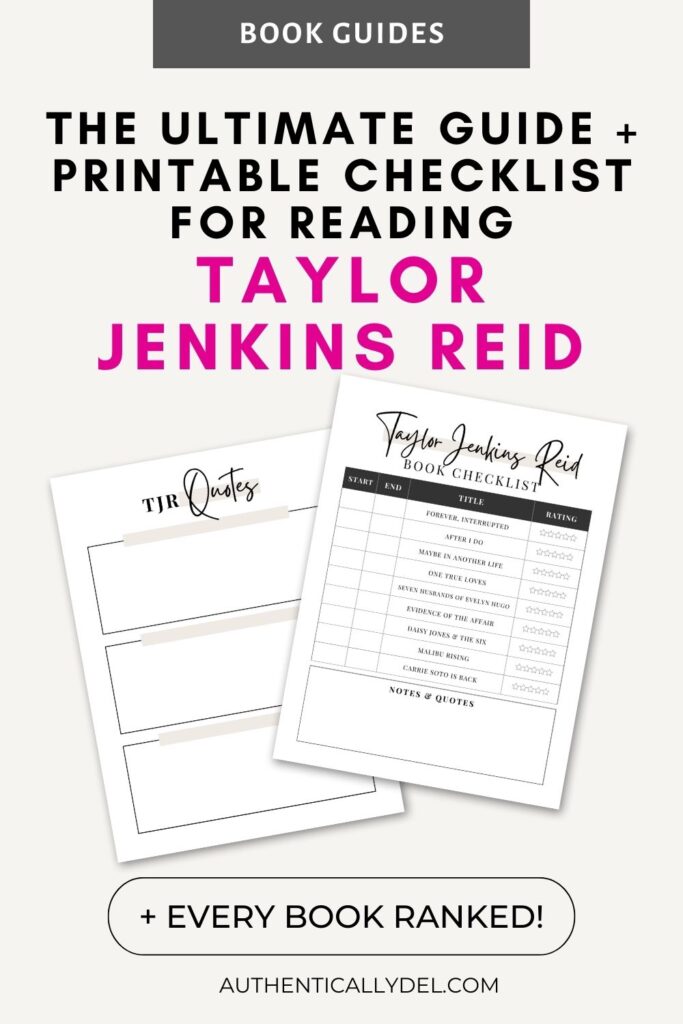 Is Taylor Jenkins Reid writing a new book?
As of now, Taylor Jenkins Reid has confirmed that she is NOT currently working on a new book.
After 9 back-to-back releases, TJR is pressing pause on her writing – for now.
Not only is she going to be kept busy by her many TV and film adaptations, but she has also opened up about some personal reasons for taking a hiatus from writing.
After writing for a decade straight, Reid has said that she has plans to take a break, read more books that she hasn't had the chance to get around to, and experience more life (in hopes of also sparking new, fresh ideas!).
Don't worry, TJR fans. It doesn't sound like Reid is closing up the laptop for good.
Reid has been quoted as saying, "The next time I have a book come out, I want to show up and be a different writer." She notes that she wants to experience more life in the real world without filling the itch to be tied to her computer.
We support you, Taylor Jenkins Reid. And in the meantime, we will be reading (and rereading) the 9 gifts you've already given us.
Free Printable Taylor Jenkins Reid Book Checklist
More Reading Posts