This post may contain affiliate links meaning that, I may make commission if you purchase through my links. Learn More. 
The transition into fall means that there are endless new opportunities for blog post topics. Here are over 150 fall blog post ideas for every niche that your readers will absolutely adore!
I love the fall season. Pumpkin spice treats, warm sweaters, hot coffees, and cozy days… what more could you ask for?
However, I must say, one of my favorite parts of the season is all the new opportunities for fresh content.
No matter what niche you are in, fall blog post ideas are seemingly endless and are filled with possibilities!
That said, if you're being hit with some writer's block and struggling to come up with ideas that excite you, don't worry! We've all been there. This list is here to help.
I have compiled over 150 of the best unique fall blog post ideas for lifestyle bloggers in all niches.
Just like these posts on summer blog post ideas, spring blog post ideas, and winter blog post ideas, this list is packed with ideas for you – no matter what your blogging topic is!
Grab your notebook and a pen, blogger! It's time to brainstorm.
Fall Content Trends to Consider
Before you get started brainstorming your blog post ideas, it's always a good idea to take note of the seasonal fall trends. Here are some topics to consider.
Fall Holidays
Here are some of the most common holidays you may want to consider brainstorming blog topics around:
Halloween
Día de Muertos
Oktoberfest
Veterans Day
Thanksgiving Day
Black Friday
Trendy Fall Topics
Here are some trendy fall topics to consider structuring content around:
Fashion
Nails
Activities
Weather
Home Decor
Party Hosting
DIY Projects
Movies, Music, TV
Seasonal Food
Fall Lifestyle Factors
Different seasons bring different life situations, priorities, and factors. With that, there should be seasonality in your content priorities too.
Here are some additional things to consider when writing posts that are most helpful for your readers:
Budget
Weather
Childcare
School Schedules
Work Schedules
150 Creative Blog Post Ideas for the Fall Season
No matter what niche you are in, here are some fun, festive, and unique fall blog topics for all types of lifestyle bloggers.
General Fall Lifestyle Blog Post Ideas
Favorite at-home fall activities
Fall bucket list (see my fall bucket list for inspiration!)
Favorite fall-themed books
Favorite fall-themed movies
Seasonal fall goals
Favorite rainy day activities
How to make your life cozy for the fall
Things to love about the fall
Favorite fall quotes
Your ideal fall music playlist
Fall Fashion Blog Post Ideas
How to transform your closet from summer to fall
Day-to-night fall transformation looks
How to style fall coats
How to style fall boots
Pumpkin patch outfit ideas
Thanksgiving outfit ideas
Trendy fall fashion colors
Newest fashion trends for the fall
How to style hats for the fall
Cute ways to style fall scarves
Top 10 boots for the fall
Fall fashion basics to keep in your closet
How to style one pair of jeans 5 ways (fall edition)
How to style fall flannels
Fall date outfit ideas
Beauty Fall Blog Post Ideas
Best fall nail colors
Trendy fall nail designs
Trendy fall hair colors
Cute fall updos for windy days
How to change your skincare from summer to fall
Fall makeup routine
Best fall lip colors
Best fall hairstyles (for long/short/medium hair)
Best fall haircuts
How to beat dry skin in the fall
Fall Food Blog Post Ideas
10 recipes using one can of pumpkin
Pumpkin-free fall recipes
The best pumpkin pie recipes
Pumpkin bread recipe roundup
Best appetizers to bring to a fall dinner
Thanksgiving menu ideas
Thanksgiving sides
Halloween dinner party ideas
Recipes to use up leftover Halloween candy
Apple cider crockpot recipe
How to make homemade pumpkin puree
Pumpkin dinner recipes
Warm and cozy dinner recipes
Casserole roundup
Soups/strews roundup
Fun fall cocktails to make at home
Best pumpkin spice grocery finds
Fall pasta dishes
Best fall salad ideas
Festive Halloween-themed desserts
Creative Thanksgiving-themed desserts
Appetizer ideas for the fall
Fun breakfast ideas for the fall
Best fall school lunches for kids
At-home pumpkin spice latte recipe
Healthy fall snack ideas
Fun fall finger foods
Healthy fall recipes
A full day of eats (fall recipe edition)
Big pumpkin recipe roundup (pumpkin ideas for all meals!)
Fall Mommy Blog Post Ideas
Mess-free fall DIY projects for kids
Festive school lunches your kids will love
Hidden-veggie pumpkin breakfasts muffins for kids
Best family Halloween costume ideas
Pumpkin carving ideas for kids (knife-free!)
Best outdoor fall activities for the whole family
Fall baking ideas do to with kids
DIY fall home decor ideas for kids to make
How to teach your kids gratitude
Thanksgiving art projects for kids
Fall parent/child date ideas
Indoor fall activities for the whole family
Family-friendly fall movies to watch
How to style your kids in the fall
Classroom-friendly trick-or-treat goodie bags
Fall Health & Fitness Blog Post Ideas
Indoor workout ideas for rainy days
Warm and hearty healthy meal prep ideas
Protein-packed pumpkin recipes
Best running gear for the rain
Fall 5k training program
Vitamin-rich foods for the fall
Immunity-boosting food list (+ recipe ideas)
Healthy comfort meals for the chilly fall days
Beautiful fall nature walks in (your home state)
Breaking up with food guilt and enjoying the fall season
Fall Self-Care & Self-Improvement Blog Post Ideas
How to stay motivated on short fall days
The perfect fall morning routine
Self-care ideas for the fall
Best books to read for a fall self-care night
Movies to watch for fall self-care night
Fall goal ideas
The perfect fall night routine
Positive quotes for the fall
How to beat the midday slump in the fall
Solo date ideas for the fall
At-home online classes to try out in the fall
READ: 20 CREATIVE THINGS TO LEARN WHEN BORED
Fall journaling prompts
Meditations for gratitude
Gratitude list ideas
How to stay productive on rainy days
Fall Travel Blog Post Ideas
Warm travel locations to take a break from rainy fall weather
Travel destinations with the best fall vibes
Places to visit at Halloween
How to pack light in the fall
Packing tips for bulky sweaters and warm clothes
Tips for cheap airfare in the fall
Best fall AirBNB stays
Perfect fall nature locations to visit
Fall weekend vacations in your area
How to have a fall staycation
Fall travel bucket list ideas (BONUS: free printable template!)
Fall day-trip essentials to pack in your bag
Camping trip ideas for the fall
Towns with the best fall scenery
Essentials to pack specifically for the fall season
Fall Home Decor & Organization Blog Post Ideas
How to create a cozy home for the fall
Fall decor ideas on a budget
Top fall decor Amazon finds
DIY home decor for the fall
Best fall candles/essential oils for a cozy home
Fall cleaning checklist
Easy swaps to make your home more welcoming
Best throw blankets for the fall
Trending fall home decor this year
Best fall home decor accent colors
How to make DIY fall candles
How to make a DIY fall wreath
Black Friday deals for home decor
How to switch your bedding for the fall
Free printable fall wall prints/photos
Fall College & Student Blog Post Ideas
Backpack essentials
College assignment tracker tips
How to stay on top of your homework
Goals to set for the new school year
Trendy backpacks for the year
Trendy dorm decor for going back to college
Affirmations for back-to-school nerves
Best back-to-school snacks
Back to school motivational quotes
Best planners for students
Best journals for students
Nutritious lunches to take to school in the fall
How to tend to your mental health while being a busy student
Fall morning routine for students
Tips to know going into college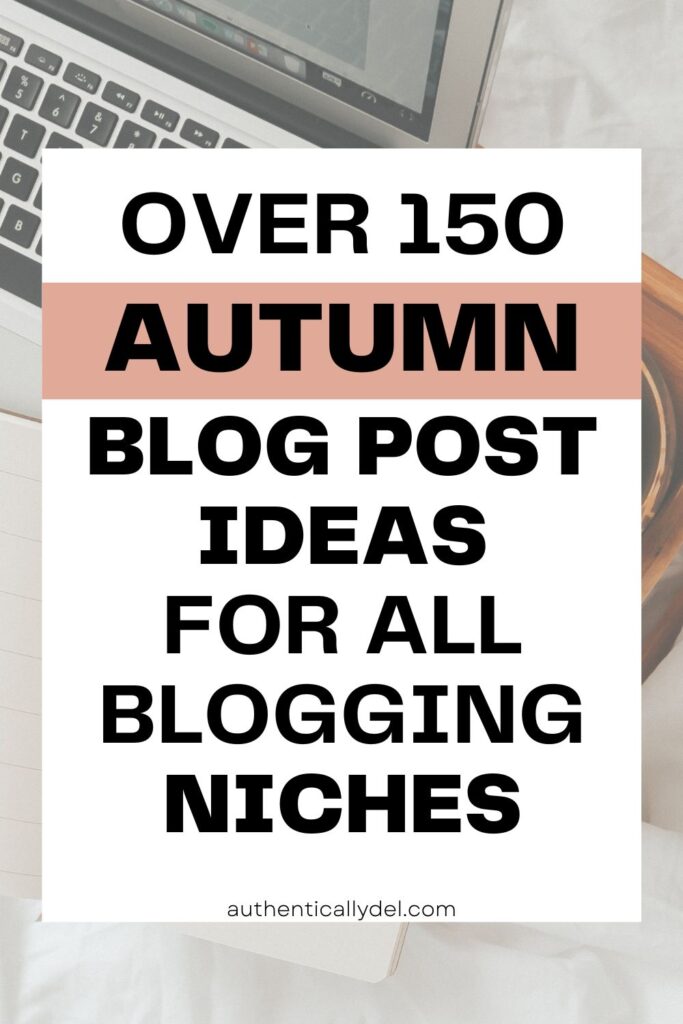 More Fun Fall Content Ideas
Here are some fun bonus fall content ideas. These can be done on your blog, on social media, with your email list, on YouTube, in a Facebook group, or any other place your community resides!
Create a 30-day fall challenge
Vlogtober or Blogtober – vlog/blog every day of the month
Fall photo challenge – post a fall-themed photo every day for a month
Create a fall printable (free or paid)
30 days of gratitude for the month of November
Share your favorite fall memories with your audience
Host a fall movie night with your audience
Host a fall live stream to chat with your followers
Start a fall book club
Create a fall-themed Instagram challenge
Start a TikTok series documenting fall activities
Tips for Successful Seasonal Content
Writing seasonal blog posts is one of the best ways to keep your content fresh and your readers excited about your work.
While evergreen content can maintain consistent traffic all year round (more or less), seasonal content is great for the shorter (yet often more significant) bursts of traffic — which just means more readers, subscribers, and money for you!
Here are some tips to help you create the best seasonal blog posts:
1. Plan Ahead
There is nothing worse than scrambling at the last minute to get a seasonal blog post up before the time has passed. Not only is this stressful, but you will not be able to produce your best work this way.
Instead, create a content calendar that outlines the upcoming seasons, holidays, and events relevant to your niche. This will help you plan your blog posts well in advance.
2. Truly Understand Your Audience
Get to know exactly who you are writing to and for.
Consider the interests and needs of your target audience during different seasons. Tailor your content to address their seasonal preferences and challenges.
For example, if you're writing for busy moms, you're going to want to consider their need for convenience, speed, and ease. If you're writing for college students, you are going to want to consider their budget, lifestyle, and schedule.
3. Research Trends
As we approach a new season, keep your eye on magazine covers, media outlets, Pinterest, social media, and celebrity news.
Stay updated on current trends and topics associated with each season. This will help you create content that is relevant, resonates with your audience, and capitalizes on popular themes that they will be looking for that season.
4. Be Authentic
Stay true to yourself, your brand, and your niche. If you are strictly a travel blogger the other 3 seasons of the year, but switch to back-to-school tips for moms in the fall, your audience is going to feel super confused.
While it's important to align with the season, make sure your content remains authentic to your brand's voice and values.
5. Go the Extra Mile
Get creative. Take a general idea for the season and make it your own. Think beyond the basics!
Explore creative angles, personal stories, or unique insights that can make your seasonal content stand out.
6. Mix Evergreen and Seasonal Content
There are major perks to both forms of content – evergreen (relevant year-round) and seasonal.
Evergreen helps maintain a consistent flow of recurring traffic, while seasonal helps for exciting traffic boosts around certain times of the year.
For the best traffic and engagement, create a mix of both! Your audience will love this.
7. Use Visuals
Utilize visuals to really level up your blog posts and set the tone for the season.
Whenever possible, incorporate seasonally appropriate images, graphics, and videos to make your blog posts visually appealing and engaging.
8. Write Posts in Advance
You need to give seasonal content a bit of a buffer in terms of time. It can take months for Google or Pinterest to index, recognize, and rank your post.
If you are posting too late, you may have missed your chance for some really valuable pageviews!
Create and schedule your seasonal blog posts in advance to ensure they're published at the right time.
I recommend posting a blog about 3 months before it's peak performance in search.
9. Craft Catchy Titles
Let's be real – titles are ultimately what determine if your reader will click on your post or not.
Your blog post title should grab readers' attention and clearly convey the seasonal theme or topic.
Use related adjectives, numbers, and intriguing language to pique your readers' interest.
10. Provide True Value
Never just write a post in an attempt to rank. Always keep your reader's time and needs in mind.
Make sure your seasonal posts offer valuable information, entertainment, or solutions related to the season. This will help build trust with your audience and keep readers engaged and returning for more.
11. Write for Them
While sharing personal experiences is amazing for cultivating community (do that too!), don't forget that your readers are most often visiting to solve a problem or seek advice.
They want to know how you can help them. Provide helpful, educational, or inspirational content that will actively help your reader – then sprinkle in some personal anecdotes wherever you see fit!
12. SEO, SEO, SEO
Proper SEO is crucial for blogging success.
Whether on Pinterest or Google, use relevant keywords associated with the season to improve your blog post's visibility in search engine results.
If you are unsure about SEO best practices, check out my #1 FAVORITE BLOGGING COURSE HERE (this is the strategy I use) or BOOK A PERSONAL 1-ON-1 MEETING WITH ME.
13. Encourage Engagement
Build community through encouraging engagement!
End your blog posts with a call to action that encourages readers to leave comments, share their own experiences, connect with you on socials, or ask questions related to the topic.
14. Promote on Social Media
Social media is your BFF when it comes to seasonal content. With greater in-the-moment reach potential, sharing your blog posts on social media can get eyes on your content FAST.
15. Repurpose Content
As bloggers, we all know our to-do lists are often endless. Take some of the pressure off by leaning on the content you've already created!
Consider repurposing seasonal content from previous years with updates or fresh insights.
Revamp a previous season's blog posts by:
updating the year (if included)
checking and updating links
adding new content where needed
updating information when necessary
adding new graphics, resources, or visuals
Give past you a pat on the back for producing such wonderful content that you can repurpose it year after year. Bonus!
Seasonal blog posts are a great opportunity to connect with your audience, showcase your expertise, and add variety to your content strategy.
By following these tips, you can create engaging and impactful seasonal blog posts that keep your readers coming back for more all year round.
What Fall Blog Topics Will You Choose?
Which topics jump out to you the most? Where do your passions and inspiration lie? What will your readers most enjoy?
Leave a comment down below telling me what fall blog posts you have planned for this season!
More Blogging Tips + Tricks
FREE BLOGGER RESOURCE TOOLKIT (PRINTABLE)
200+ FUN SUMMER BLOG POST IDEAS
HONEST REVIEW: BYSOPHIALEE'S PERFECTING BLOGGING COURSE