This post contains affiliate links meaning that, at no additional cost to you, I make a small commission if you purchase through my links. For additional information, visit my affiliate disclosure. 
Incorporate nighttime affirmations into your daily bedtime routine for relaxation, mental clarity, positivity, and improved sleep health. Get 100 sleep affirmations here!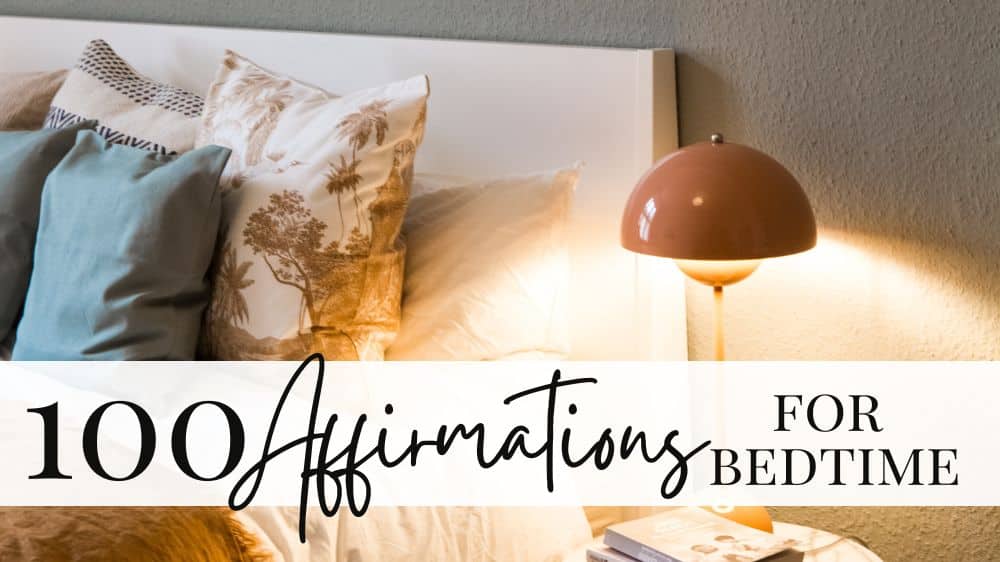 How you wind down before bed is crucial to your sleep health and overall well-being.
An intentional and relaxing nighttime routine can greatly benefit us all – yet few people have one.
As humans, our daily lives are often rather hectic – filled with responsibilities, plans, to-dos, and life stressors.
Daily stress impacts nearly every area of our health.
Stress can manifest in the body through decreased immunity, headaches, nausea, increased blood pressure, increased depression, anxiety, and – of course – sleep.
Stress has been linked to insomnia and fragmented/interrupted sleep. Since sleep is vital to our health and well-being, it's imperative to manage stress surrounding bedtime to give us the best sleep possible.
One of the best ways to calm the mind before bed is through acts of mindfulness.
Our mind is powerful. It can be a great tool for lowering stress and promoting physical and mental health.
One of my favorite ways to practice good mental health care at night is through nighttime affirmations before bed.
What are Nighttime Affirmations?
If you are unfamiliar with affirmations in general, they are positive phrases or mantras that help to retrain your mind to a most positive way of thinking.
Affirmations are also used in the process of manifestation and attracting your dreams, goals, and desires to you through the Law of Attraction.
Nighttime affirmations are phrases that you practice saying (either verbally or mentally) before bed to help shift your mind to a positive space.
Nighttime affirmations (or bedtime affirmations) can be used for manifestation, improved sleep, positive thinking, or just to cleanse your mind after a long day.
Why Use Bedtime Affirmations?
There are multiple reasons that I believe in using nighttime affirmations or sleep affirmations before bed. Let's highlight a few of the main ones!
1. Affirmations work well when your brain is in a tired state.
Affirmations (and manifestations) tend to work well when your mind is in a state of lessened consciousness.
The power of affirmations is strengthened when you allow yourself to fully immerse yourself in believing the affirmations are true. This may include visualization or dreaming up a situation.
Our mental state before bed is much more open to these thoughts.
Rather than our logical brain taking control, affirmations before bed allow you to let your creativity and imaginative brain take hold. This is key!
2. Nighttime affirmations help you unwind from the day.
After a long, stressful, or otherwise exhausting day, nighttime affirmations are a great way to calm your mind and relax before bed. By repeating simple affirmations before bed, you can shift your mind to a place of peace and positivity.
3. Bedtime affirmations can help improve sleep.
In addition to relieving stress, bedtime affirmations may also positively impact your sleep. It makes sense that initiating positive thoughts before sleep will impact your sleep quality as a whole.
You may notice improved dreams or even wake up with an improved sense of self and a positive life outlook!
100 Positive Nighttime Affirmations for Before Bed
Now that we know the "why" behind positive bedtime affirmations, let's jump into the actual affirmations!
These affirmations are divided into a few different categories. This list includes nighttime affirmations for sleep, anxiety, confidence, abundance, and gratitude.
Feel free to jump around the list and take whatever nighttime affirmations serve you most!
Sleep Affirmations for Before Bed
These bedtime affirmations for sleep are intended to improve your rest quality.
Practice these sleep affirmations before bed for a more restful night.
I am prepared to rest.
My body is tired and in need of recharging.
I am worthy and deserving of quality rest.
My body is relaxed and prepared for sleep.
My mind is clear.
I am ready to let myself rest.
There is nothing more for me to do today but rest.
I will wake up recharged and ready for a fresh day.
I am tired and prepared for deep sleep.
This night's sleep will fuel me for a beautiful tomorrow.
My good dreams will be a reflection of my future reality.
I let go of my thoughts and allow my brain to rest.
I will wake physically refreshed and energetic.

This sleep will restore my creative energy.

I am enjoying the feeling of relaxing my mind and body to rest.
My night will be uninterrupted and restful.
My mind, body, and soul work together to care for me as I sleep.
My dreams will be blissful tonight.
Tomorrow I will receive the good things I dream about.
I am falling into a deep, restorative sleep.
Nighttime Affirmations for Anxiety
Practicing some bedtime affirmations for anxiety can be a great way to ease the mind. If you struggle with anxiety or anxious thoughts, this can be heightened at night and may keep you up.
Using positive bedtime anxiety affirmations can help you relax your mind to sleep.
My mind can rest.
I release my worries and trust the universe to handle them while I rest.
Everything I worry about will work itself out.
I am capable of overcoming my anxieties.
Calming thoughts will fill my head as I drift to sleep.
I am safe to rest. My rest will calm me.

There is nothing I can do right now that I can't do tomorrow.

I let go of my worries and allow positive thoughts to fill their space.
I choose to stop stressing about things that are outside of my control.
My mind, body, and soul need proper rest to move forward with confidence.
I welcome peaceful dreams and calm energy into my mind.
My body is safe to let go and drift to sleep.
I am stronger than my anxiety. There is nothing I can't overcome.
A good night's sleep will empower me to work through my worries tomorrow.
I let go of the stress of today.
I know I did my best today. Tomorrow, I will do my best again. My best is enough.
I accept my humanity and forgive myself for my mistakes.
I believe in my capabilities. Confidence fills me.
I am calm in the present moment and free from thoughts of tomorrow.
As I lay here, I inhale peace and exhale my worries.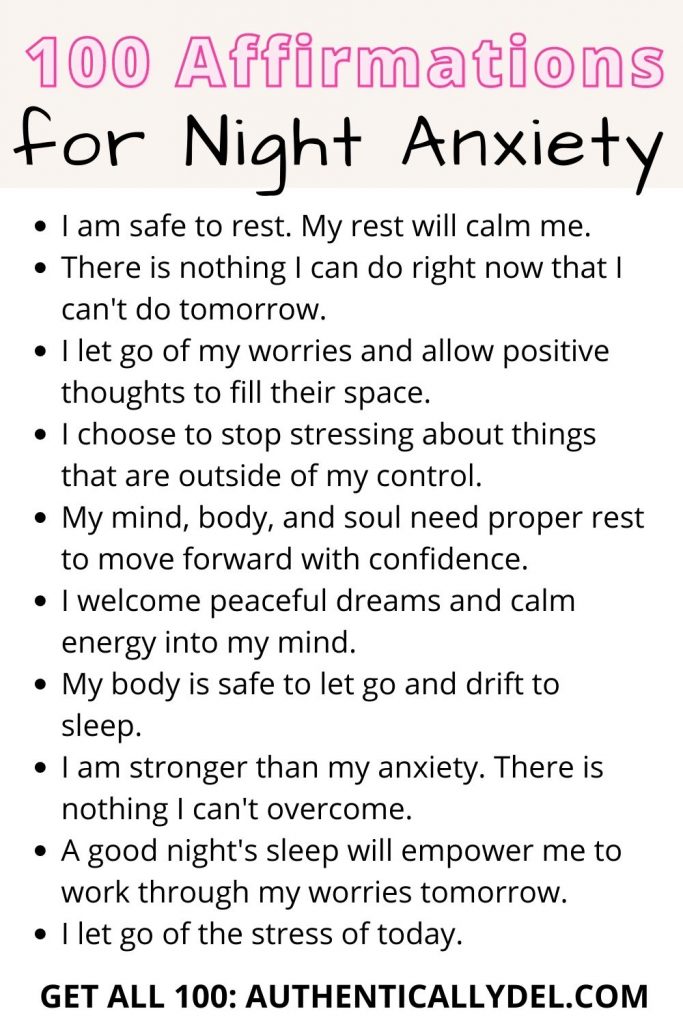 Nighttime Affirmations for Confidence
If you struggle with self-doubt or overthinking, your confidence might take a hit as your thoughts wander before bed.
Using these positive bedtime affirmations for confidence can help you counter that negative thought spiral.
I accomplished my to-dos today.
Every day I do the best I can and that is enough.
I am capable of more than I know.
There is nothing that I can't overcome.
I am loved for the person I am, not the things I produce.
My worth is unwavering.
I carry myself with confidence.
My life is filled with people who love and appreciate me.
I am unstoppable when I set my mind to something.
I am blessed with many unique skills, talents, and gifts.
My dreams are becoming my reality.
I am a beautiful being.
Things fall into place for me because I am worthy.
I love and accept my body in all phases of life.
I am proud of myself for the person I am.
Rest is my right. I do not have to earn my worth through action.
My mind is bright and beautiful.
I am a light and an inspiration to those around me.
I will confidently rest, knowing my dreams will work for me.

My existence makes the world a better place.
Nighttime Affirmations for Abundance
Attracting abundance is a goal for many. Whether it be financial abundance, energetic abundance, or something else entirely, abundant life is well within your reach.
These nighttime affirmations for abundance will help train your mind to seek, attract, and recognize abundance.
My life is abundant.
I attract good things into my life.
I will wake up tomorrow to an unexpected blessing.
Tomorrow will show me the vastness of my abundance.
I effortlessly attract growth into my life.
Money flows effortlessly into my life.
I am growing as I sleep.
Abundance surrounds me in all areas of life.
Wealth and abundance flow freely to me.
New ideas are forming within me while I sleep.
I wake up inspired and prepared to create.
My creativity is heightened as I rest my mind.
Passive income flows to me while I sleep.
I trust that good things are flowing toward me.
I can create wealth and abundance for my life.
My trust in myself is unwavering. I can create a life I love.
The universe is on my side and wants to see me succeed.
I am deserving and worthy of unlimited abundance.
There are endless ways that I receive abundance.
I am open to new opportunities, blessings, and increasing abundance.
Nighttime Affirmations for Gratitude
Ending your day with some bedtime gratitude affirmations is sure to leave you feeling positive before drifting off to sleep. I love to start and end my day with some gratitude.
These nightly gratitude affirmations are perfect for that.
I am grateful for another day.
My life is filled with blessings that I am so thankful for.
I am grateful to be able to rest.
I am thankful for the people in my life.
My life is filled with gratitude.
Tomorrow will bring all new blessings to appreciate.
I appreciate all that the universe does for me.
I am thankful for the simple joys of everyday life.
Thank you, universe. You fill my life with bliss.
Today, I am grateful for…

I am grateful for my body and all it does for me.

There are endless things around me that I am grateful for.
I am thankful to have a bed to rest in at the end of my day.
Today, I felt overwhelming gratitude when…
I am grateful to have a roof over my head.
Tomorrow when I wake up, I will feel gratitude for another day.
No matter what, I know I have many things in my life to appreciate.
Life is a beautiful gift.
I am thankful for every breath I take.
I am grateful for all the beautiful things I have experienced today.
How to Practice Affirmations Before Bed?
Practicing bedtime affirmations can be done in a variety of ways. The most common way is to simply recite the affirmations to yourself – mentally or verbally.
That said, there are a few tips that can help make your nighttime affirmations feel even more meaningful and effective.
3 Tips for Affirmations Before Sleeping
1. Set the Mood
If you try to go from a rushed, hyperactive daytime state directly into your nighttime affirmations, they are likely not going to resonate or be as effective as they could be.
Instead, make it a priority to slow down and set the tone for your affirmations before bed.
My slow-down nighttime routine consists of putting my phone away, turning on my Hatch alarm clock to the sunset lighting, taking a moment for deep breathing, and turning on some light meditative background music (I use the Headspace app).
Once I am cozy in bed and my mind has slowed from the daily hustle-bustle, I know I am ready to begin my good night affirmations.
2. Use Meditative Tools
As briefly mentioned above, incorporating meditation into your nighttime affirmation practice may help further boost the effectiveness and calming sensation.
My favorite mediation tools include:
By adding some extra relaxation and self-care to my positive bedtime affirmations, I really feel the full benefits of them!
3. Use Visualization
In a basic description, visualization is the process of literally visualizing your life as your higher self.
Whether you're hoping to manifest a specific partner, a dream job, or a level of confidence, taking time to create a vivid mental picture of what this looks like can help.
When reciting your nighttime affirmations before bed, take time to visualize every single word of your affirmations as though it is already true.
For example, if you are using a nighttime affirmation for confidence, visualize yourself showing up tomorrow with the confidence you are affirming.
This is a mental technique that is incredibly powerful for shifting your mindset, increasing your vibrations, and, in turn, changing your life.
How Will You Use Positive Nighttime Affirmations?
As with most things, your bedtime affirmations are highly personal. Use this list for inspiration, but feel free to shift and alter these night affirmations so they feel the truest to YOU.
Are you going to be using sleep affirmations for better rest? Night affirmations for renewed confidence in the morning? Calming affirmations for night anxiety?
I'd love to hear how you customize these good night affirmations to better suit you and your needs.
Leave a comment below telling me something you'll take away from this post!