This post contains affiliate links meaning that, at no additional cost to you, I make a small commission if you purchase through my links. For additional information, visit my affiliate disclosure. 
Want to live a healthier, happier life? Explore these mental health goal examples and learn how to set your own mental health goals here!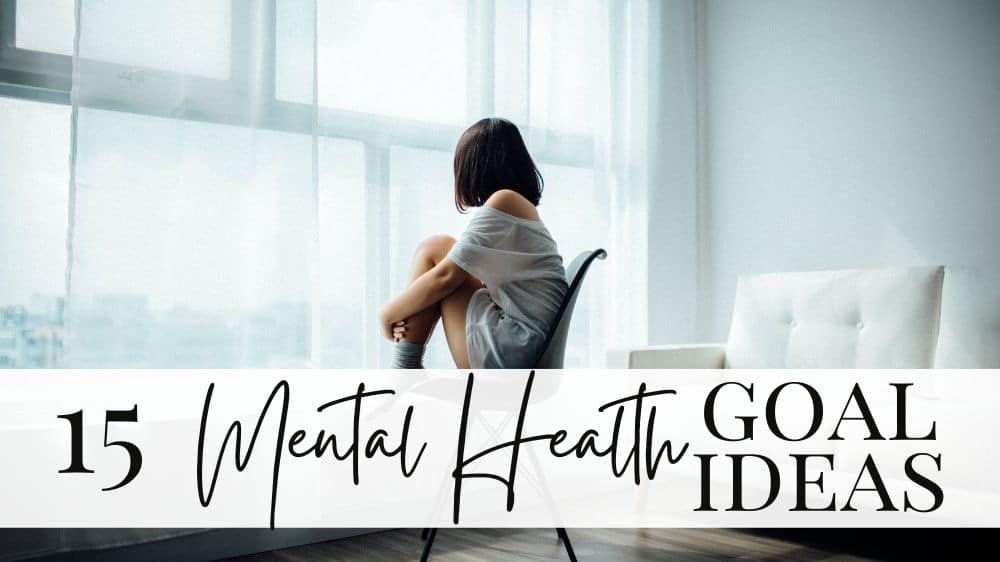 I'm willing to bet you're familiar with setting business goals, financial goals, or physical goals, but when was the last time you set a goal for your mental health?
We get busy setting goals for all areas of our life, yet often forget to focus on goals for mental health too!
Our mental health is the foundation of all we do. Everything in our life is impacted by our mental health and how we feel. It only makes sense that we give it the same attention, focus, and TLC that we give the other areas of our lives.
If you've been feeling like your mental health could use a boost, you're in the right place. This post will cover how to set mental health goals and offer you mental health goal examples to inspire your own.
Why Set Mental Health Goals?
Setting goals has many benefits, such as:
increase motivation
offer you a sense of purpose
trigger new behaviors
align/guide your focus
boost self-esteem and confidence
lead you towards something you want to achieve
When set correctly, goals are a helpful strategy for improving any area of your life you choose to focus on.
Setting mental health goals is not as common as setting business, work, or finance-related goals. However, the benefits can be just as plentiful – if not more!
Mental health goal-setting involves exploring a deeper understanding of yourself and getting in more touch with your mind. It also allows you to pinpoint and brainstorm habits, behaviors, routines, and actions that support feeling good mentally.
Striving for mental health improvement via mental health goals allows us to better ourselves from the inside out. When we feel good in our minds, we can face our external circumstances from a better place.
Since every aspect of our life is impacted by our mental health, setting goals related to mental wellness, health, and happiness will directly benefit all things.
Here's how we do that.
How to Set Mental Health Goals
Mental health goals are great – when they are set in a healthy and productive manner.
When set incorrectly, goals for your mental health may actually leave you feeling worse. It's important to understand how to set mental health goals so they are actually helpful in making you feel better.
Here are some top tips and dos/don'ts for mental health goal-setting.
1. Set SMART Goals
The acronym "SMART goal" stands for:
Specific
Measurable
Achievable
Relevant
Time-Bound
This is a great guiding tool for setting mental health goals. By setting SMART goals, you are setting yourself up for success with achievable, realistic goals that are actually in alignment with your desired outcome.
Learn all about how to set SMART goals here.
2. Avoid All-or-Nothing Thinking
All-or-nothing thinking is a common cognitive distortion that can really interfere with your positive goal-setting, leaving you feeling even worse. That is what we want to avoid.
All-or-nothing thinking is when you think in extremes (also known as black-and-white thinking). With goal-setting, it's especially important to allow for the in-between gray areas.
Accept that not every day will be 100% perfect – but that doesn't make it a failure. Don't put too much pressure on yourself. You just might end up harming your mental health if you do!
3. Have a Clear "Why"
Having solid reasoning for WHY you want to achieve your goals is crucial. This is what will keep you moving toward them. When motivation runs low or your good mental health habits start to slip, having a strong "why" backing you can help you remember the importance of moving forward.
4. Personalize Your Goals
Just as no two people are the same, no two people's mental health goals should be the same. Set goals that make sense for YOU. Your goals should align with your values, morals, lifestyle, and personal desires in life. You can gain inspiration from mental health goal ideas, but make sure your goals are truly what YOU desire!
5. Allow for Flexibility
Life happens, things come up, and your goals may not always feel the most doable. That is natural. Do your best to give yourself grace and allow for flexibility.
Rigidity in goal-setting tends to have the opposite effect of what you intend.
Where you may think rigidity is good for discipline, too much of it may leave you feeling tempted to give up on your goals entirely. Allow for the ebbs and flows of life.
You can remain committed to your goals while giving yourself grace and kindness too!
15 Mental Health Goal Ideas
Let's jump into 15 mental health goal examples to help inspire you. Remember, these are just goal ideas for your mental health. Customize these to your own lifestyle in any way you see fit!
1. Develop a Morning Routine
A strong morning routine plays a key role in the rest of your day. Your morning routine sets the tone for the rest of your day. Setting yourself up for success begins when you first open your eyes.
That said, there is no one "right" morning routine. This should be customized to your daily life, schedule, and what feels good to you and your body.
Whether it's a productive 5 am morning routine, a quick one-hour morning routine, or a slower aesthetic morning routine, YOU get to choose what feels the best for you and fits your lifestyle.
2. Practice Daily Gratitude
Gratitude is a powerful tool for our mental health and overall well-being. Studies have found a link between gratitude and improved mental and physical health.
One of the beauties of gratitude is that it is such a simple and doable thing to add to your daily habits.
Whether it's a quick 5-minute gratitude journal session in the morning or a few moments of mental reflection on your drive to work, making time to consciously practice gratitude can make you feel happier, more optimistic, and overall better about your life.
3. Get Outside Daily
Spending time outside and getting more fresh air has been linked to improved mental health and decreased anxiety and depression. Making it part of your daily routine to step outside and spend time in nature may have a drastic impact on your mindset.
Whether it's going for a walk, eating lunch outside, or just stepping out for a few deep breaths, adding more outdoor time into your routine is a great goal for improving mental health.
4. Go to Therapy
Starting therapy is such a wonderful mental health goal idea. In today's world, there are so many options for more accessible therapy. It really is so wonderful!
TalkSpace is the online therapy resource I have used and loved! To me, the comfort and convenience of online therapy have made such a huge difference in my life. I love it!
5. Find a Hobby
Find a hobby! No, not a side hustle or something you feel you "have" to do. Don't allow this to become something else on your to-do list. Find something you enjoy doing just because it feels fun!
READ: 100 Fun Hobbies for Women in Their 20s
Discover a new passion that you can get lost in. Don't be afraid to test a few out along the way too!
6. Set Boundaries
Setting boundaries with the people in your life is essential for close relationships. Oftentimes we view boundaries are harsh or "mean" when, in reality, they are a key part of a healthy, functional relationship of any kind.
Empower yourself to set firm, healthy boundaries that support your mental health with those around you.
7. Make Your Social Media More Positive
Limiting your time on social media is great, but we also want to curate a positive space for the time we DO spend on social media. This means unfollowing people that leave you feeling unhappy, or aggravated, or tempt you to fall into the comparison trap.
READ: 10 Ways to Make Your Instagram More Positive
In their place, try following uplifting accounts (such as artistic accounts, positive quote accounts, or "good news" accounts).
8. Make Time for Self-Care
Self-care is not selfish – it's essential.
To improve your mental health, make it a goal to schedule a few minutes for some daily self-care. On top of that, consider dedicating a day to self-care once a week or so.
READ: 55 Self-Care Sunday Ideas
Self-care is highly individual and should be tailored to things that make you feel great and fill your cup. Brainstorm some self-care ideas for yourself to refer to when you need them!
Printable Self-Care Journal Bundle:
Self-Love Letter Sheet
Mental Health Check-In
6 Types of Self-Care Sheet (+Self-Care Ideas)
Self-Care Brainstorm Sheet
Monthly Self-Care Calendar
Monthly Self-Care Planner
Weekly Gratitude Page
Daily Gratitude Journal
Comfort TV Show List
Reading List
Self-Compliments Sheet
Self-Care Goals
Positive Affirmation Cards
Customizable Affirmation Cards (Blank)
5-Minute (or less) Self-Care Ideas List
30 Days of Self-Care Challenge
MORE!
9. Learn to Meditate
Meditation takes time, patience, and practice! At first, it can feel really uncomfortable to sit with your own inner self.
However, by allowing for this stillness and taking a moment to silence the outside world, meditation can help improve your overall well-being through stress management and instilling a sense of calmness.
Utilizing a guided meditation app like Headspace or Calm can be a wonderful tool, especially for starting out!
<< START YOUR FREE TRIAL OF HEADSPACE HERE >>
10. Find Joyful Movement
Finding a form of physical activity or movement that you enjoy can help aid symptoms of anxiety and depression and improve overall mental well-being.
It's important that you find a healthy relationship with movement too.
Discover a form of movement that feels enjoyable to you and never force yourself to exercise from a place of self-hatred or in an attempt to change your body. Intentions are everything! Movement is meant to ADD to your life, not be a punishment or a source of dread.
11. Have a Solid Sleep Schedule
Sleep is SO important for all areas of your life and health. Without a proper amount of quality sleep, you simply can not function optimally – in any way!
Developing a good night routine is an important part of sleep hygiene. I love to wind down with the sunset setting on my Hatch alarm clock.
As the light dims, my mind knows to prepare for sleep. Taking time to properly wind down my brain before bed has been a game-changer for sleep hygiene and, in turn, my mental health.
12. Cultivate Healthy Relationships
The people in your life are bound to impact your mental health. There's no way around it!
Doing your very best to foster healthy, happy relationships is a great mental health goal to set. Of course, there will be people in our lives we don't get along with 100% of the time, but evaluate those close to you and be sure that your inner circle is healthy, supportive, and uplifting!
13. Practice Positive Affirmations
The way you speak to yourself matters. Your internal dialogue plays a huge role in your mental health and wellness.
<< Get My Printable Affirmations Cards Here >>
If you have negative thought patterns ingrained, positive affirmations are an extra helpful tool for training your mind to a place of positivity, kindness, and optimism.
14. Manage Your Stress
Stress is part of being human. We all have different life stressors that impact us in our everyday life. Learning how to cope with life stressors in a healthy manner is a must!
Stress has many negative impacts on your health – mentally and physically. Make it your goal to learn how to manage your stress in a way that keeps it from interfering with your health, happiness, and overall well-being.
(Tip: self-care is your best friend for stress management!)
15. Practice Kind Inner Dialogue
The way you speak to yourself matters – a LOT!
Negative thoughts, degrading inner dialogue, and self-depreciation all take a major toll on your mental health. Work on practicing shifting that inner voice to a place of kindness and self-love (or at least self-compassion!).
This can be worked on through therapy or on your own with deep self-reflection and inner work.
Be kind to your mind. You should be your own biggest supporter!
Mental Health Goal Reminders
Remember that your mental health goals should be personal to you and your lifestyle! It's okay if your goals look a bit different from the ones on this list. At the end of the day, you know yourself best.
Also, remember to give yourself grace and self-compassion as you work through these goals. It's okay if you don't feel any changes overnight. Give yourself time to adjust and work through your own goals for your mental health.
Trust the process and do what makes you feel good! You got this.