This post may contain affiliate links meaning that, I may make commission if you purchase through my links. Learn More. 
These positive affirmations for female entrepreneurs can help you cultivate a life of wealth, happiness, success, and abundance. It all starts in your mind!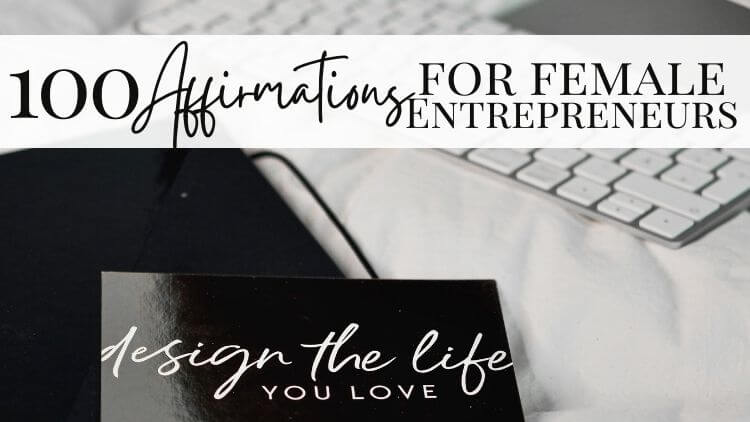 Positive affirmations are a huge part of my mindset practice. I make positive affirmations a daily non-negotiable as they really help to push past limiting beliefs and attract a limitless life of abundance.
When first beginning with affirmations, it can be difficult to know how and where to start. To help guide you, I've put together this quick affirmation guide for female entrepreneurs.
This includes some of my best affirmation tips and over 100 of my favorite female entrepreneur affirmations that I use for my own success. I credit this mindset work for a lot of my success as a female business owner, leader, and entrepreneur.
It's my hope that these affirmations can help guide you to a life of success, wealth, financial freedom, happiness, and bliss, too! Let's jump into them!
How to Use Affirmations for Success
Before we get into the exact affirmations, it's important to know HOW to use affirmations. I see positive affirmation work as a form of art.
Training your mind to attract positivity is a skill. Luckily, it's something you can learn rather easily. I will walk you through my top tips here.
8 Tips for a Successful Affirmation Practice
Prepare your mind first. In order for your affirmations to be successful, you need to curate the right headspace. Find a quiet place, take a few deep breaths, consider a short meditation, and get in the zone.
Slow and steady. Rapid-fire affirmations are not going to resonate or cultivate the mindset you are looking for. Take time to think and feel each affirmation individually.
Personalize and get creative. Make your affirmation practice your own. Your life is unique and personal to you – your affirmations should be too.
Repeat, repeat, repeat. Sometimes my entire affirmation practice is spent on ONE affirmation. Yes. One phrase or sentence – over and over again. This allows for me to really sit with it and for the affirmation to take hold in my mind.
Embrace imperfection. Not ever affirmation practice will be 10/10 picture perfect – because life isn't perfect! Embrace shifts in your affirmations. Don't allow interruptions to stress you out. Keep your energy calm and welcoming.
Practice is key. Like anything, practice is the key to getting the hang of affirmations. I recommend revisiting your affirmations multiple times a day for lots of practice and recurring energy. Affirmation cards can be a great tool for this.
Check your energy. You have to bring positive and welcoming energy into the space in order for your affirmations to work! This is where some breathwork beforehand can be really helpful!
Trust and believe. If you don't believe your affirmations, they won't manifest. Simple as that. You have to trust and believe in your practice and the words you are saying. Visualize each phrase. Get in the right headspace. This is so important!
100+ Positive Affirmation for Female Entrepreneurs
Being a female business owner, entrepreneur, leader, etc. is hard work! It takes an immense amount of dedication, grit, and determination.
These affirmations can help you shift your mindset into a place of abundance to help welcome positive results into your life. Let's jump into them!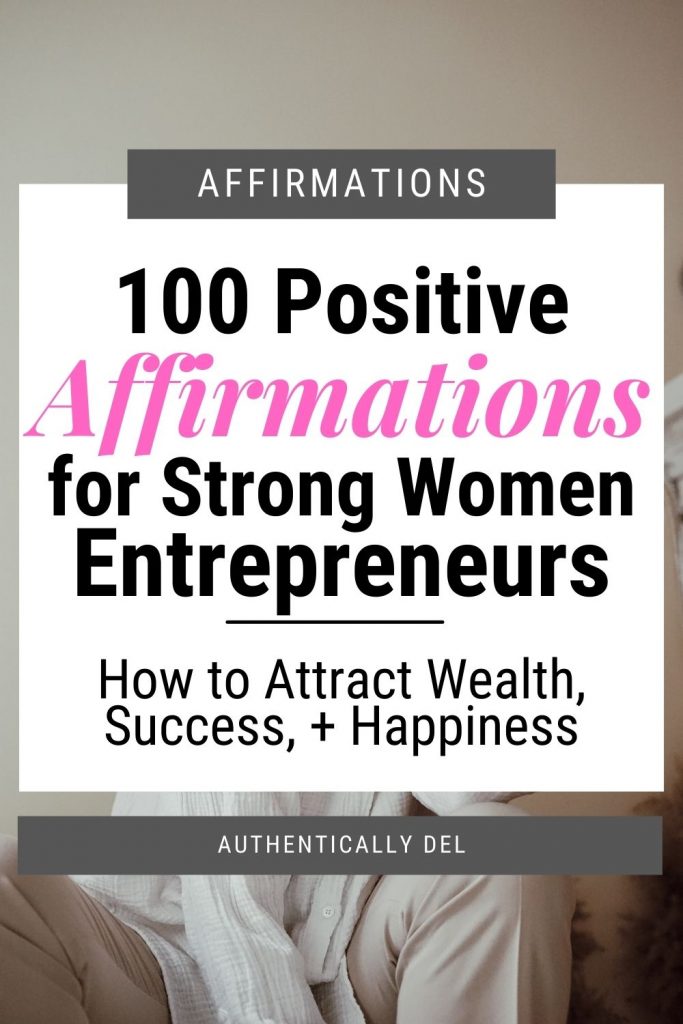 "I am Worthy" Affirmations
Affirmations to affirm in your mind that you are worthy and deserving of all the things you desire – because you are!
I am worthy.
What is meant for me will come to me.
There is no limit to what I deserve.
I am qualified.
My life can be anything I choose.
I am worthy of success.
Success flows to me naturally.
I am deserving of anything I desire.
My dreams are becoming reality.
My self-worth is unbreakable.
I am valuable.
My skills and services are unique to me.
I am incredibly talented.
Everything is working out for me.
I believe in myself.
My ability to grow is endless.
I am good enough.
I deserve to get everything I want.
My greatness speaks for itself.
I am empowered and empowering.
Abundance Affirmations
Abundance affirmations for female entrepreneurs can help shift to a plentiful mindset that welcomes new opportunities and potential.
My potential is limitless.
There are endless opportunities available to me.
I can choose anything I deserve for myself.
Gifts flow effortlessly towards me.
There is enough success to go around.
I have everything I need for a life of success.
My lifestyle is plentiful.
I have more than I could ever need.
Success flows to me in excess.
I allow miracles into my life.
I have everything I want.
My abilities are endless.
Whatever I desire, I can get.
I am grateful for endless gifts.
Beautiful things are always entering my life.
Blessings are never in short supply.
I am grateful to have all I need.
My motivation and inspiration never stop.
Creativity is constantly entering my mind.
My life is full.
Financial Wealth Affirmations
Financial affirmations for female entrepreneurs are important for attracting wealth in the form of money. Use these affirmations to attract financial abundance and great wealth.
Money is always flowing toward me.
I effortlessly attract financial wealth into my life.

People will pay big for my skills.

My knowledge is profitable.
I attract money easily.
I am a money magnet.
Money is never in short supply.
I have enough money to share.
I'm generous with my money.
Financial freedom is my reality.
My money goals are achievable.
I am worthy of wealth.
Unexpected money flows into my life naturally.
I am living in financial abundance.
Making money happens naturally for me.
I can make money while I sleep.
I am open to receiving financial wealth.
My money goals are for the greater good.
I am debt-free.
Money is effortlessly and constantly flowing towards me.
Success Affirmations
Success affirmations are key affirmations for female entrepreneurs. We want to attract success and accomplishment into our lives in all areas.
I am worthy of success.
Success flows to me.
I am achieving my dreams.
My goals are my reality.
I can become anyone I choose to be.
My desires and goals will manifest into reality.
All of my goals are achievable and within reach.
My success is limitless.
My potential knows no bounds.
I am open to receiving unexpected opportunities.
If I set my mind to it, it will happen.
My strength and abilities attract great success.
My work is valuable and worthy of praise.
I deserve to be successful in all I do.
My gifts are unique to me.
Everywhere I turn, I see new opportunities for success.
My success can be whatever I define it as.
I have big goals and dreams that I will achieve.
Self-doubt has no place in my life.
I am committed to success in all areas of life.
Happiness Affirmations
Happiness affirmations for female entrepreneurs are incredibly important. As a female entrepreneur, it can be easy to get so caught up in success, wealth, and goal-setting. When this happens, we can lose sight of what really matters – happiness.
After all, we're entrepreneurs for a reason, right? We want to enrich our lives and feel happy. Here are 20 happiness affirmations for exactly that.
I am happy with my progress.
Regardless of my bank account, I am enough.
My priorities are in order.
I'm meant to live a happy life.
I have a purpose bigger than money.
My happiness comes first.
Joy and happiness flow towards me.
I am worthy of joy.
I love what I do.
Everything in my life works out for me.
I create happiness by showing myself unconditional love.
My happiness is not dependent on external circumstances.
I am worthy always.
My life is full of moments of joy.
Happiness is all around me and within me.
Everything is falling into place.
I trust myself and the path of my life.
Great things are always flowing towards me.
Every day is an opportunity for happiness.
I am in love with my life.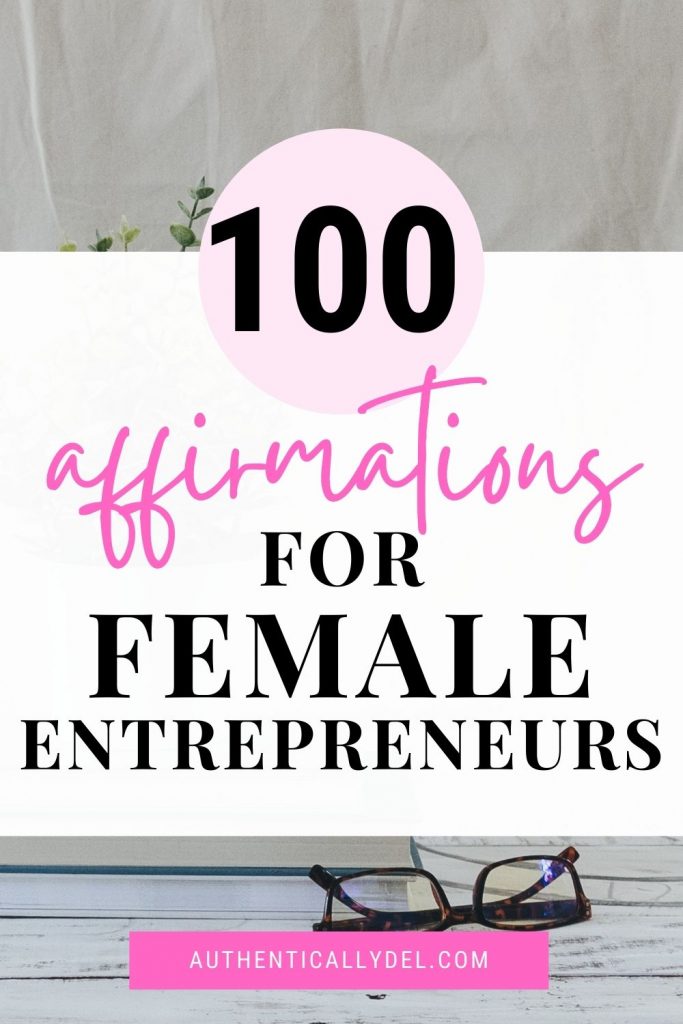 Positive affirmations are a powerful tool for female entrepreneurs.
Being a female entrepreneur takes a ton of work – mentally and physically. Positive affirmations can be an incredible way to train your mind for the mental strength it takes to be a successful woman entrepreneur.
To all my fellow boss babes, female entrepreneurs, and women leaders – I am so proud of you!
I will root for you endlessly and am always here to support you.
If you're a female entrepreneur, leave a comment below telling me what you do and how I can support you!
More Posts You'll LOVE
5 am Morning Routine as a Female Entrepreneur
100 Inspiring Life Goals to Set for Yourself
How to Write a Manifestation List to Attract Your Dreams