This post may contain affiliate links meaning that, I may make commission if you purchase through my links. Learn More. 
Want to start journaling for personal growth and self-improvement? These guided journal prompts for growth can be your guide to success.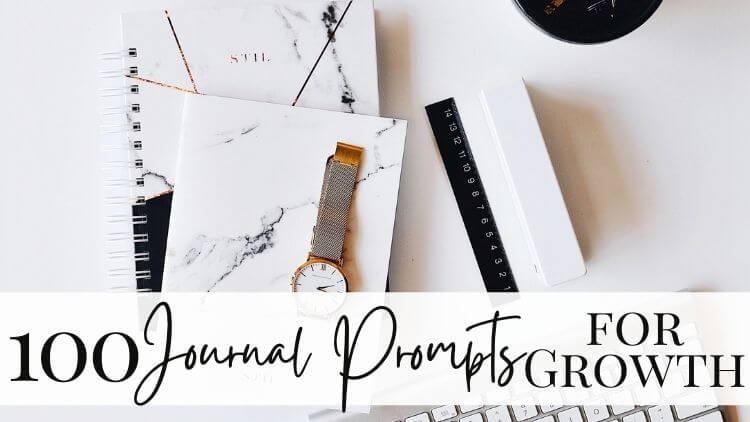 Journaling is an incredibly powerful tool. Whether you are pursuing self-improvement, personal growth, self-love, or simply looking for a safe outlet for your emotions, journaling is a great option.
For a long time, my journal was strictly there to house my deep, dark emotions that I didn't say out loud. It wasn't exactly a positive place.
Additionally, I was extremely inconsistent. Some weeks I'd journal daily, other weeks not at all.
It wasn't until I sought out specific journal prompts that I was able to stick to a journaling routine.
Sometimes journal prompts are the small little push you need to get writing. It's natural to not know what to write about and a simple prompt can help propel you forward.
Journaling for Personal Growth
Your journal can become more than just a diary for your negative thoughts on a hard day. Although that can be a great way to express tough emotions, journaling can also be a tool for personal growth.
Depending on the topic of your journal entry, journaling has the power to shift your mindset, improve your life, and promote growth.
Personally, I find that journaling in the morning helps me start my day off on a happier note. Additionally, journaling before bed can help me feel calmer and more relaxed as I wind down from the day.
Either way, journaling is a positive force in my life – and it can be in yours too!
I've noticed great progress in my personal growth journey by strategically and intentionally utilizing my journal.
Because of this, I wanted to create a post all about some of my favorite journal prompts for growth and self-development.
These personal growth journal prompts cover all the main areas of self-improvement: self-reflection, self-love, goal-setting, and more!
These are some of my favorite prompts to write on and I hope they can inspire you as well!
Let's dive into these self-improvement and personal growth writing prompts!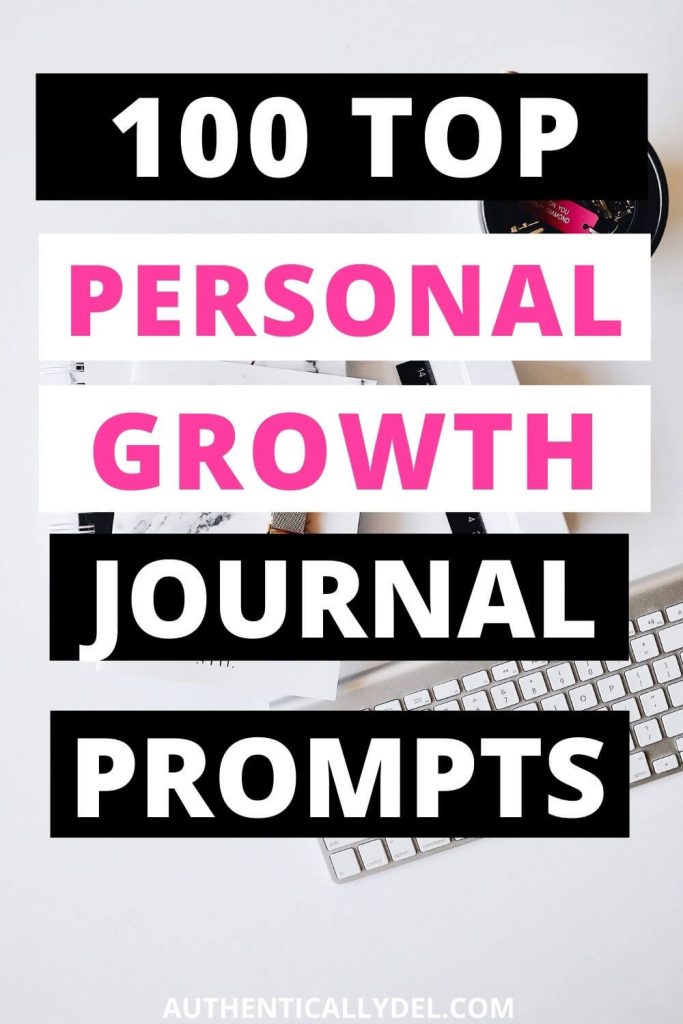 100 Personal Growth Journal Prompts
I like to think of personal growth as being divided into 3 main categories: past, present, and future. We must reflect on the past, check in on the present, and set goals for the future. Here are some journal prompts for all 3 phases!
Self-Reflection Journal Prompts for Growth
When did you feel the happiest in your life? Why?
In the past, what coping skills and strategies have you used? Were they healthy or unhealthy?
What is one thing you've learned this past year? How did you learn it?
What is one thing you've learned this past month? How is it helpful?
Make a list of life lessons you would tell yourself 5 years ago.
What goals have you accomplished that you are particularly proud of?
What is something tough you've overcome? Write about that experience.
If you could change your past, would you? Why or why not?
If you would change your past, what parts would you change? Why?
What was your favorite hobby as a child? Do you still enjoy it?
Write a letter to your child self.
What goals did you have for the last year? Do you still want the same things?
Write about some of your favorite memories. Who's there? What are you doing? Why are they special?
When was the last time you showed yourself deep self-care?
What did you want your life to look like as a kid? Do you still have the same dreams?
Get More Journaling Pages in This Printable Self-Care Bundle:
What was your dream job growing up? Is it still something you'd enjoy?
What are some of the biggest mistakes you've made? What'd you learn?
What past experiences are you most thankful for? Why?
What was important to you 5 years ago that no longer is? How come? What's changed?
Write a letter to your past self.
What's the bravest thing you've done? What'd you get out of it?
Where is your favorite place you've been? Why?
What people make you feel the most comfortable? Why?
What life skills/soft skills have you built (ie. self-care, communication skills, time management)? How do those serve you?
Write about a time you stepped out of your comfort zone. What did it bring you?
Present Moment Journal Prompts for Growth
How do you feel at this moment? Explain.
Overall, do you see yourself as a happy person? Why or why not?
What are 3 ways you can care for yourself this week?
What everyday habits make you feel the best? List at least 10.
What are your current goals for personal growth?
What are your current career goals? How are you working towards them?
What are your current life goals? How are you working towards them?
What are your daily non-negotiables? Do they align with your goals?
What are your top priorities in life right now? Why are they important?
Do you often feel excited or motivated for your days? Why or why not?
How do you "fill your cup"?
What drives you? What do you feel passionate about?
If you could describe this phase of life in one word, what would it be? Why?
Do you have healthy daily habits? What are they?
What healthy daily habits could you incorporate into your day?
What's your proudest moment from this past month?
How can you celebrate yourself more?
Do you feel loved by yourself?
Do you feel loved by the people around you?
Who inspires you right now? Why?
Do you feel supported in your life? Who is your support system?
What relationships fulfill you? Why? What characteristics of those relationships feel fulfilling?
What relationships drain you? Why? What characteristics of those relationships feel unhealthy?
Where do you need to practice setting boundaries in your current life?
How can you add joy to your everyday life? (See this list of everyday simple pleasures for ideas!)
Do you practice self-care often? Why or why not?
What gets in the way of your happiness?
Which aspects of your life feel good right now? Why?
Which aspects of your life do you wish you could change? Why?
Write out your current daily routine. What parts do you enjoy? What parts do you not enjoy?
Do you feel happy? Reflect.
Do you have anything distracting you currently? Why?

What is your favorite part of life right now?

Are there worries that keep you up at night? What are they?

Describe yourself using 5 words. Explain why.
Goal-Setting Journal Prompts for Growth
Where would you like to see yourself in 5 years?
Look at the 7 areas of life. What goals do you have for each area?
Create a bucket list for your next milestone birthday. (ie. 20, 25, 30, 35…)
What self-improvement goals do you have for yourself?
If you could change one thing about your life what would it be? Why?
How do you think you could change the thing mentioned above?
What career goals do you have?

What do you wish for your life 10 years from now?

Describe your "dream life" in detail.
Write out an ideal day in your life.
How can you change today that will get you closer to your dream life?
What do you think would make your life happier? Why?
What goals do you have for your relationships?
Set 3 main goals for the next year. Explain why these matter to you.
Break down your 3 main goals into 3 smaller goals each. (ie. "Improve my mental health" could be broken into "less social media", "drink more water", "go to therapy".)
What does your ideal home look like? Where is it? Who's in it with you?
Make a manifestation list for attracting your dream life.
What are 5 bad habits that hold you back?
What are 5 good habits you want to build?
If you continued life as you are right now, where will you be in 5 years? Are you happy with that?
If not happy with the above result, what changes can you make today to get you closer to where you want to be?

Write down

positive affirmations

that inspire you. How can you incorporate these into your life moving forward?
What dreams do you want to pursue in the next year? Pick 3 specific ones.

Write out an

ideal morning routine

. How can you shift your current routine to look more like this?

Write out an ideal night routine. Do you need relaxation? Productivity? A mix?
Write a letter to your future self.
What makes you feel hopeful and optimistic for the future?
What worries or doubts do you have about the future?
Do you admire any qualities in others that you'd like to adopt yourself? How can you do so?
What do you want to be remembered for when you are gone? Why?
Make a list of your core values. How can you live more in alignment with them?
How can you push yourself in the next year? What makes you feel out of your comfort zone?
What growth do you want to see in the next year?
How can you improve your physical health?
How can you improve your mental health?
What keeps you going when you lack motivation?
Write about your "why"s behind your goals. Why do you want the things you are working towards?
Brain dump all the goals you have for yourself. No commitment – just get them on paper.
Categorize all the goals above into the different areas of life. Order them. Prioritize them. Think about them. Then, get started working on them!
There are 100 journal prompts for growth.
Self-improvement, personal growth, and self-discovery journeys are not always easy. It takes lots of hard work, dedication, perseverance, and motivation to grow as a person.
To be honest, I tend to believe that our work of growing is never done.
It is my goal to be ever-evolving and bettering myself throughout my life. These journal prompts have been life-changing for me. They help hold me accountable and direct my focus to the root of what matters to me.
I have noticed the most growth in my own self-improvement journey when I commit to the habits that better me – journaling being a huge one.
I hope that these personal growth journal prompts inspire you as much as they do me. Good luck on your journey towards growth and self-betterment! Rooting for you!