This post contains affiliate links meaning that, at no additional cost to you, I make a small commission if you purchase through my links. For additional information, visit my affiliate disclosure. 
I have compiled 12 of the best printable self-care worksheets for adults all in one post! These self-care PDF worksheets are the perfect way to ease anxiety, boost your mood, and improve your mental health. Let's jump into them all!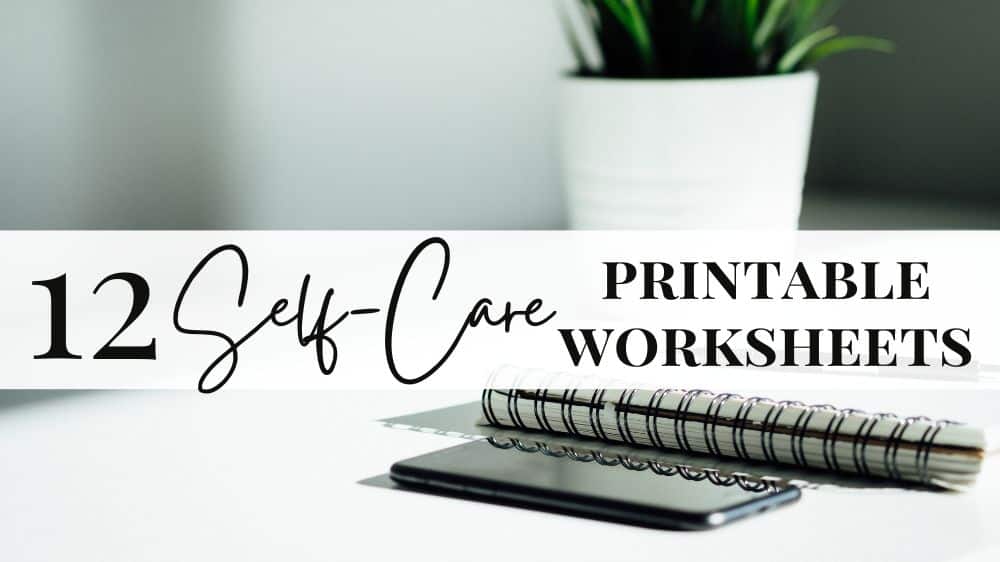 Let's face it. Self-care is essential.
Without a solid self-care practice, you are prime for burnout, exhaustion, and struggles with your mental health.
In order to keep yourself happy, healthy, and well, you have to prioritize taking care of yourself.
As we know, this is easier said than done – especially as an adult.
When schedules get busy, it's natural for self-care to be the first thing to slip. Without the proper tools for practicing self-care, your mental wellness may fall to the back burner.
You have to prioritize self-care actively. It doesn't happen naturally. You have to make a conscious effort to take time for yourself and to tend to your mental health.
Having the right self-care resources is the perfect way to set yourself up for success.
For example, having a self-care kit, a self-care schedule, and self-care worksheets are absolute MUSTS for me to stick to my self-care practice.
To help you collect everything you need, I've compiled 12 of the absolute best printable self-care worksheets for adults.
These PDF self-care worksheets can be stored on your computer, tablet, or phone and used over and over again. I love printable worksheets because you download them once and have lifetime access to unlimited copies available to you!
Here are the top self-care printables on the market that you need to download ASAP.
(Pst… some of these are 100% FREE too!!)
Top 12 Printable Self-Care Worksheets for Adults
I personally tried and tested countless self-care PDF worksheets online to find the absolute best of the best… and here they are!
Top Picks for Self-Care Worksheets
1. 30-Day Self-Care Challenge Worksheet (FREE)
After weeks of research online, I could not find the "perfect" 30-day self-care challenge. Each challenge had something that I just wasn't crazy about personally.
So… I took matters into my own hands.
I created my very own one-month self-care challenge printable worksheet from scratch.
This is one of my personal favorite printables I have ever, EVER made.
This is my go-to printable when I need a refresh in my life. I use this about every 3-months to really give myself that extra self-care boost.
Get your free self-care printable here:
2. Self-Care Assessment Worksheet (FREE)
This worksheet is free from Brown University. It is one of my favorite starting-point self-care worksheets out there.
This free self-care assessment printable helps you analyze your current self-care habits and identify where what types of self-care need some more TLC.
From there, this worksheet helps you build an actionable self-care plan to fill in the gaps in your self-care habits.
This is my favorite starting point for any "beginners" looking to level up their self-care.
3. Grounding Technique Toss-Up Game (FREE)
Grounding techniques are coping strategies that help calm the mind. These are commonly used for anxiety, PTSD, ED recovery, OCD, depression, and other mental health struggles.
On a biological level, grounding takes the brain from the amygdala (fight or flight/panic portion of the brain) into the prefrontal cortex (calm, logical portion of the brain).
As an ED Recovery Coach, I use grounding techniques with my clients every single day.
This free printable offers a list of grounding techniques AND a grounding toss-up "game".
The toss-up sheet allows you to toss a penny onto it to select your grounding technique when needed in the moment.
This is the perfect self-care printable resource for anyone who struggles with anxiety, stress, overwhelm, or a mental illness.
4. Self-Love Journal (Digital + Printable)
Journaling is one of the best self-care activities out there. Taking time to journal allows you to reflect, express, and connect with your emotions.
This self-love journal is the PERFECT self-care printable resource. (This also can be used as a digital journal if you enjoy journaling on your devices!)
This journal prioritizes mindfulness, positive thinking, emotional healing, and self-care.
All of these principles are essential parts of a solid self-care practice.
The PDF self-care printable journal includes 30 days of prompts, affirmations, additional journaling questions, and more. Not to mention, I think it is absolutely beautiful.
This is one of the most affordable printable self-care resources I've found out there – for unlimited access too! Love it.
5. Self-Care Toolkit Printables (FREE)
I was blown away by how many FREE self-care resources were offered in this blog post.
Chronic Illness Warrior Life (blog) has put together a self-care toolkit consisting of MULTIPLE printable self-care worksheets for adults.
This toolkit includes:
self-care plan worksheets
self-care assessment worksheets
daily self-care worksheet
self-care daily checklist worksheet
These sheets are organized, clear, and to the point. If you love a minimalist style for your sheets, these are perfect for you.
6. Ultimate Self-Care Bundle (Printable + Digital)
This digital and/or printable self-care journal is my pride and joy.
I created this journal by myself and I use it personally daily. For so long, I was shopping around for a journal like this, but couldn't find one that had EVERYTHING I wanted.
So I made one.
This journal has every single feature I personally look for in a self-care journal.
Affirmations, self-love letters, journal prompts, self-care planning, daily check-ins, self-care ideas, self-care goals, self-compliments, mood tracker, sleep tracker, and so much more… this journal literally has it all.
Click here to see all the pages
I'm so proud of this product and (between you and me) it is my #1 favorite printable I've ever made.
7. Self-Care Bingo Printable (FREE)
What better way to spice up your self-care than to make it feel like a game?!
This self-care BINGO sheet by Inspiration Made Simple is one of my favorite free self-care printables out there.
It includes two printable BINGO sheets: one pre-filled, one blank for you to fill in!
8. Self-Care Check-In Worksheet (FREE)
Positive Psychology has created this amazing self-care check-in worksheet for FREE.
This sheet dives into each type of self-care and allows you to rate your current status in that area and brainstorm ways to improve.
It also offers you a "self-care bank" of some top self-care activities and some reflection questions to answer, too!
This 3-page printable is perfect for identifying your self-care needs and understanding how you can fulfill them.
9. Self-Care Worksheet Template Bundle
This self-care worksheet template bundle is filled with over 150 templates to create your very own customized printable self-care worksheets.
This bundle includes:
21 Self-Care Worksheets
27 Self-Care Tools
25 Self-Care Workbook pages
28 Self-Care Journal pages
14 Self-Care Trackers
16 Gratitude Journal pages
19 Goal Setting sheets
7 Values and Vision Workbook pages
60 Affirmation Card templates
These Canva templates make it easy for you to customize, download, and print exactly what you need for your self-care sheets.
With this, you get unlimited access to all of these tools (which means unlimited copies of every worksheet!).
10. Journey to Self-Love Workbook
This 23-page workbook is dedicated to self-love, self-care, healing, self-esteem, and mental health.
This bundle contains printable self-care worksheets on:
Reflection & Inner Work
Journal Prompts
Forgiveness Meditation
Guide through Past, Present, & Future
Self-Care Tips & Tools
Cut Out Affirmation Cards
30-Day Self-Care Tracker
More!
I love the resources included in this bundle. It has so many unique pages and such wonderful value for the cost!
11. Self-Care Routine Worksheet (FREE)
Looking to develop a better self-care routine? This worksheet is super simple, basic, and gets the job done!
It has space for you to brainstorm self-care activities for every type of self-care and schedule them into a daily, weekly, and monthly plan.
For a free resource, this is a great starting point for developing a better self-care practice.
12. Self-Care Printable Planner + Checklist
This 14-page self-care printable bundle is full of some really great self-care resources! From planners to checklists to goal-setting and more – there is a great variety here.
This bundle includes:
Self Care Planner Page
Gratitude Journal Page
Weekly Planner Page for Priorities and Goals
Goals Planner Page
Daily Fitness Planner Page
Weekly Shopping List Page
Travel Packing List Page
To-do List and Daily Routine Page
Habit Tracker Page
Chore Tracker Page
Self Care Checklist Page
Weekly Meal Planner Page
Weekly Planner at-a-glance Page
Notes Page
The value of this bundle is one of the best I've found. Not to mention, the pages are super clean, aesthetically pleasing, well laid out, and easy to use.
Love this Etsy bundle!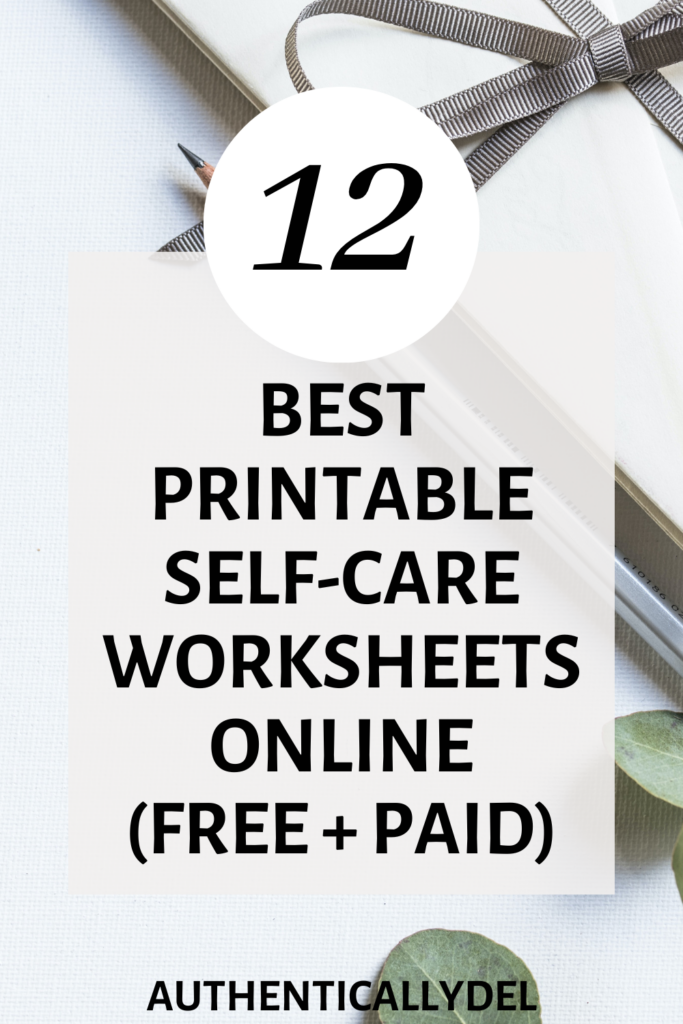 Self-Care Worksheet Wrap-Up
Of all the self-care printables online, these 12 take the cake for the absolute best ones I've found.
Self-care is an essential part of our lives.
Developing a proper self-care routine is a must for health, happiness, and overall well-being.
These self-care PDF worksheets are the perfect tools for making your self-care more organized, effective, and refreshing.
If you have any great self-care printables, worksheets, or recommendations, I'd love to check them out! Comment them down below.