This post may contain affiliate links meaning that, I may make commission if you purchase through my links. Learn More. 
A self-care bath can be an incredible way to relax, unwind, and relieve stress. Use these self-care bath tips, tricks, and essentials to create your own ideal self-care bathtime routine!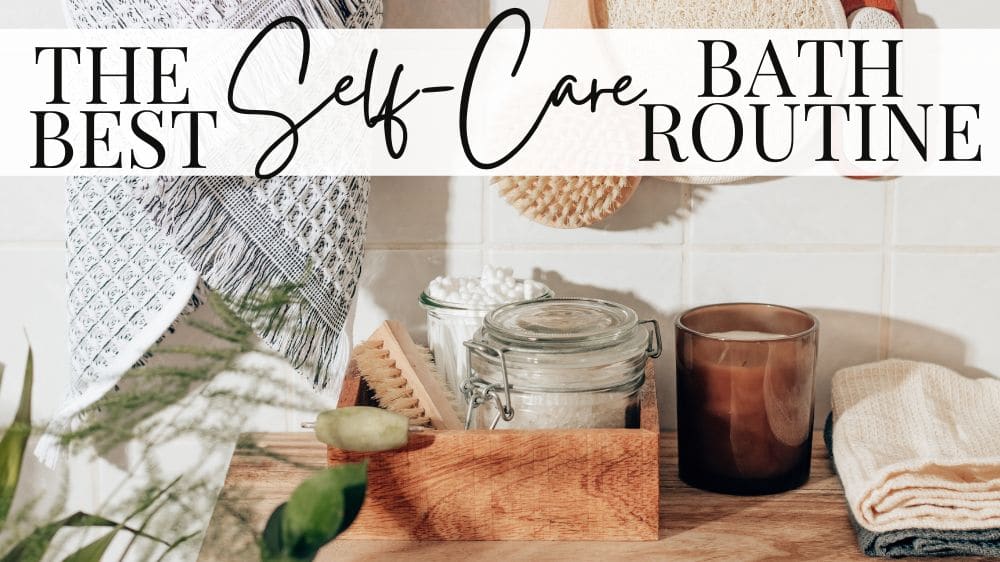 When you hear the words "self-care", what comes to mind first?
Is it an image of a woman leisurely laid in a fancy bathtub with a facemask on and a glass of wine?
If so, you're not alone. Face masks and bubble baths tend to be the stereotypical face of the "self-care" buzzword. But, this may be for good reason!
Cheesy, predictable, and stereotypical? Maybe. But relaxing AF nonetheless.
A luxurious self-care bath is a go-to for relaxation and stress relief.
In this post, we cover all there is to know to create the relaxation bath of your dreams. Consider this your ultimate guide to the perfect self-care bath.
10 Top Tips for Your Self-Care Bath
Here are 10 of my top tips for making your bathtime as perfect as possible!
1. Take Your Time
It's important to time your bath appropriately. If you have outstanding to-dos or time restraints, your relaxation is likely to be limited.
If full relaxation and self-care are your goals, it's best to hit the bath when you have time to just BE.
No to-dos, no plans, no expectations, no interruptions. Just pure peace and quiet time.
2. Mindset Matters
Much like timing, your bathtime mindset matters!
If you are unable to shut off your mind and fully embrace the self-care experience, your bathtime will not give you the benefits you're hoping for.
Anxiously awaiting a big phone call? Have a big test later that day? Need to meet a friend in an hour?
All of these things could potentially interfere with your ability to be fully relaxed and present during your bathtime moment.
This isn't to say that you CAN'T have a self-care bath with outstanding daily stressors. If you want to, go for it!
Just be aware that if you feel like you're going to struggle to shut off your stress, your bath mood may be impacted.
3. Perfect the Temperature
Nothing kills a bath quite like water that is the wrong temperature.
Not to go Goldilocks on you, but your bath water cannot be too hot or too cold – it needs to be just right.
Test the water frequently as your tub is filling. You may have to manually tend to the water knob to curate your PERFECT bathtime temperature. But, trust me, it's worth it.
4. Enjoy Luxurious Extras
Want to know what really takes an ordinary bath to the next level? The extras.
Yes, the stereotypical self-care add-ons.
The face masks and bath bombs, candles and bubbles, books and bath pillows – all of it is one big YES.
These little things make a HUGE difference in upping your bathtime routine. Stay tuned for all my bathtime essentials later in this post.
5. Embrace Your Senses
When preparing for bathtime, I always like to check in on all 5 of my senses. This doesn't mean you HAVE to tend to all 5, but it's nice to consider them all for the ultimate self-care bath experience.
RELATED POST: 25 Self-Care Ideas for the 5 Senses
For example…
Sight: Rose petals in the bath, bath bombs, books, candles, etc.
Smell: Bath gels/soaps/bubbles, candles, essential oils, etc.
Sound: Music, TV shows, meditation tracks, positive affirmations, podcasts, etc.
Taste: Tea, lemon water, wine, snacks, desserts, etc.
Touch: Bath pillows, luffas, water temperature, skincare, etc.
6. Time It Right
I tend to get the most out of my baths at night. Bathing in the morning or afternoon just doesn't give me the same relaxation feel.
But that doesn't mean it'll be the same for you!
Choosing the right time of day for your self-care bath is really important. Is it a relaxing start to your day? A midday pick-me-up? Or part of a self-care night routine to wind down for the day?
There's no right or wrong answer here. It's all about what works best for YOU.
7. Add-On Skincare
Using bathtime as a time for skincare kills two relaxation birds with one stone.
It's like a self-care double-whammy.
I, personally, love to put on a face mask while I'm in the bath and finish up my bathtime routine with some moisturizing body lotion.
8. Bring Entertainment
There are lots of ways to keep yourself occupied in the bath. Some of my favorites include:
Keep in mind – if you'd prefer to just relax fully and do NOTHING, that is great too! You do whatever feels best to you.
9. Set the Mood
Set the tone for your self-care bath! Make the whole environment conducive to relaxation and rest.
Turn the entire bathroom into your at-home luxury spa.
Even small things like lighting a candle or dimming the lights can make a world of difference.
10. No Room for Stress
There is no space for stress in the tub with you. Leave all of your daily stressors outside of the bathroom door. Once you enter your bathtime oasis, you are free from thoughts of stress or anxiety.
To-do list? What's that?
Messy kitchen? It's not there.
Demanding boss? Never heard of them.
You deserve this hour (or so!) of pure rest and relaxation. No stress allowed.
The Best Self-Care Bath Products & Essentials
Having the right products for your self-care bath makes a huge difference in how enjoyable and relaxing it is! Here are some of my favorite bathtime basics and luxury products!
Top 5 Self-Care Bath Essentials
1. Bath Tray/Bath Caddy
Bath trays and/or bath caddies are incredibly aesthetically pleasing AND functional. They provide a safe and dry space for your book, laptop, phone, and/or tablet, beverage, snack, candles, etc.
It's like a bathtub tabletop that keeps your essentials safe and out of the water.
I also love how much variety there is in bathtub trays/caddies. Depending on your budget, visual aesthetic, and bathtub needs, there's an option for you.

2. Bathwater Enhancers
This is a really broad bathtub essential because there are just SO many options.
From bath bombs to essential oils and everything in between, there is no limit on how you can customize your bath water to give you the most relaxing experience.
Some common bathtime water additions include:
bath bombs
salts and/or scrubs
bath gels
soaps
essential oils
bubble baths
I've tried out my fair share of bathwater add-ons and I will link my favorites below.

3. Candles
Is any self-care experience really complete without a good candle?
I LOVE to have candles going in the bathroom during my self-care bath. It really helps to set the tone and give that spa-like feel.
Not to mention, if you opt for candles with calming essential oils, you can double up on the relaxation benefits.

4. Bathrobe and/or Bath Towel
Your self-care bathtime is important… but the post-bath routine is also important!
There's nothing better than getting out of the bath and wrapping yourself in a plush, luxurious bathrobe or bath towel. Something about it just feels so self-care-ish. It's the best!

Bathrobes and towels really do feel like a "you get what you pay for" type of thing. If you want a high-quality, comfy, plush robe or towel, it may be a bit pricier – but it will hold up longer and make you feel so much better!
5. Bath Pillow
You can't have a relaxing self-care bath while your head is uncomfortably pushed up against the hard bathtub wall.
Stiff neck? No, thank you!
Getting a bath pillow is a simple and affordable way to make your bathtime 100x more comfortable. Whether you get a plush, stuffed pillow, a blow-up pillow, or a bath cushion, having a soft and comfortable place to rest your head makes a world of difference in the bath.

More Self-Care Bath Products
Outside of the 5 bathtime essentials above, there are some additional bath products that I LOVE and swear by for my self-care bathtime routine.
Body brush. A dry brush or body brush is an amazing tool for improving circulation and aiding in lymphatic drainage. I love using this to relieve feelings of swelling or bloat on my body.
Exfoliating scrub. For so many years, I neglected to exfoliate my skin – I wish I hadn't! Exfoliating is SO good for you and feels amazing, making it the perfect self-care bath addition.
Good books. Having a good book in the bath is the BEST! I love getting lost in a good read while relaxing in the tub.

Check out my favorite reading lists here:

Music. I bring my waterproof speaker with me into the bath and shower. Good music is always a mood-boosting must-have for me.
Face masks. Face masks are a great way to add another element of self-care and luxury to your bath. I swear by my Elemis skincare – it's the first skincare line I've found that works great for my sensitive skin. (Elemis even has an "aching muscle super soak" for sore muscles or a tired body! PERFECT for a self-care bath!)
Snacks and/or treats. Whether you're a salty snack or sweet treat type of person, having something to munch on makes bathtime even more enjoyable. Grab a box of assorted chocolates or your favorite salty snack and munch away!
Spa headband. Getting a spa headband to keep your hair up, dry, and out of the way is a great way to add an element of luxury to your self-care bath.
Spa diffuser room mist. Turn your bathroom into a full-blown spa by adding a spa essential oil diffuser. Diffuse calming essential oils such as eucalyptus and/or lavender and it'll feel like your own spa sanctuary.
Shop These Bath Products:

Why You Should Take a Self-Care Bath
So, by now, you know how to have a totally incredibly self-care bath routine… but why?
Why are self-care baths so soothing, relaxing, and beneficial?
Taking a warm shower or bath has many benefits. Some of these include:
relaxation
reduced headaches
improved sleep
reduced muscle tension
improved self-confidence
increased blood flow
lowered blood pressure
These are just a few of the technical reasons that taking a relaxing bath is just so dang good for you.
Additionally, self-care showers and baths have a luxurious feel that we cannot ignore.
There is something mentally spa-like about romanticizing your life and treating yourself to a full-blown spa-status bath at home.
Relaxing baths are a great way to care for all areas of your self – mind, body, and soul.
You deserve this relaxation.
You really do. Go draw yourself a bath and give yourself some quality alone time in the tub. Read, listen to music, or just soak and relax. You deserve the zen.
Not a Bath Person?
Check out this post all about how to build the PERFECT self-care shower routine. You won't regret it.
More Self-Care Posts for You
25 Sensory Self-Care Ideas for the 5 Senses
How to Build Your Own DIY Self-Care Kit