This post may contain affiliate links meaning that, I may make commission if you purchase through my links. Learn More. 
You've made it to the end of the week! These Friday journal prompts can help you unwind, refresh, and plan for the weekend ahead!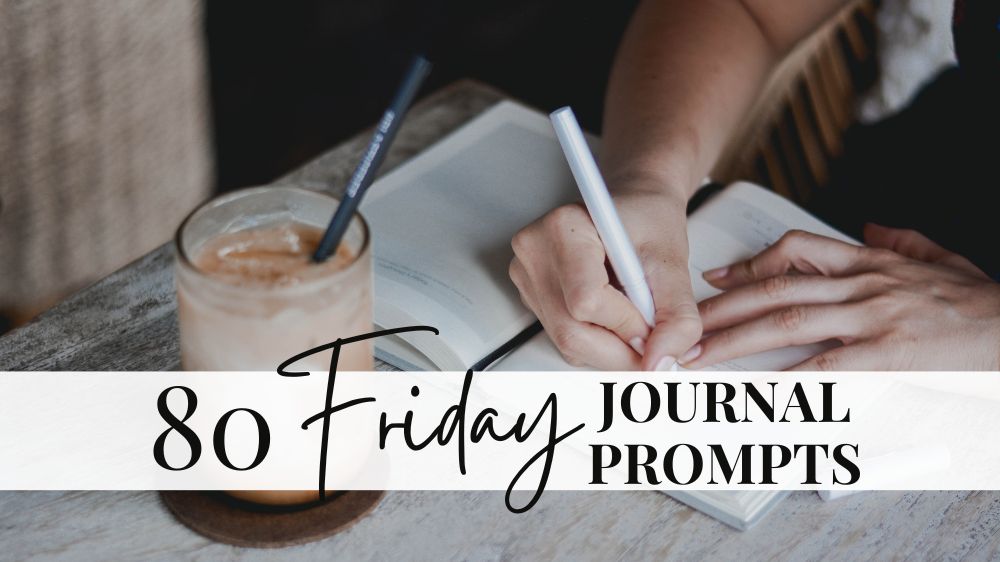 At the end of a long week, sometimes all you want to do is unwind, relax, or let loose with some friends.
Adding some quick and simple Friday journaling into your end-of-the-week routine can be a great way to reflect on the week, identity what you need from your weekend, and then finally transition into "weekend mode".
Make time for one or two of these quick Friday journal prompts at the end of your week.
75 Perfect Friday Journal Prompts for Adults
Since there are so many different ways you can journal on a Friday, I've broken these Friday journaling prompts into a few different categories below!
Find the prompt category that best suits your mood and enjoy!
Quick Friday Check-In Questions
What can I celebrate this week?
What did I learn this week?
How am I feeling right now? Mentally, physically, emotionally?
What brought me joy this week?
What are my top 3 intentions going into next week?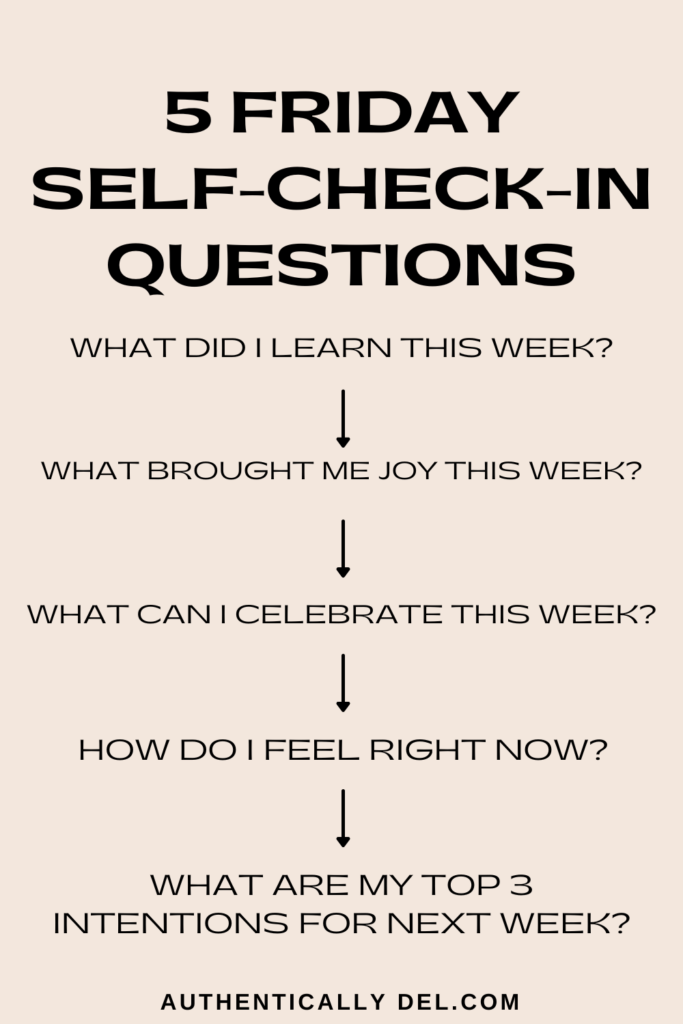 Friday Morning Journal Prompts
How can you make this Friday feel even happier?
What do you need to get done this Friday to fully enjoy your weekend?
What are you looking forward to this Friday?
How can you brighten someone else's life this Friday? Who?
This Friday morning, I am grateful for…
What do you need out of this Friday?
What small, simple pleasures will you enjoy today?
What negative emotions can you release today?
Plan a 'look-forward-to' to get you excited for the weekend.
Today, I choose to…
Mental Health Friday Writing Prompts
How can you show yourself love today?
Rate your mental health right now on a scale of 1-10. Why? Describe it.
If you could describe your mental health in one word, what would it be right now/ Why?
If you could describe how you want your mental health to be in one word, what would it be? Why?
Which areas of life do you feel are preventing full happiness?
How can you incorporate more self-care into your life?
Set 3-5 mental health goals for yourself.
How can you take care of your mind this weekend?
In what ways do you destress or relax? When do you feel most at peace?
Describe your ideal happy place. Where are you? What are you doing? Who is there with you? What pieces of this vision can you bring to reality this weekend? How?
Friday Journal Prompts for Reflection
What was the high point of your week? Describe it.
What was the low point of your week? Describe it.
What did you accomplish this week?
List 10 things that brought you joy this week.
What is something you learned this week?
How did you take a step toward your long-term life goals this week?
Write about a funny moment from this week. Explain it in detail.
Who was your favorite person to talk to this week?
What didn't go so well this week? How can next week be better?
Reflect on your goals and/or to-dos for the week. How did you do?
(Use Code "BLOGSQUAD20" for an ADDITIONAL 20% OFF all products right now!)
Relaxing Friday Journal Prompts
What are you looking forward to doing this weekend?
How can you practice self-care this weekend?
READ: 100 Self-Care Saturday Ideas | 55 Self-Care Sunday Ideas
What's a TV show you really want to watch?
Make a list of books you want to read. (Start one this weekend!)
What do you need to get out of this this weekend? Fun? Relaxation? Rest?
Describe your "happy place". How can you achieve that (or close to that) this weekend?
Who is someone that makes you feel good? How can you see/be in touch with them weekend?
Make a short weekend bucket list of small fun and/or relaxing things you want to do.
Write yourself a letter of praise for making it through the week.
Describe your weekend plans. What are you most excited about? Anything you're not so excited about?
Positive Thinking Friday Journal Prompts
Describe one thing you're proud of yourself for accomplishing recently.
Make a list of positive affirmations for yourself.
Write a thank you letter to someone you love and appreciate. (You don't even have to give it to them if you don't want to!)
Brain dump any negative thoughts on your mind. Get them out so you can let them go.
Make a gratitude list.
List some of the many small, daily things to love about life.
What is something that always puts you in a good mood?
How can you make someone else's day brighter this weekend?
What about a perfect day look like for you? Describe sunrise to sunset.
What is something that makes you special or unique?
Make a list of things you love about yourself.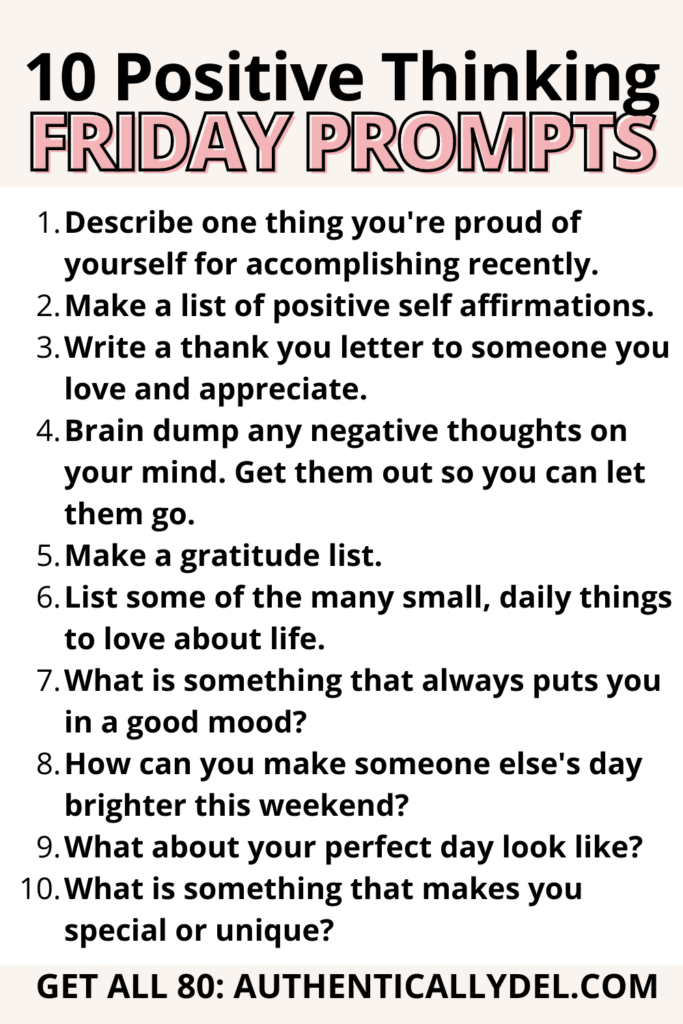 Weekend Planning Journal Prompts
What is one fun thing you can do this weekend?
What is one productive thing you can do this weekend? (This can be rest. 😉 )
What is one relaxing thing you can do this weekend?
READ: 89 Relaxing Lazy Sunday Activities
What do you need to do this weekend to feel prepared for Monday?
How can you use this weekend to make next week better than this week?
What goals do you have for next week?
Describe your perfect weekend.
What area of self-care needs the most focus this weekend?
How can you practice self-care for your needs this weekend?
READ: 6 Types of Self-Care + Ideas for Each One
Fun Friday Journal Prompts
Write about a happy memory that makes you smile.
Describe your best childhood vacation. #FlashbackFriday
Write a letter to your past self. What would you tell him/her?
Write a letter to your future self. What would you ask/tell?
Make a list of your favorite songs and how they make you feel.
Make a list of your favorite things. (Foods, places, people, movies, etc.) #FridayFavorites
What is your favorite day of the week and why?
Make a bucket list of fun activites/goals.

List 10 words that make you think of "Friday".

Write a short poem about Friday. (You can use the words from the prompt above!)
Pick a short story prompt to write on. #FreewriteFriday
Write about your ultimate dream Friday. Get creative.
Simple Friday Night Journal Prompts
What do you need to let go of for a restful night's sleep?
How can you make your Saturday morning as relaxing as possible? What will you do?
Write down 10 things you accomplished this past week to be proud of yourself for!
Start Friday Journaling!
Now you have a collection of over 50 Friday journal prompts to choose from. Use these quick and simple journal prompts to close out your week in a reflective, meaningful, and fun way.
Daily journaling is a great tool for mental health, introspection, self-reflection, anxiety, mindset, and more. Getting in the habit of journaling at least a few times a week can greatly impact your overall health and well-being.
While you're at it, check out these Monday Journal Prompts for a successful week.
Happy journaling!