This post may contain affiliate links meaning that, I may make commission if you purchase through my links. Learn More. 
As we shift from spring to summer, it's time to set some new summer goals for your best summer season yet!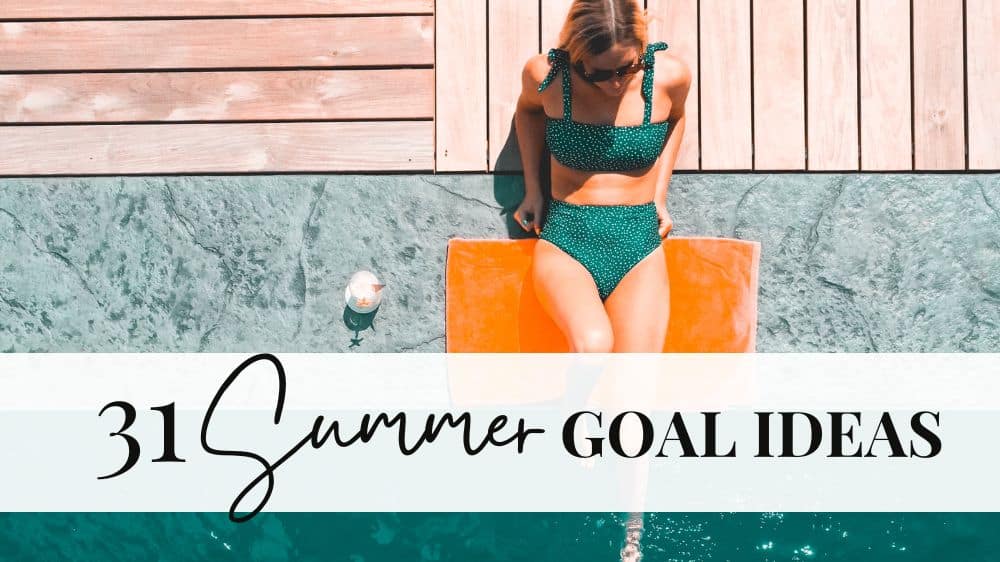 Whether you already have a good idea of the goals you want to set for summer or are starting entirely from scratch, this post can give you the inspiration you need for setting the perfect goals for a healthy and happy summer. Let's get started!
How to Set Summer Goals
Setting goals for the summer, much like any other type of goal, should be done in an intentional and productive way. By setting your goals correctly, you may increase your chances of achieving them.
But how do you do that?
Set SMART Goals
If you're a goal-setter, you have most likely heard the term "SMART goal" before.
SMART is an acronym for:
Specific
Measurable
Achievable
Relevant
Time-Bound
When setting your summer goals, refer back to the SMART acronym to ensure that your goals are well-thought-out.
SMART goals have been proven to be more effective since they offer clarity, motivation, and focus.
They also set clear objectives and offer a time frame, making it more possible to stay on track with your goals.
READ: 100 Short-Term Goal Ideas to Improve Your Life
The goals listed below are not formed as SMART goals intentionally. This allows you to make them your own and customize them to fit your lifestyle!
Don't get too overwhelmed with this process, but keep it in the back of your mind when setting your goals for the summer.
Write Down Your Goals
Did you know that writing down your goals can increase your chances of improving them? It's true – proven by neuroscience!
Similar to when you would write down a vocab word over and over to memorize it, the simple act of writing down your goals can help "encode" it in your brain. Cool, right?!
Additionally, if you are intentional in describing your goals in vivid, written detail, you may be up to 1.4x more likely to achieve your goals.
If you ask me, that's a pretty small act for some pretty great odds.
Consider getting a goal-setting planner to help guide you in this process.
There are lots of goal-setting tools available that are specifically made to help set you up for success with your goals!
Track Your Progress
Tracking your progress is an incredible way to stick to your goals. One of my favorite ways to track my goal progress is through habit tracking.
When I set a new goal in life, I jot down some corresponding daily habits that will help me achieve that goal. Then, I will make note of each small habit and track it in a habit tracker.
Up your odds of achieving your summer goals and track your progress in one way or another!
Remain Flexible
As your summer goes on, your goals may shift a bit. Allow for some flexibility here. Don't be too hard on yourself.
Set a couple of clear daily non-negotiables for your goals, but, outside of that, allow yourself the grace to do what you want.
Summertime is meant to be enjoyed!
Don't be so focused on your summer goals that you forget to enjoy your summer.
31 Best Summer Goals for 2023
Now that we know how to set goals for the summer, we can get into the really fun part – actually setting them! Here are 31 of the BEST goals to set for yourself this summer!
Some of these goals are centered around health, wellness, and personal growth and others are just about enjoying the summer season! Take inspiration from both as you compile your own list of summer goals!
Fun Summer Goals
Some fun summertime activities that you can make part of your summer goals this season!
1. Take a Trip to the Beach
Nothing says summer quite like some time on the beach with your toes in the sand and the sun on your skin. Gather up your friends and/or family and head out to the beach. (Don't forget the sunscreen! 😉 )
2. Explore a Nearby Small Town
With the warmer weather of the summer season, it's a perfect time to explore a nearby town.
Wander the shops, grab some lunch, sit on a bench, and people-watch!
Exploring small towns with lots of mom-and-pop shops is one of my favorite ways to spend my summer days!
3. Get Ice Cream Once a Week
AT LEAST.
This is a must for me in the summertime. It's always a summer goal of mine to fully embrace the season with all the cool and delicious sweet treats I can.
Frozen yogurt, ice cream, shave ice, popsicles – YUM!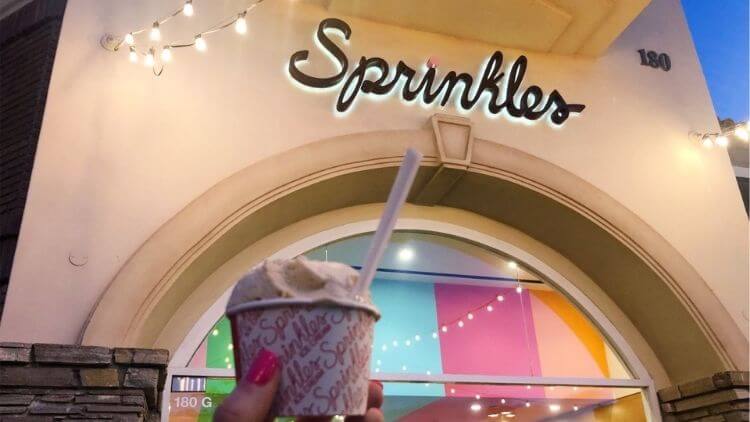 4. Swim in the Ocean
I'm lucky to live right near the coast so this is a totally practical summer goal for me. However, if the ocean is a bit too far of an excursion for you, lakes, rivers, and even swimming pools will do the trick!
The summer is such a great time to freshen up your swimming skills while cooling off in the water. So much fun!!
5. Get a Tan
One of the most common summer goals is to simply get a tan – and for good reason! Getting a tan in the summer season feels so good! Feeling tan can lead to improved self-confidence too!
Don't forget the sunscreen though!
6. Garden
In the warmer months, we're more inclined to spend time outdoors. For me, one of my summer goals is to utilize my backyard more! I love to sit out there and read or just relax.
This summer, why not make it a summer goal to freshen up your yard with some new plants or yard decor?
Even if weren't gifted with a green thumb (me either), you can add some fun yard decor to your space. (String lights, fire table, new patio furniture, etc.).
7. Take a Road Trip
The summer is the perfect time to take a road trip.
The road conditions are less likely to be affected by weather, you don't have to pack for rain/snow/cold, and you have more opportunities for outdoor activities on your adventure!
Consider taking a few days (or longer!) to load up the car and explore! What a fun summer goal!
8. Have a Picnic
Having a picnic always feels like you're living in a movie. I don't know why we don't do it more often, but it just feels so special!
Grab a picnic kit for two and take your BFF/partner/friend/sister/dog (😉) on a picnic date this summer!
9. Go to a Baseball Game
If you're ever wondering what to do in the spring or summer, a baseball game is a good go-to.
It's fun, lighthearted, entertaining, and enjoyable for everyone! Plus, you get to enjoy some greasy stadium food – bonus!!
10. Go Camping
I've honestly never been a huge camping girl, but its one of my own summer goals to get out and camp! To spend time disconnected and in the heart of nature feels so relaxing and beautiful.
Don't forget the s'mores!
Healthy Summer Goals
Mental and physical health goals for the summer season!
11. Workout Outdoors
Whether it be yoga on the beach or jumping rope in your backyard, try taking your workouts outdoors during this summer season!
With the shift to warmer weather comes new opportunities for outdoor workouts open up.
Take advantage of doubling up on the workout endorphins and the vitamin D! Total mood booster!
12. Drink Lots of Water
Drinking enough water is always important but especially as it warms up! You should be drinking even more water every day if you are outdoors in the heat or sweating.
I love to carry around my 40oz water cup with me throughout the day – it makes getting in my water really easy and mindless.
13. Journal Daily
Journaling is an incredible tool for your mental health. Even just 5 or 10 minutes of journaling a day can really benefit your mind. It doesn't have to be a huge commitment!
For example, I journal in my 5-minute journal in the morning and then will sometimes free-write journal at night.
CLICK HERE TO GET MY EXACT 5-MINUTE-JOURNAL
It rarely takes more than 7 (or so) minutes and I feel the benefits almost instantly.
14. Enjoy Seasonal Produce
Summertime fruits and veggies are EXTRA delicious. The freshness of in-season produce is a huge perk of the summer season. Make it a summer goal to enjoy the fresh flavors of the seasonal produce as much as possible!
15. Put Your Phone Away
You can only enjoy the moment so much if you're simultaneously tied to your phone. Make it a goal this summer to spend more time away from your screen and less time mindlessly scrolling.
RELATED POST: How to Make Your Instagram More Positive
Being on your phone is not a bad thing necessarily… but it should never take priority over the in-the-moment experiences.
Click here to check out the book How to Break Up With Your Phone for tips!
Enjoy your summer and the people around you without the constant urge to swipe and scroll!
16. Take a Hike
Just within this past year, I have begun exploring hikes a bit more. They've been wonderful, but I've been super excited to hike in warmer weather. It's one of my main summer health goals to get out and explore more through some local hikes.
It's such a great way to connect with nature, move your body, and refresh your mind all at once.
17. Self-Care Daily
Yes, daily!
Self-care is often misunderstood as something huge, time-consuming, and extravagant. But it doesn't need to be.
RELATED POST: How to Build a DIY Self-Care Kit for Cheap (30+ Ideas)
Self-care can be something as simple as a quick self-care shower or a fast 5-minute self-care activity. All of it matters and is valuable to your mental health and overall well-being.
18. Practice Balance
It always breaks my heart to see health and wellness portrayed as green smoothies and long workouts (like in the TikTok "That Girl" trend on social media).
Health and wellness should allow for flexibility and enjoyment. A strict lifestyle rooted in restriction, rules, and limitations is NOT healthy.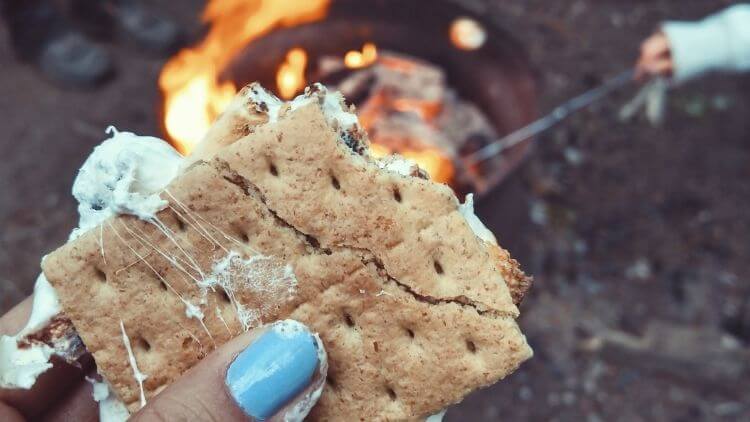 RELATED POST: How to Start a Wellness Journey That's ACTUALLY Healthy
Make it one of your summer goals to allow yourself that spontaneous enjoyment and flexibility.
A life of wellness is a life of balance.
That means that you can enjoy s'mores with your friends AND go to the gym. You can go days without working out AND still prioritize nutrient-dense foods. There are no rules or limits on your lifestyle. Free yourself from those this summer so you can ENJOY your life.
Social Summer Goals
Summer is a great time to connect with those you love through fun activites. Here are some great summer goals that involve friends, family, and loved ones!
19. Have a Family Get-Together
If you have a family that enjoys being together, take on the role of the host of a family get-together this summer! Gathering up some of your closest loved ones and reconnecting all together can be such a blast!
20. Volunteer in Your Community
Give back within your own neighborhood. Check in on local volunteer opportunities and get involved!
Volunteering is a great way to help others, connect with your community, meet new people, and make a difference.
21. Bond with a Partner
When life gets busy, it can be really easy to slip into a disconnected state with your partner. Make it one of your summer goals to reconnect.
Whether it be a weekend getaway, more day dates, or just spending quality time together at home, having the goal to reconnect with your loved one this summer can be a great way to bring more joy into your life and your relationship.
22. Make a New Friend
Making new friends as an adult can feel really hard. Make it a goal for the summer to put yourself out there more.
Connect with friends-of-friends, reach out to people you see on social media, strike up conversations in public, or even use Bumble BFF to find like-minded people in your area!
Making new friends can ignite new joy in your life. Quality friendships are so important for our overall happiness and well-being. You can never have too many good friends!
23. Reconnect with an Old Friend
Long-term friends are the BEST!
Even if you fall out of touch for a while, it is usually super easy to pick back up and continue the relationship.
Reach out to some old friends this summer. Meet for coffee or ice cream and catch up!
With old friends, there's already an established relationship and connection. This makes it super easy to pick back up without the awkwardness of a "new" friendship.
24. Take a Social Media Break
"Social" media – but is it really?
If social media is keeping you from living in the present moment with the people actually around you, it may be a good time for a social media break.
RELATED POST: 10 Negative Effects of TikTok
Focus on your in-person friends first this summer. Make it a summer goal to put the phone down when you're around people in real life. Social media can wait!
25. Host a BBQ
Summer barbecues are one of the best parts of the season. Grilled hotdogs and hamburgers, fresh watermelon, and fireside s'mores at night… ahh – the sweet tastes of summer!
Host a BBQ with some close friends or family and really get in the summer spirit.
Personal Summer Goals
Anytime is a great time to grow yourself personally.
Whether it be through productivity, goal-setting, self-care, focusing on your happiness, or something else entirely, make it a goal to care for yourself this summer.
Here are some personal goals for the summer to consider.
26. Learn a New Skill
Want to learn how to surf? Caligraphy? Paint?
Want to know how to start a blog? Build a business? Start a side hustle?
Make a list of things to learn and tackle a couple of them! Make them your goals for the summer.
Commit to these goals and you'll finish the season feeling accomplished and like you've grown as a person. What a great feeling that would be!
(Check out this list of fun things to learn if you need some good ideas!)
27. Tidy Up Your Space
Spring cleaning is out. Summer cleaning is here.
I'm always way more motivated when the sun is shining. In the summer, I like to use that motivation to get things done!
RELATED POST: 25 Quick Things to Organize When Bored
Set a summer goal to tackle some cleaning or organization projects that you've been putting off.
A clean space is the key to a clean mind. You'll feel so much better once it's done – I promise!
28. Set New Goals
If you're here looking for summer goals to set, that tells me you're already off to a great start on this one.
Setting goals is a great way to improve your life and grow yourself as a person. I love to set new goals for every new month.
With the shift to the summer season, it's a perfect time to reevaluate and set some new goals for yourself too!
Need inspiration? Here are 100 life goal ideas to motivate you!
29. Make a Summer Vision Board
This is such a fun way to kick off the summer season. Make a vision board specifically for your summer!
Add in summer goals you have, things you want to do, experiences you want to have, people you want to connect with, etc.
If you want to do it this summer, add it to the vision board! Make it your own and have fun with it.
30. Take a Photo a Day
Photos are such a beautiful tool to capture memories and moments. Looking back at a photograph can bring up tons of memories in the blink of an eye. It's really, really powerful.
---
A camera is a save button for the mind's eye.

— RODGER KINGSTON
---
Consider investing in a Polaroid camera or other instant print camera. Having tangible prints makes this feel more fun, in my opinion.
If you want to take photos on your phone, I love using this smartphone instant photo printer. It works so well!
Keep all these physical prints in a photo box, photo book, or tied together with a rubber band to flip back through and reminisce on in the future.
This takes me to my final summer goal idea…
31. Keep a Memory Journal
So you've set all these goals for the summer, now what?
Go make memories!
Keeping a memory journal is such a fun way to keep track of some of the amazing moments you experience.
I started doing this for my traveling memories and, after seeing how much joy it brought me, I started doing it for life.
On bad days, I look through my memory journal and smile about all the good times. This is a great way to document your summer.
You can even add your daily Polaroids to this to fully capture the moment!
What are your 2023 summer goals?
Setting goals for the summer is a great way to stay motivated and get the most out of the season. That said, remember that your happiness and fulfillment are always priority #1.
Above all, make it your summer goal to be present and enjoy the season. Relax, make memories, and have fun! That's what summer is all about!
Shop My Summer Goal Essentials: