This post contains affiliate links meaning that, at no additional cost to you, I make a small commission if you purchase through my links. For additional information, visit my affiliate disclosure. 
Want to start listening to podcasts but aren't sure where to start? Look no further! Here are 35 of the best podcasts for women in their 20s.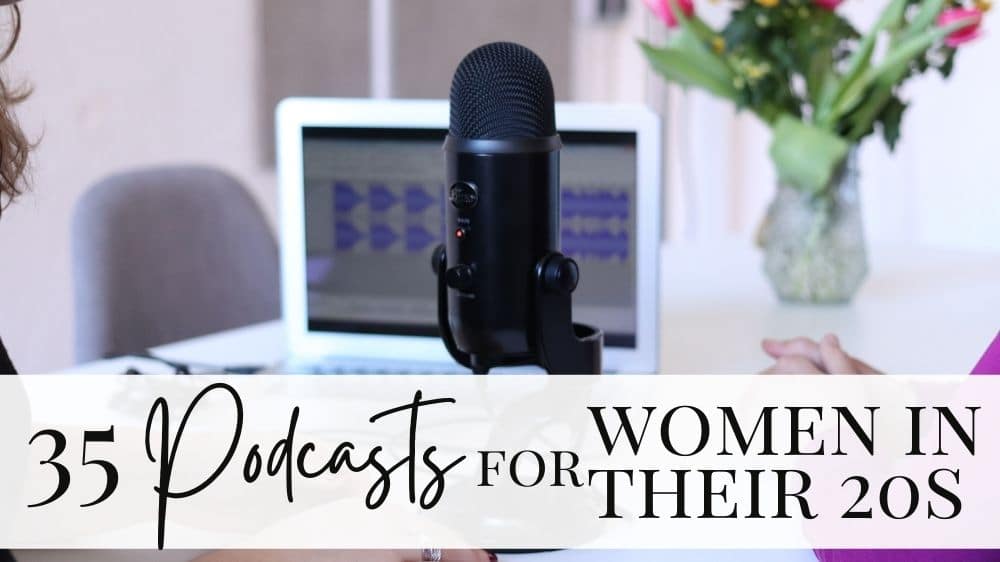 Over the past few years, it feels that podcast consumption has become increasingly popular among young women and young adults.
A 2021 study found that 78% of Americans are now familiar with podcasts. That is roughly 222 million people!
There's no denying the popularity of podcasts today.
Whether you choose to listen in your car, on a walk, or in your home, podcasts are a convenient want to consume media and connect with creators.
Podcasts are great because they offer the ability to multitask.
Unlike TV shows, documentaries, YouTube videos, or TEDTalks, podcasts do not have a visual element, meaning you can do other mindless tasks while listening.
I personally love to go for long walks with a good podcast. Before I even know it, I've been walking for 45 minutes!
Podcasts are a simple way to pass the time of an otherwise boring or mindless task.
Whether you opt for podcasts related to education, entertainment, motivation, health, wellness, finance, crime, etc… there really is a podcast out there for everyone!
For the fellow young women here, I have compiled a list of the 35 BEST podcasts for women in their 20s to help get you started.
These podcasts range from motivational to educational and everything in between.
After all, we could all use a little guidance and inspiration as we navigate through our early 20s, right? Let's dive into the list!
35 Best Podcasts for 20-Something Women
With such a wide range of podcast topics and niches, I've divided these podcast recommendations into a few categories:
Lifestyle Podcasts
Health, Wellness, & Fitness Podcasts
Business, Finance, & Entrepreneurship Podcasts
Depending on your interests and desires, this can help you find the perfect podcast for what you're looking for!
Best Lifestyle Podcasts for Women in Their 20s
These podcasts are best described as "lifestyle" podcasts. While they may cover health/wellness or business/finance, they are an overall lifestyle podcast filled with everyday tips, tricks, motivation, and more.
Real Pod with Victoria Garrick has been my most recent podcast obsession.
I absolutely love Victoria and have followed her on social media for a while now. However, I only recently got into her podcast and have been binge-listening ever since.
This podcast is all about authenticity and realness.
Victoria talks about real-life things – success, failure, body image, mental health, growing up, social pressures, and more. There are also some super cool guests on this podcast who are really fun to hear from!
I love Lauren Elizabeth and her hilariously quirky personality!
Lauren is someone I started watching on YouTube YEARS ago and I've followed her ever since. MOOD, her podcast, is real, raw, honest, and hilarious.
Lauren talks about mental health, everyday life, routines, mindset, and more on her pod.
Like Real Pod, she also has some super cool guests (Josh Peck was recently on!). Lauren also started every podcast episode with her weekly "best mood". "worst mood", and "mood boosters".
These are fun segments that make it feel like your just having a casual convo with your BFF.
Eli is another person with an infectious and incredibly welcoming personality. Her podcast, Miss Congeniality, really just feels like a casual girl's night conversation with your besties.
Miss Congeniality talks about life in your 20s, sex, body image, mental health, pressures, friends, habits, and more!
Eli is like your virtual BFF and advice-giver for all things related to growing up and navigating young adulthood. This is the perfect podcast for women in their 20s.
You may know Kalyn Nicholson from YouTube. At least that's where I first became a fan many years ago. Kalyn is such a gentle and kind-hearted soul. Her YouTube, social media, and podcast are all such a breath of fresh air.
Kalyn's Coffee Talk podcast talks all about spirituality, intuition, mindset, mindfulness, and overall wellness.
If you are someone looking to level up your life or hoping for some gentle, friendly guidance, Kalyn's Coffee Talk is the perfect podcast for you!
(Note: more podcasts on motherhood can be expected as Kalyn has a baby on the way!)
Tori DeSimone also got her start on social media and YouTube. Since then, she has branched out into the podcasting world and has grown her podcast, Manifest, into a huge business!
Manifest is motivating and insightful, covering topics related to health, wellness, daily routines, mindset, fitness, and more.
Tori's podcast focuses largely on health and wellness, yet also covers other lifestyle topics (which is why I opted to categorize it as a lifestyle podcast).
This is a great podcast for women in their 20s who are looking for motivation and actionable tips to feel happier, healthier, and more connected to themselves.
Gretchen is yet another OG YouTuber turned podcaster. I love Gretchen for her positivity and infectious energy. She is such a bright light in the world – and that shines through in her podcast!
Happy Hour covers all the things. From positive thoughts and stories to deep conversations about mental health, relationships, body image, and more, Gretchen shares it all!
I love the openness and honesty of this podcast. Gretchen starts to feel like a close friend through the podcast. It's comforting, entertaining, and motivating. Love it!
This podcast is just plain entertaining! It is so incredibly popular among young women – I bet you've even heard of it before this post.
The Skinny Confidential follows Luaryn Bosstick and her husband, Michael, as they talk about all things relationships, wellness, beauty, lifestyle, and more.
This isn't a podcast I listen to EVERY episode of, but with such a wide variety of topics, it's always fun to scroll through and pick ones that pique my interest! There's an episode for everyone.
Full of Joy is a podcast by Franceska Boerman (formerly Garza). I first knew her as Frankie Garza and watched her and her sister, Alex Garza, on YouTube. I love them both and follow Frankie's podcast now!
Full of Joy mainly focuses on mindset, manifestation, and self-development.
Frankie is a trained mindset coach and gives some really amazing tips regarding manifestation, the Law of Attraction, mindset, and more. Super educational, inspiring, and entertaining.
If you are a woman in your 20s, I'm willing to bet you've at least heard of Emma Chamberlain. This is her podcast!
Anything Goes is a podcast where… anything goes. Emma talks about anything and everything on her mind – stories, advice, and random chats.
This is a great "comfort podcast". It's casual, relaxed, and super entertaining. I love listening to this while I complete other tasks to help pass the time.
Jaci Marie and Chelsea Jade host the What We Said podcast. These two are pretty well-known on social media and from their podcast.
What We Said is a girl-talk podcast covering topics such as relationships, health, life, business, habits, daily routines, beauty, and more.
This podcast kind of feels like a wine night with the girls. I like the two-host podcast dynamic because of the natural banter and conversation.
While I don't 100% agree with everything said on this podcast (or any podcast for that matter! I think disagreeing is natural!), I do still love listening to their candid conversations.
Katelynn Nolan originally got her start as a wellness influencer on TikTok and has since grown her brand into other areas of the internet – including her podcast!
Not Your Typical is a wellness-based podcast that focuses specifically on living a balanced lifestyle.
This podcast covers more than just physical health and wellness, though. Not Your Typical covers topics about all areas of health, wellness, and lifestyle in early adulthood, making it the perfect podcast for young 20-something women.
Arielle Lorre is the host of The Blonde Filles podcast. Arielle has such a calm, breezy, and casual tone in her podcast that makes it an easy listen.
The Blonde Files is all about health, wellness, beauty, and fulfillment.
From makeup tips to gut health and everything in between, The Blonde Files covers such a wide range of topics that makes it a perfect listen for almost anyone.
Hosted by Sophie Miller and Riley Dixon, the Drink More Water podcast is a fairly new podcast with a professional feel. These girls are podcast naturals!
Drink More Water covers topics related to health (as the title suggests), fitness, beauty, relationships, business, and daily life.
Nothing's off-limits here. This podcast feels like getting advice from a big sister or BFF!
This podcast is hosted by Danielle Carolan and Brooke Miccio, influencers and YouTubers.
Gals on the Go is a true lifestyle podcast, covering a huge range of topics in all areas of life.
This podcast has some pretty interesting guests that are really fun to hear from!
Gals on the Go is also largely about the lives of the hosts, Danielle and Brooke. If you don't know much about them or don't care to, you may find some of the episodes aren't interesting to you. (Their personal stories ARE interesting though, I promise!)
However, there is a broad range of topics covered and I'm sure there's at least one episode that will resonate!
Olivia Eve Shabo hosts this beautiful and (in my opinion) widely underrated podcast! I am always shocked that this podcast isn't more well-known than it is!
For You From Eve is a self-love lifestyle podcast.
The messages in the podcast are beautiful and inspiring. If you are on a self-love journey through your 20s, this is a great podcast for you!
RELATED POST: 100 Things to Love About Yourself
Hosted by two BFFs, Jules and Nic, this weekly-updated podcast feels like a great option for all young women.
Fleurish covers all topics – nothing is off the table! It really touches on all things lifestyle and early adulthood!
The conversation here is raw and honest. Much like the What We Said podcast, I enjoy the BFF banter and conversation here. I think it gives the podcast a nice casual and natural feel.
Again, I don't always agree with everything on this podcast (there are a couple of diet-culture-y moments), but I do still love this podcast and these girls. I think it's a great way to keep you entertained and inspired!
Much like the With Love From Eve podcast, this podcast feels like it should be more talked about than it is!
Just Glow With It is all about becoming your best self, manifestation, self-improvement, and personal growth.
Jasmine Shah, the host of this pod, is a breath of fresh air and a great source of motivation and inspiration for anyone on a personal growth journey through their 20s.
Jordan Lee Dooley is a National Bestselling Author and an incredible resource for all things self-improvement and personal development.
The SHE podcast gives actionable steps and tips to implement in your own life for growth, achievement, and happiness.
From goal-setting to healthy habits to a clean home, Jordan gives great advice for becoming your best self in every area of your life.
Sarah Landry, the host of the Papaya Podcast, is one of the most honest, real, and open individuals on the internet. I've followed her Instagram for years and just recently become obsessed with her podcast too.
The Papaya Podcast is the perfect mix of honesty, advice, wisdom, and inspiration for all things.
This podcast covers a ton of topics and, with Sarah's beautiful soul, leaves you feeling less alone and more inspired.
This is one of the absolute best podcasts for women in their 20s who long for more candid and authentic conversation.
This is my #1 all-time hands-down favorite podcast EVER.
Hosted by Glennon Doyle, her sister Amanda, and her wife Abby Wambach (retired U.S. National Soccer Player), this podcast is one of the highlights of my week every week.
We Can Do Hard Things is all about deep, honest, real conversations about the hard things in life.
With a beautiful mix of humor and depth, this podcast has rapidly become my favorite podcast. When a new episode is released (twice a week!), I will drop all things to listen. I am THAT in love with it.
I think people of all ages need this podcast in their lives. It's motivating, inspiring, educational, and entertaining. Doesn't get better than this.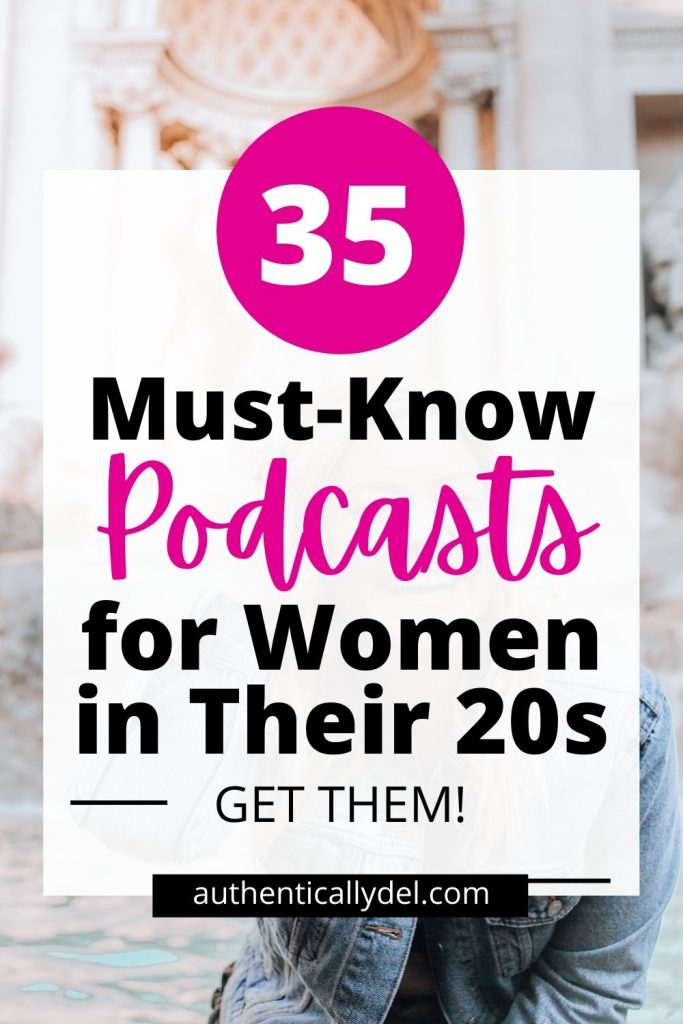 Best Health Podcasts for Women in Their 20s
These podcasts are focused more specifically on health. This includes topics regarding diet, nutrition, exercise, etc. Many of these podcasts are from health professionals (dieticians, naturopaths, etc.) and take an anti-diet approach to health and wellness.
Sam Previte is a registered dietician, certified personal trainer, and intuitive eating counselor.
The Find Food Freedom podcast covers all things diet, nutrition, and food!
This podcast takes an anti-diet approach to health and is a breath of fresh air for our diet-ridden society. With her extensive education and incredible knowledge, Sam hits you with the FACTS and teaches you how you can intuitively nourish your body.
Food doesn't have to be so complicated!
Sam Previte from the FFF podcast above is joined by her friend and fellow registered dietician, Jenna Werner, for this co-hosted podcast!
This podcast is an anti-diet, fact-based podcast that breaks down dieting myths and fuels you with the FACTS about nutrition and dietetics.
These two have the BEST banter and deliver their incredible knowledge in a fun and easy-to-digest manner.
I love the anti-diet-culture message these two promote and I highly recommend this podcast for women in their 20s who are trying to heal their relationship with food, exercise, and body.
Another incredible anti-diet dietician, Deanna Wolfe, is the host of this podcast.
DEATS with Deanna covers all things nutrition, anti-diet, fitness, and even has a touch of business/entrepreneurship.
This podcast helps those struggling with their body and their negative relationship with food while empowering them with the knowledge to overcome this struggle.
Former model, ED recovery warrior, and NOW ED recovery coach (like myself – apply for my coaching here!), Kate Noel hosts the beautiful and insightful podcast, Take the Cake.
Take The Cake covers all things ED recovery, body image, wellness, health, and healing.
Kate has such a gentle and comforting approach to recovery. Her advice helps to make those struggling feel less alone and offers them the community they need.
(Not to mention, Kate has the MOST comforting and calming voice I've ever heard!)
Jessi Jean certified eating psychology coach hosts this insightful, educational, and fact-based podcast about food and the body.
The Dear Body podcast focused on healing from binge eating, emotional eating, and finally finding peace with food and your body.
Jessi Jean does similar work to me (as an ED recovery coach) in her mission to help women heal from limiting food, body, and exercise thoughts and behaviors.
I love Jessi's podcast for actionable tips and steps you can take to help heal your relationship with food. It's both entertaining and informational, making it the perfect easy-listening podcast for young women.
Liv, the host of The Liv Well Podcast, is a naturopathic doctor, 7d energy healer, and akashic reader. She takes all this knowledge into her podcast and helps women feel their best in all areas of life.
The Liv Well Podcast is at the intersection of nutrition, manifestation, mindset, health, and healing.
This podcast takes a well-rounded approach to feeling like your healthiest self – mentally, physically, spiritually, and emotionally.
Aleen Dreksler, the co-founder of Betches, is the host of Diet Starts Tomorrow.
Diet Starts Tomorrow covers all things related to health, body image, nutrition, fitness, and wellness.
This podcast is no B.S. and gets really honest about the realities of the glorified "wellness" lifestyle we see on social media.
A lot of this podcast aligns with my anti-diet values and I really like Aleen's balanced approach to overall wellness.
Rebecca Leigh, a holistic nutritionist, hosts this informative podcast, giving you actionable tips for a healthy and happy lifestyle.
The Rebecca Leigh Podcast takes a holistic approach to health and wellness, offering you Rebecca's perspective as a holistic nutritionist.
Rebecca gives helpful information and good tips that you can implement into your own life.
However, to be blunt, some of this podcast feels a bit "diet-y" at times. If anything of that sort is a trigger for you, see one of the other explicitly anti-diet podcasts suggested here.
Bonnie Roney, Registered Dietician and Certified Intuitive Eating Counselor, has the FACTS.
Diet Culture Rebel tackles common diet culture myths, breaks down the social dieting pressures, and encourages a life of food and body freedom.
I adore Bonnie's mission, message, and infectious energy. She is such a light in the anti-diet-culture space. Her work is amazing and this podcast is just one example of that!
Registered Dietitian and food freedom expert, Colleen Christensen, hosts this insanely inspiring, uplifting, and fact-based podcast.
The SociEATy Podcast is all about finding food freedom, ditching dieting (for good), and making peace with your body.
I love this podcast because, as an RD, Colleen has the knowledge and credentials to dish some cold hard FACTS.
She discusses binge eating, restricting food, over-exercising, calorie counting, body image, and more as a way to help those struggling overcome these limitations and make peace with their food.
This is one of the best podcasts for women in their 20s who are battling body image struggles or want to break free of dieting FOREVER.
Business, Money, & Entrepreneurship Podcasts for Women in Their 20s
These are the podcasts for the boss babes out there. If you are looking for money motivation, business tips, or entrepreneurship insight, these are the best podcasts for you! All hosted by female leaders, these podcasts can help you level up your professional life.
Jenna Kutcher, the ULTIMATE boss babe, is the host of the incredibly well-known and popular podcast, The Goal Digger Podcast.
The Goal Digger podcast helps give you the business tips, tricks, and skills to finally ditch your 9-5 and build your own dream business for yourself!
Social media strategies, marketing tips, productivity hacks, financial advice, interviews with other experts in the field – Jenna gives it ALL.
This podcast is what first inspired me to start my Authentically Del businesses. It is a total motivation-booster. This is for the go-getters out there!
Thrive Founder and CEO Bree Pair interviews tons of professional bloggers, influencers, and content creators to help crack the code on success.
The Thrive Blogger & Influencer Podcast is particularly helpful for those pursuing a business in the online/social media space.
If you are interested in starting a blog, check out my posts on blogging and Bree's podcast for the BEST tips.
RELATED POST: 10 Tips to Start a Money-Making Blog in Your 20s
Latasha James, CEO, entrepreneur, freelancer, and business owner, is the host of the incredibly informative podcast, Freelance Friday.
The Freelance Friday Podcast gives tips for freelancers and aspiring entrepreneurs, influencers, and business owners.
Latasha is a total girl boss and she helps her listeners become one too! I love her tips on social media strategy and online marketing. She always has new information!
Kacia Fitzgerald is the host of this well-rounded and motivating podcast encouraging women to build a life they love.
EmpowerHER covers everything involved in a successful and happy life – relationships, mindset, business, habits, and more.
This podcast teaches you how to level up as a human in order to build the life of success you want in your business. This all-around approach is unique and super helpful!
I love Kacia's tips and think this is the perfect podcast for women in their 20s who are hoping to build a life of success and abundance!
Lori Harder is a life coach and podcaster that serves no B.S. tips for leveling up your life.
Earn Your Happy is all about goal-setting (and achieving), mindset shifts, confidence tips, and actionable steps to grow your business and income.
As a life coach, Lori knows how to motivate you. Some of her podcasts serve some tough love to help push you to your highest potential.
This is one of the best podcasts for women in their 20s that need that extra shove to work toward their dream life.
Need to be called out? Lori will.
These are 35 of the Best Podcasts for Young Women
Whether you're looking for mindless entertainment, hard nutrition facts, routine inspiration, or financial tips, these podcasts cover it ALL.
All female hosted, these podcasts are perfect for all you young women out there that want to feel inspired, motivated, or connected.
What is your favorite podcast for women in their 20s?
Leave your podcast suggestions below! I'd love to give them a listen!
More Posts for You
100 Fulfilling Hobbies for Women in Their 20s
100 Exciting Bucket List Ideas for Your 20s
20 Must-Read Books if Single in Your 20s