This post may contain affiliate links meaning that, I may make commission if you purchase through my links. Learn More. 
These fall bucket list ideas are here to help you handcraft the autumn season of your dreams! Use these festive fall activities and bucket list ideas to inspire your ideal cozy season.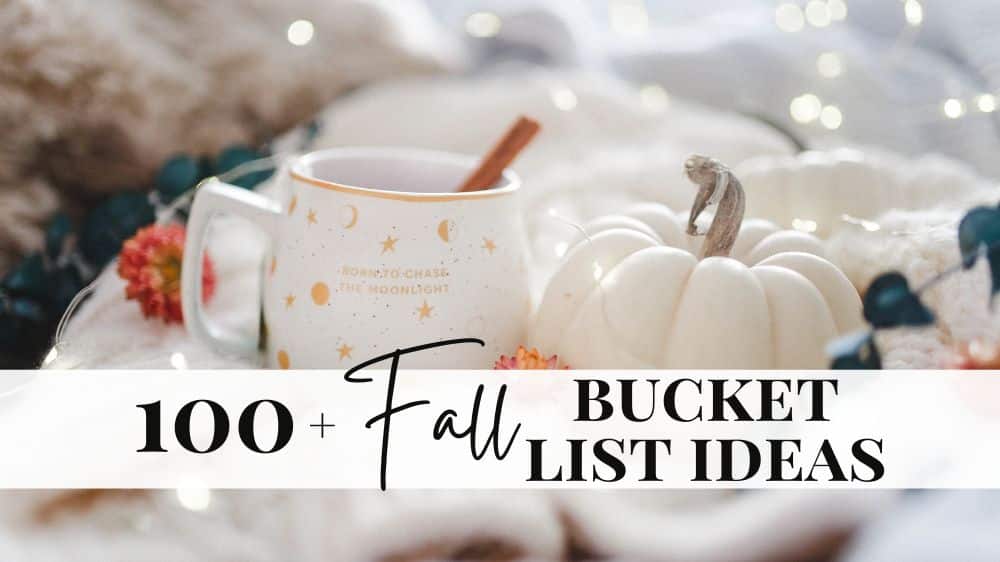 From oversized sweaters and autumn leaves to spooky movies and pumpkin spice lattes, there are endless things to love about fall.
Fall is filled with so many opportunities for cozy, fun, and festive activities that you just can't get any other time of the year.
I wait all year long for pumpkin season to begin so I can enjoy the fall festivities (and delicious foods, of course).
Because this time of year feels so special, it is always my goal to make the most of the fall months while they are here. Creating a fall bucket list has been a total game-changer.
Sitting down at the end of summer to brainstorm some new fun autumn activities for my bucket list has become something I look forward to every year. I highly encourage you to do it too! It really helps you fully dive in and embrace the season.
If you need some inspiration, don't worry. I've got you covered!
Here you will find over 100 fall bucket list ideas for how you can enjoy the season. Outdoor activities, festive foods, holiday events, cozy books and movies – we got it all!
I've also got the process started for you!
You'll find a free printable fall bucket list at the end of this post. Print it out and dive right into checking off each bucket list item.
Let's dive into the fun!
This post is all about 101 fall bucket list ideas for 2023.
101 Fun Fall Bucket List Activities
Use these activity ideas to craft your perfect autumn bucket list.
Cozy At-Home Fall Activities
1. Watch a cozy, feel-good movie.
2. Knit a new fall scarf or blanket.
3. Create a DIY fall wreath.
4. Learn something new with an online course.
5. Decorate your home for fall.
6. Read a festive fall book.
7. Binge-watch a new TV series.
8. Make a fall playlist.
9. Paint your nails a fall color.
10. Watch the sunrise/sunset from your porch.
11. Clean out your closet. (Anything you don't want? Sell on Poshmark!)
12. Create a gratitude journal.
13. Start a blog or website.
14. Sip coffee out of a festive fall mug.
15. Have a "PJ Day" (pajamas all day long!)
16. Do some fall cleaning. Organize your space.
17. Make a fall-scented candle.
18. Start an indoor garden.
19. Read a scary story/thriller novel.
20. Cozy up for a mid-day nap.
Fall Bucket List Ideas for Families
21. Get (or DIY) matching family Halloween costumes.
22. Color a fall coloring sheet.
23. Go on a fall scavenger hunt in your neighborhood.
24. Tell ghost stories.
25. Have a campfire.
26. Camp in your backyard.
27. Create DIY tissue ghosts to hand from the ceilings.
28. Carve pumpkins.
29. Dress up your dog in a fall outfit.
30. Make handprint turkey art projects.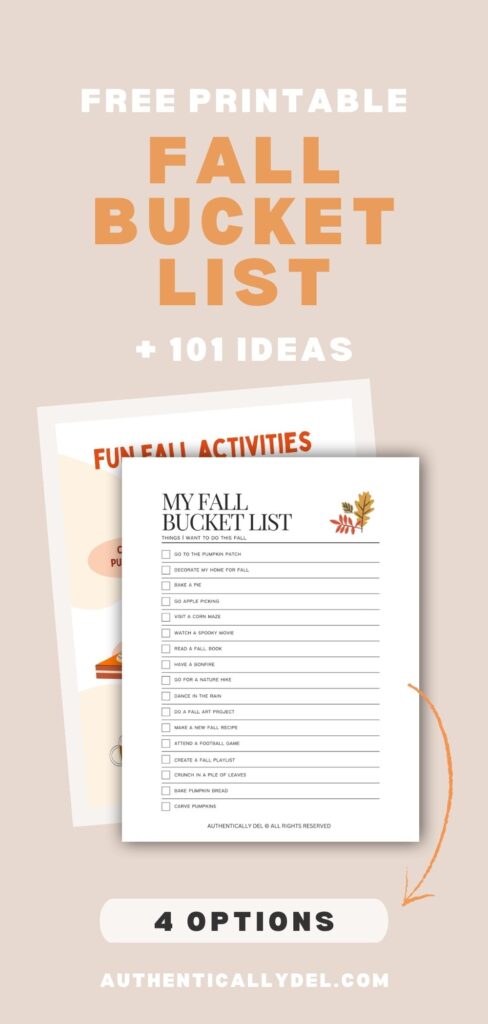 31. Practice gratitude around the dinner table.
32. Have a family game night.
33. Watch a spooky Halloween movie.
34. Watch "It's the Great Pumpkin, Charlie Brown".
35. Play glow stick hide 'n seek at night.
36. Attend a fall festival.
37. Go trick-or-treating.
38. Make Trick-or-Treat goodie bags.
39. Watch a football game.
40. Have a competition to collect the biggest leaf.
41. Watch the Macy's Thanksgiving Day parade.
42. Do a fall puzzle.
43. Built a blanket fort for a movie night.
44. Make a leaf art project.
45. Start a collection of outdoor fall items (leaves, pinecones, acorns, etc.).
Fall Bucket List Ideas for Couples
46. Have a pumpkin carving contest.
47. Write a handwritten letter saying why you are grateful for each other.
48. Go to a haunted house.
49. Get lost in a corn maze.
50. Visit the farmer's market.
51. Take a chilly fall walk and hold hands.
52. Brainstorm creative couple costume ideas for Halloween.
53. Take a weekend trip away.
54. Go apple picking.
55. Plan a fall-themed date.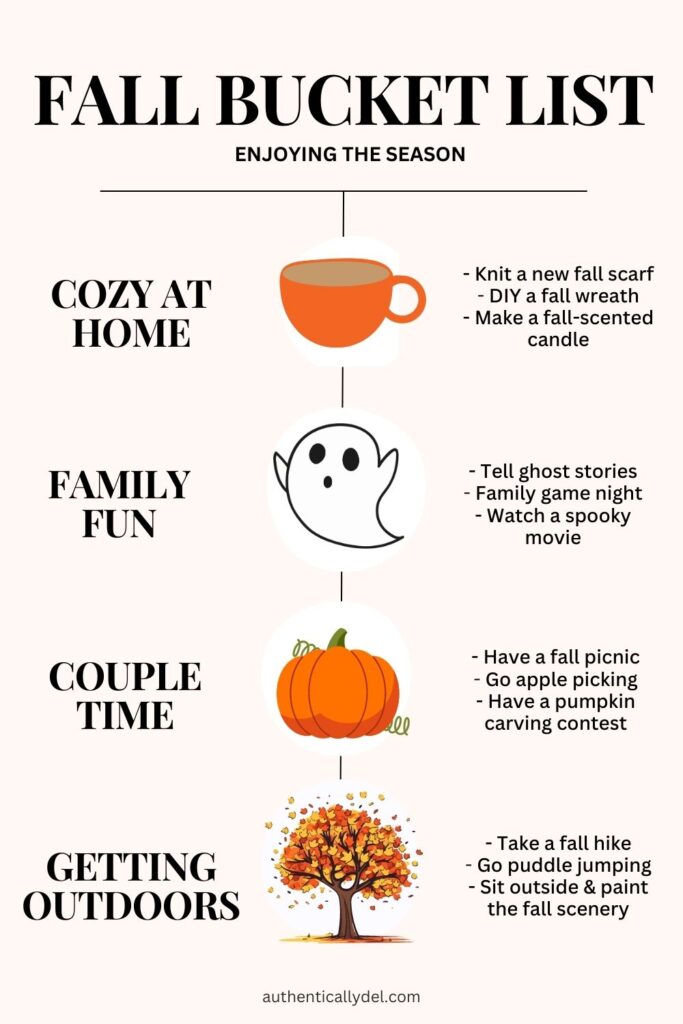 56. Take a hay ride.
57. Go on a fall picnic date.
58. Kiss in the rain.
59. Share a blanket while stargazing.
60. Take fall couple photos.
Fall Food Bucket List Ideas
61. Make pumpkin bread or pumpkin muffins.
62. Get a Pumpkin Spice Latte.
63. Bake a pie from scratch.
64. Roast pumpkin seeds.
65. Make your favorite comfort meal dinner.
66. Try out a new soup or stew.
67. Make pumpkin waffles/pancakes.
68. Learn how to can.
69. Make homemade applesauce.
70. Make homemade pumpkin butter.
71. Bake snickerdoodle cookies.
72. Make homemade apple cider.
73. Try a new crockpot recipe.
74. Make football game-day appetizers.
75. Plan your Thanksgiving dinner plan.
76. Host Thanksgiving.
77. Have chili and cornbread.
78. Eat a cider donut.
79. Pick up seasonal snacks from the grocery store.
80. Drink hot chocolate with marshmallows.
Outdoorsy Fall Bucket List Ideas
81. Jump in a pile of leaves.
82. Go camping.
83. Take a fall hike.
84. Go for a fall drive.
85. Visit a corn maze.
86. Go pumpkin picking.
87. Bundle up and read out in the crisp fall air.
88. Dance in the rain.
89. Explore a local nature trail.
90. Take a walk or go for a run.
91. Go for a bike ride.
92. Do a fall scavenger hunt.
93. Rake leaves.
94. Take your workout outdoors.
95. Watch a movie in the park (or at an outdoor drive-in).
96. Meditate outdoors.
97. Attend a football game.
98. Take photos of the leaves changing color.
99. Roast marshmallows around a campfire.
100. Go puddle jumping.
101. Sit outside and paint the fall scenery around you.
Free Printable Fall Bucket List
Get 4 free printable fall bucket list templates below. (One is completely blank for you to make your own unique, customizable bucket list!)
That's all for today! I hope this post inspired some new, creative fall activity ideas for you to try out this season.
Wishing you a very cozy, memorable, and fun-filled fall season!