This post contains affiliate links meaning that, at no additional cost to you, I make a small commission if you purchase through my links. For additional information, visit my affiliate disclosure. 
You've made it through the week! Let's close it out with positive Friday affirmations to unwind, relax, and prepare for a great weekend ahead.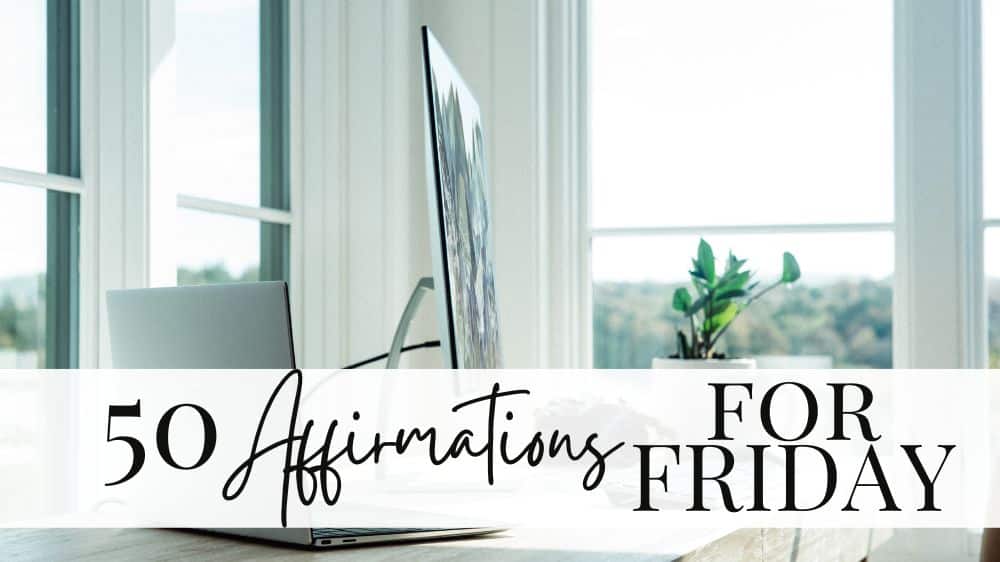 After a long week, Friday is finally here! No matter what this past week was like for you, Fridays are the perfect opportunity for a fresh mindset and a positive start to the weekend.
Taking a few moments to practice some positive Friday affirmations can help you shake the week's stresses and jump into a fun-filled weekend.
Here are 50 Friday affirmations for positivity, fun, relaxation, and happiness!
50 Positive Friday Affirmations
Friday Affirmations for Work
I gave my all this past week.
It is the last day of my work week – I got this!
My skills are enough.
I am confident in my work abilities.
I am doing great things at my job.
Because of me, others' lives are improved.
I am doing important and helpful work.
Even when I am tired, I know that my work is important.
I have overcome 100% of my hard days.
My skills are valuable to those around me.
READ: 100 Positive Monday Affirmations for a New Week
I am uniquely gifted in my talents.
My productivity does not define my worth.
I let go of self-doubt.
I have great drive, motivation, and an incredible worth ethic.
My goals are happening around me.
Work stress or difficulties are simply a chance for growth.
I can create a life that doesn't wait for Friday.
My work stress will stay at work. My weekend is for joy.
I have had an amazing week!
I choose to make the most of my Fridays.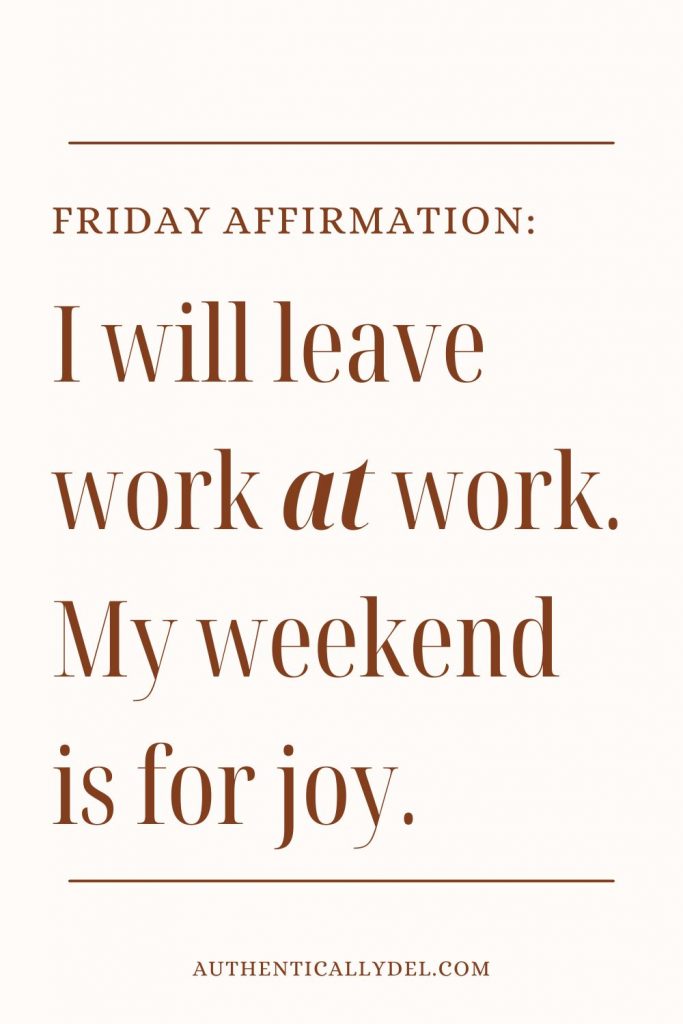 Relaxing Friday Affirmations
I deserve to rest.
Weekends are my time to refresh.
I let go of any stress from the week.
My weekend is mine to enjoy how I want to.
I release control and allow myself to clear my mind.
Rest is essential.
I will not feel guilty for resting.
No matter what I did or didn't do this week, I deserve to rest.
I can learn to rest when I need it – not quit.
After a full week, I allow myself lots of relaxation.
READ: 100 Self-Care Saturday Ideas
I will take time to recharge.
Weekend relaxation allows for refreshed creativity.
Friday is the perfect day to have fun.
I will not carry any work stress into this weekend.
My mind is clear from negativity.
I am committed to caring for myself this weekend.
My mind, body, and soul deserve to be nourished.
I will be present this weekend.
Today, I will begin my weekend with calmness and ease.
I am thankful for Fridays!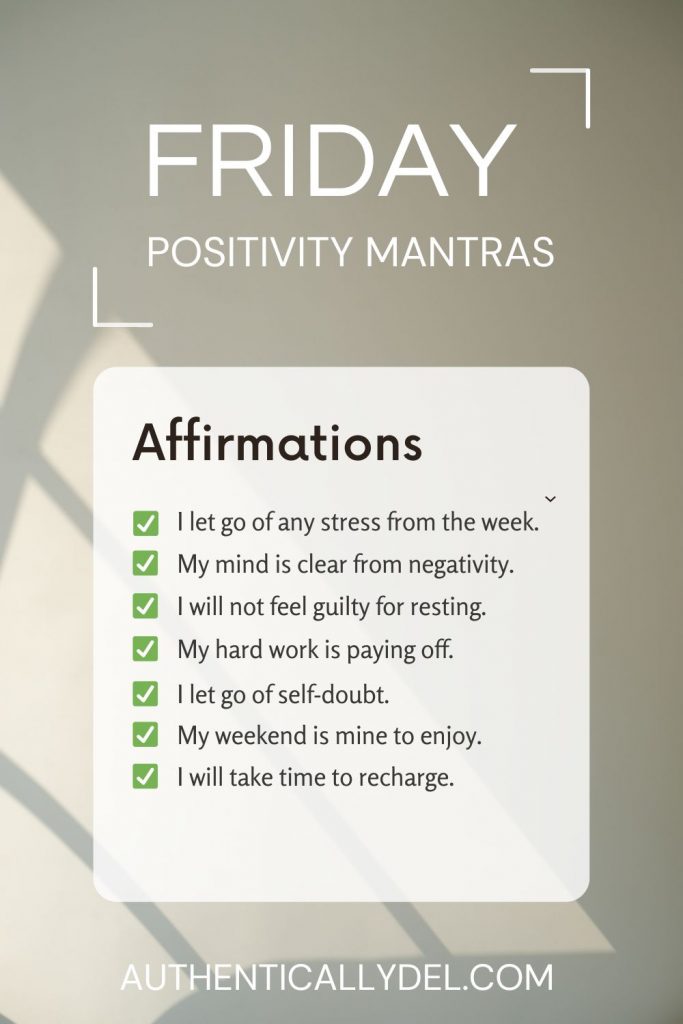 Funny Friday Affirmations
My brain is off duty until further notice.
I'm sorry, your problem is not my problem outside of business hours.
Work? Never heard of her.
Work mode powering down. Weekend mode activated.
Friday? More like Fri-Yay!
READ: 100+ Funny Monday Quotes to Brighten Your Day
Time to get my happy on.
I'm 87% nicer on Fridays after 4 pm.
May my coffee be strong and my Friday workday short.
Hey there, Friday. I've been dreaming about you since Monday.
Time to put on my party pants! It's Friday!
Happy Friday!
Now that you're in that positive Friday mindset, you are all set for a wonderful weekend ahead.
Positive Friday affirmations are a great way to wind down from the week and get in the right headspace for a fun, relaxing, and carefree weekend.
I hope these affirmations can help you do exactly that. Here's to a very Happy Friday and a wonderful weekend!
SIMILAR POSTS FOR YOU
20 Monday Journal Prompts for a Great Week
100 Nighttime Affirmations for Before Bed