This post may contain affiliate links meaning that, I may make commission if you purchase through my links. Learn More. 
The relationship with yourself is the most important one you will ever have. Use these self-love affirmations to boost confidence, improve self-esteem, and fall in love with your true, authentic self.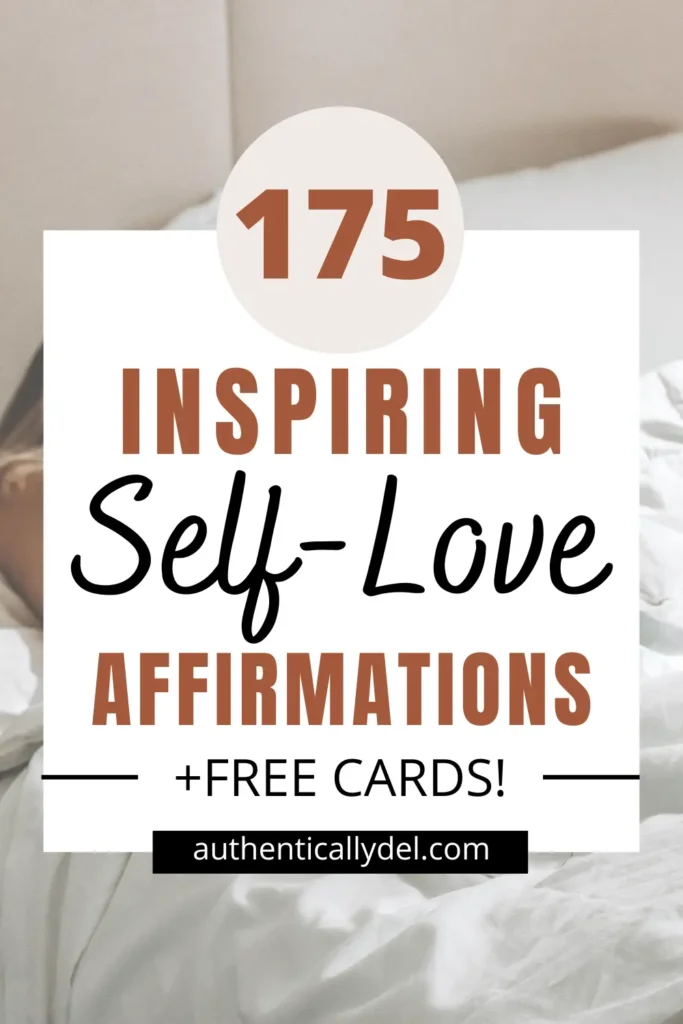 If you struggle with self-love, know that you are not alone. Studies have found that a staggering 85% of people struggle with self-esteem, self-worth, and self-confidence.
A lack of self-love goes far beyond feeling bad about a slip-up at work or not loving the reflection in the mirror.
A lack of self-love impacts every single area of life.
Relationships, friendships, work performance, mental health, physical health, habits, routines, etc…. It's all directly impacted by the way you think of yourself.
With a low sense of self-worth, it is much easier to settle and accept less than you deserve. This can rapidly lead to a life that leaves you unfulfilled and unhappy.
But it doesn't have to be all doom and gloom.
You get to dictate the way you see yourself and the beliefs you hold about who you are.
No matter how long of a history you have with low self-esteem or a lack of self-love, you have the power to change that.
Self-love is a journey. It's not linear, it takes time, and it requires work. But, it is some of the most important work you will do in your life.
The good news is… You are already headed in the right direction.
These self-love affirmations are a powerful tool to kickstart your journey toward learning to love yourself – inside and out.
By learning how to use affirmations for self-love, developing a positive affirmation practice, and exploring these self-love affirmations, you have the power to change the narrative.
Falling in love with yourself starts now!
The Power of Self-Love
Why does self-love matter so much?
Self-love, defined as "an appreciation of one's own worth or virtue", is closely connected to self-confidence and self-esteem.
It refers to the way you view yourself, feel about yourself, and the relationship you have with yourself.
Not to be confused with narcissistic traits, self-love is a positive force in our lives. When you move through life from a place of truly, deeply loving yourself, you carry a deep appreciation, respect, and positive regard for yourself.
Self-love does not mean that you always feel 100% confident about all areas of your life. Rather, it means that you have a deep understanding of both your strengths and weaknesses, while still maintaining your sense of self-worth as a human.
Benefits of Cultivating Self-Love
Higher self-love is directly linked to better overall well-being.
Here are some of the ways it benefits our lives:
improved mental health
higher confidence
improved relationships
better work performance
lower stress
more likely to go after goals/dreams
higher resilience
problem-solving skills
willingness to take risks
empathy and compassion
self-efficacy
ability to set healthy boundaries
The benefits of self-love are endless. When you are able to move through life with a solid, steady, and consistent love for yourself, your potential is limitless!
175 Beautiful Self-Love Affirmations
Self-love is a complex concept. There is no one definition of what self-love means. It's unique and personal to you!
Because of this, there are many different types of self-love affirmations.
This list has nearly every type of affirmation for self-love that you could imagine. We will explore:
Short Affirmations for Self-Love
Self-Love Affirmations for Confidence
Body Image Affirmations
Self-Care Affirmations
Self-Love Affirmations for Relationships
Self-Worth Affirmations
Short Self-Love Affirmations for Every Day
I am lovable.
I love myself just as I am.
It is a gift to be me.
I appreciate who I am.
I honor all the ways I am different.
Self-love comes naturally to me.
I accept myself.
I know that I am enough.
Today I will show myself kindness.
I will love myself unconditionally.
I am deserving of self-love.
My self-love is abundant.
I am grateful to be me.
I am proud of who I am.
Calmness fills me with every breath.
I am relaxed.
I trust myself.
No matter how I feel, I know I am worthy of love.
I choose to be kind to myself.
I am unique and special.
No one else is me – and that is beautiful.
I respect myself.
I love and embrace all of me.
My life is abundant.
I make the world a better place.
Love flows naturally to me.
I am a light of positivity.
I brighten the lives of others.
My worries do not control me.
I let go of my stress.
I am strong.
Today, I will choose joy.
I get to create the life I want.
I am empowered.
My heart is pure and good.
I am whole as I am.
I am radiant.
Beauty pours out of me.
I shine brightest when I am my true self.
I am beautifully unique and incomparable to others.
Affirmations for Self-Confidence
I am capable.
I have the power to do what I want.
My work is valuable.
I know that I can handle life's curveballs.
I have unique talents and skills.
My superpower is being myself.
I believe in myself.
I can do hard things.
No matter what happens, I will be okay.
I am proud to be me.
I am confident in who I am.
My worth is unwavering.
I am exactly where I am meant to be.
My achievements are plentiful.
I am confident in myself and my worth.
I am good enough.
My worth cannot be taken away.
I have enough, I do enough, I am enough.
I am powerful when I believe in myself.
Resilience and strength flow toward me.
I am smart.
I am creative.
Everything I need to succeed is already within me.
I believe in my abilities.
I carry myself with confidence.
Body Image Affirmations for Self-Love
I love my body.
I am grateful for my body and all it does to support me.
All of me is beautiful.
I am more than a body.
I am beautiful inside and out.
My body does not define me.
I respect my body.
I will be kind to my body.
Confidence surrounds me.
I am beautiful.
I am confident in my appearance.
My beauty is unique to me – and that makes me special.
I am worthy of feeling beautiful.
I am more than a number on a scale.
Nourishing my body is my priority.
I listen to my body.
I give my body permission to change.
My body is strong and powerful.
I let go of negative self-talk.
I am at peace with all that I am.
My body allows me beautiful experiences.
I am grateful for how my body carries me through life.
Loving my body comes easy to me.
My body is beautiful.
Comparing myself to others is a thing of the past.
I embrace my imperfections.
I am comfortable in my own skin.
My body is happy and healthy.
I am connected to my body.
My imperfections make me special.
I am shaped exactly as I should be.
I view my body with love and respect.
My body is my home.
I deserve to feel safe in my body.
I choose to move my body from a place of love.
Self-Care Affirmations
I respect my energy and protect it with love.
I make time for myself and my well-being.
Self-care is my priority.
I am gentle with myself.
I am deserving of rest.
Slowing down allows me to grow.
I care for myself.
I enjoy taking care of my mind, body, and soul.
How I feel is important.
I can know when I need a break.
I let go of my need to produce and allow myself time to rest.
My well-being is important to me.
I make time for self-care.
I enjoy time in my own company.
Self-care is neither selfish nor vain, it is essential.
I show others how I deserve to be treated with how I treat myself.
I take excellent care of myself.
My needs matter.
I become the best version of myself through self-care.
I have permission to slow down and be present.
Self-care allows me to blossom.
I am worthy of pampering.
Self-care is a gift, not a burden.
I give myself the same love I give to others.
I am intentional about making time for myself.
Self-Love Affirmations for Relationships
I am worthy of meaningful relationships.
Setting boundaries is an act of self-love.
I am loved.
I choose love over fear.
My relationships are supportive.
I surround myself with people that uplift me.
I make space for time with those I love.
People are attracted to my energy.
I am a gift to those around me.
I have standards for my relationships.
There is no shortage of love for me.
I am fulfilled in my romantic relationship.
My friendships support, uplift, and empower me.
I only make time for people who are good for my mental health.
Communication is a priority in my relationships.
I allow myself to forgive others.
I forgive myself for past mistakes in my relationships.
My relationships are respectful.
I am spoken to with compassion.
I trust those around me.
Loyalty is present in all my relationships.
I have fun with those around me.
I respect myself enough to walk away from relationships that do not serve me.
My relationships are drama-free.
I attract high-quality people into my life.
Self-Worth Affirmations
I am worthy.
I deserve all the beautiful things I desire.
My self-worth is unwavering.
I am deserving of unconditional love.
I am at peace with who I am.
Joy flows toward me naturally because I deserve it.
I deserve to be happy.
My mistakes do not define me.
I am worthy of my dreams becoming reality.
Everything I need is within me.
My worth is independent of my productivity.
I can attract anything I choose.
If I can dream it, I can do it.
I am worthy of beautiful things in life.
Enoughness is my birthright.
I know that I am deserving of happiness.
My desires are on their way to me.
I am valuable and important.
Good things are on their way to me.
I attract beautiful things that match my energy.
My voice matters.
I am worthy and deserving of all the gifts in my life.
I am meant for a beautiful life.
Peace, joy, and fulfillment are meant for me.
I am deserving of all my desires.
How to Use Affirmations for Self-Love
Now that we've explored the powerful world of self-love affirmations, let's dive into how you can effectively incorporate them into your daily life to boost your self-esteem, foster self-compassion, strengthen relationships, solidify self-worth, and promote a more positive self-image.
1. Choose Affirmations That Resonate with You
The first step in using affirmations for self-love is to select affirmations that genuinely resonate with YOU – your lifestyle, your current situation, and your goals.
This is all going to be deeply personal and unique to you.
The affirmations you choose should reflect areas of self-love you want to cultivate or strengthen, whether it be confidence, self-acceptance, relationships, or body image.
By choosing the self-love affirmations that resonate most with you personally, you'll be able to more deeply connect with and believe in their messages.
2. Make Affirmations a Daily Routine
Consistency is key when it comes to affirmations.
Incorporate them into your daily routine, preferably in the morning or evening when you have some quiet time for self-reflection.
You can say your self-love aloud or silently, whichever feels more comfortable. Sometimes looking yourself in the eye in the mirror during affirmations can be a powerful practice for cultivating self-love.
Repeating your chosen affirmations regularly will help reinforce their positive messages in your mind.
This will allow you to see the positive benefits and changes more clearly and quickly in your life.
3. Use Visualization Techniques
To enhance the effectiveness of your self-love affirmations, accompany them with visualization. Visualization can make the affirmation more powerful by engaging your imagination and emotions.
As you repeat an affirmation, vividly imagine the positive outcomes it represents.
Picture yourself, in your own daily life, fully embodying the qualities of self-love that are mentioned in your affirmations.
4. Write Your Affirmations
Consider keeping a journal dedicated specifically to your self-love journey.
Write down your personally-selected self-love affirmations and reflect on what they mean to you.
Consider taking note of any thoughts or feelings that arise during/after repeating the affirmations or any transformation you are seeing in your everyday life.
Journaling can help you track your progress and deepen your self-awareness as you explore your self-love journey.
5. Use Notes or Affirmation Cards
Place sticky notes with your favorite affirmations in locations where you'll see them frequently throughout the day. For example, you can place your affirmations on your car dashboard, your bathroom mirror, computer monitor, or refrigerator.
You can also create affirmation cards to place around your home or carry with you in your wallet or purse.
These visual cues serve as a recurring source of positivity and self-love, while reminding you to keep up your affirmation practice.
6. Be Patient, But Persistent
Remember that self-love is a journey, and it may take time to fully embrace and believe in these affirmations.
Just because you don't have life-changing mental shifts overnight, does not mean they are not working.
Be patient with yourself and continue using them regularly. With time, you'll begin to notice subtle shifts in your self-perception and self-esteem.
7. Share Affirmations with Others
If you have a friend or loved one who could benefit from self-love affirmations, consider sharing these affirmations and building a practice together.
Consider creating a support system where you both encourage each other in your self-love journeys.
Sharing affirmations can improve your commitment to your self-love affirmations, strengthen your affirmation practice, and create a positive ripple effect in your relationships.
Incorporating these practices into your life will help you get the full, true benefits of self-love affirmations. By consistently reinforcing positive self-beliefs and challenging negative self-talk, you'll cultivate a healthier, more loving relationship with yourself.
Remember, self-love is an ongoing process. It doesn't happen overnight, but every step you take toward it is a step toward a happier and more fulfilled you.
Embrace the journey, give yourself grace, be gentle with yourself, and watch as self-love affirmations work their magic in your life.
Free Printable Positive Affirmation Cards
Final Self-Love Reminders
With these 175 self-love affirmations, we've explored the incredible power of positive self-talk and the profound impact it can have on your health, mindset, relationships, and life.
Self-love is not a destination but a lifelong practice, and affirmations are a valuable tool to guide you on this path.
By repeating these affirmations regularly, you are nurturing a relationship with yourself based on kindness, compassion, acceptance, and empowerment.
Remember…
Self-love is not about arrogance or selfishness.
Self-love is about recognizing your worth, acknowledging your imperfections, and embracing your full, authentic self. It's about learning how to treat yourself with the same love, respect, and compassion that you offer to others.
As you begin these affirmations for self-love, remember to be patient with yourself.
Progress may be gradual or a bit up-and-down. This journey is not linear, but that doesn't mean progress is not being made.
Celebrate your small victories and don't be discouraged by setbacks. You are a work in progress – and that's perfectly okay.
No matter what, remember that you are deserving of respect, happiness, love, and all the good things life has to offer.
The words you speak to yourself matter. By choosing self-love, you are choosing a brighter, joy-filled life for yourself.
So, let these 175 self-love affirmations be your daily reminder of your worth, a source of strength, and a guide to a fuller, happier life.
Embrace each step of this journey toward self-compassion, self-confidence, and unshakable self-love.
The journey is worth it!