This post contains affiliate links meaning that, at no additional cost to you, I make a small commission if you purchase through my links. For additional information, visit my affiliate disclosure. 
Sunday's are all about getting yourself organized, refreshed, and reset for the new week that is approaching. To do this, I love to combine some self-care and productivity into my Sunday night routine to make sure I am getting myself ready for a fresh week in every way!
I am a huge fan of having routines. I fully believe that making good routines and habits is the key to a successful life! Because of that, I have developed a Sunday routine that I know sets me up for success.
The Perfect Sunday Night Routine
Whether you are the self-care Sunday type or the get-it-all-done Sunday type, this Sunday night routine is going to be perfect for you!
Step 1: Take a Relaxing Shower
My favorite way to set the mood for the perfect Sunday night is by winding down with a relaxing shower routine. I always feel so refreshed and rejuvenated after taking a nice shower.
Once I get out, I find that I am in the right mindset to get myself prepped for the week. My Sunday shower is the signal to my brain that it is time to kick off my Sunday night routine!
Step 2: Skin and Body Care
This is honestly part of my self-care shower routine anyways… I love to take some extra time to do a face mask, apply some lotion to my body, and treat myself to some self-care.
Again, this really helps to set the mood for a great Sunday night.
Step 3: Tidy Up Your Space
After my shower and self-care, I like to head into my room and do a quick tidy. I pick up clothes that are on the floor, organize my desk (it gets messy when I work from home!), and put away anything else that is left out.
I ALWAYS VACUUM TOO! Something about a freshly vacuumed space just SCREAMS "I have my life together!"… And that's the kind of energy we want!
I love to start my week with a clean space. Having a tidy home allows you to have a tidy mind! So, to give yourself the best start to the week possible, make sure your area is all picked up!
Step 4: Plan Meals and Groceries
I love to do a big grocery restock on Sunday or Monday. If I didn't do it during the day on Sunday, I definitely make a plan during my Sunday night routine.
To make a grocery list, I always start with a meal plan for the week. At the least, I make a rough idea of some simple dinner ideas that I want to make that week.
GRAB A FREE MEAL PLANNER HERE!
From that meal plan, I then make a grocery list of everything I'll need for that week! I make sure that I have a healthy and balanced grocery list so I can nourish my body and my soul!
Step 5: Prep Healthy Snacks
While I'm in the food frame of mind, I like to go ahead and prep some healthy snacks for the week. If I don't take the time to make some nutritious snacks for myself, I know I'll snack on foods that don't make me feel as good!
I'd rather plan ahead and make some energizing and nutrient-packed foods for the week!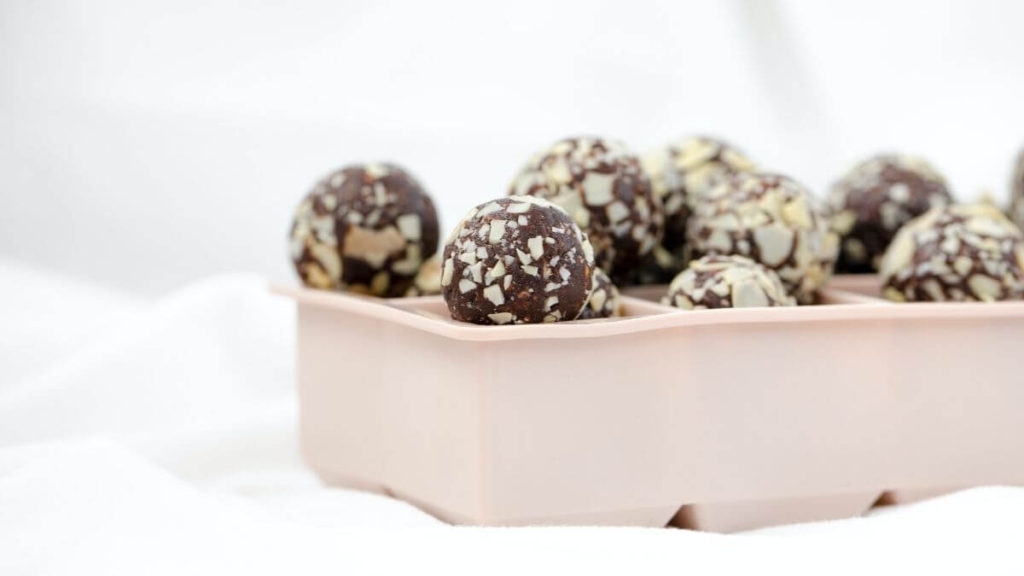 Some favorites are overnight oats, energy balls, and fresh fruit! I always make sure to pre-wash my fruit and store it in produce keepers to keep it fresh all week long… That way I can just grab and go!
Step 6: Plan Your Week
You already know I am a huge planner. I love planning out my months, weeks, and days ahead of time. Every Sunday night, I make an effort to do a brief overview of my week ahead.
This is nothing super intense or intricate… just a basic outline of the week's to-dos. Then, throughout the week I can add to it.
(I also like to plan out some workouts for the upcoming week!)
During my Sunday night routine, I always get the big things down in my planner. Any due dates, classes, work meetings, appointments, etc… all the things that feel solid and sure to not change!
Step 7: Make Tomorrow's Breakfast
I always like to plan and prep a healthy breakfast for the next morning. This isn't something I ALWAYS do… if I know I'll have extra time in the morning I will plan to make breakfast then.
But it can be really helpful to have something prepped if you have a busy morning coming.
My favorite is overnight oats, but you can make whatever sounds best to you!
Step 8: Fill Up Vitamin Container
I have really been trying to keep up on my vitamins lately. I notice a huge difference in how I feel when I up my vitamin routine.
The only way I stick with this is if I have them all laid out for me. I always take 5 minutes of my Sunday night to fill my pill container for the week ahead.
I currently take women's multivitamins, calcium, and fish oil!
The importance of vitamins is mind-blowing! Getting on a good vitamin routine is so important for you and your health! Again, setting them all out and getting them organized for the week every Sunday night helps me stay on top of it!
Step 9: Prepare for the Morning
There are always a few small things I do at night to prepare for a successful morning.
If I am being honest, this is just something routine that I like to do almost every night to set myself up for a successful day. This applies to my Sunday night routine too – I just go a bit more in-depth. I keep in mind that I am preparing for a new WEEK, not just a fresh DAY.
Some of these things include:
Prepping an outfit
Pre-Making Coffee for the Morning
Set intentional alarms
Etc.
I actually have an ENTIRE post about my nighttime habits for a good morning if you need more ideas!
Chances are good that you know what needs to be done… so go get it done!
Step 10: Take Time to Relax
One of the best parts of a Sunday night is the time to relax before you get back to business in the new week. I LOVE my Sunday night relaxation routine!
So be sure that you are taking some time to relax and refresh in your Sunday night routine. I love to get a good TV show, cozy up with a snack or a warm drink, and really just unwind.
My current favorite way to relax is reading! I have found so many good books lately and am obsessed with reading to close out my night.
No phones, no work, no stress… just relaxation!
You deserve the rest. You are setting yourself up and filling your tank for a great week!
Step 11: Get to Sleep
Getting enough sleep is one of the most important things you can do to prepare for a successful week. Resting is essential for your productivity, happiness, health, and overall wellness.
Make sure you are prioritizing sleep, especially if you are looking to get yourself ready for a new week.
I really like the sleep app on iPhones. It allows you to set the amount of time you want to sleep and then gives you a bedtime based on your morning alarms. I always shoot for at least 8 hours of sleep because I know that's where I function best!
Everyone has different sleep needs so make sure you know how much sleep you need… and then make sure you are actually getting enough!
There you have the ultimate Sunday night routine!
Having a good routine to start a brand new week is SO important. If you want to be successful and productive, it's important to hit the ground running on Monday. That is only made possible through a productive Sunday night routine!
Set yourself up for success and start this routine this next Sunday!
What's your favorite part of your Sunday night routine?
More Posts I Think You'll LOVE
10 Essential Things to Do at the End of Every Month
10 Tips to Stop Making Excuses and Achieve Your Goals