This post may contain affiliate links meaning that, I may make commission if you purchase through my links. Learn More. 
Another lap around the sun is a big deal! Use these birthday journal prompts to reflect on your past year and get excited for your next.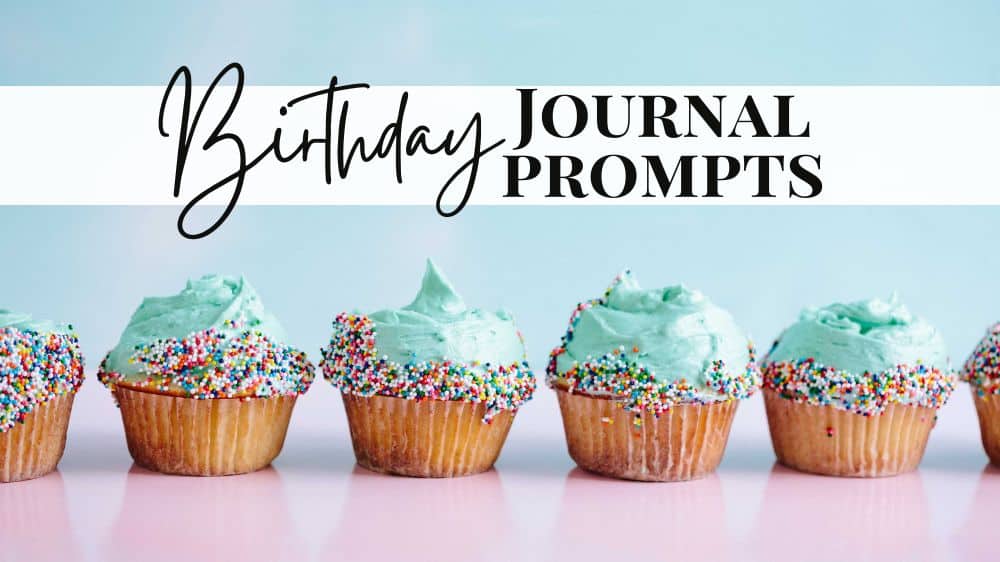 So… it's your birthday?! It's time to celebrate!
From candles and cake to balloons and gift bows, birthdays are such a fun day to fully embrace celebrating YOU and the life you live.
While the parties and festivities are a blast, the celebration of a birthday can also go a lot deeper than that too.
Birthdays are the turn of another year. A full year of growth, lessons, experiences, excitement, and life lived. That is a big deal!
Because of this, birthdays are such an incredible time to pursue self-reflection, gratitude, goal-setting, and introspection.
The best way to do that? Birthday journal prompts.
These journal prompts for your birthday are here to help you celebrate your life, embrace the milestones, and truly appreciate the beautiful person you are and the life you live.
Let's dive in.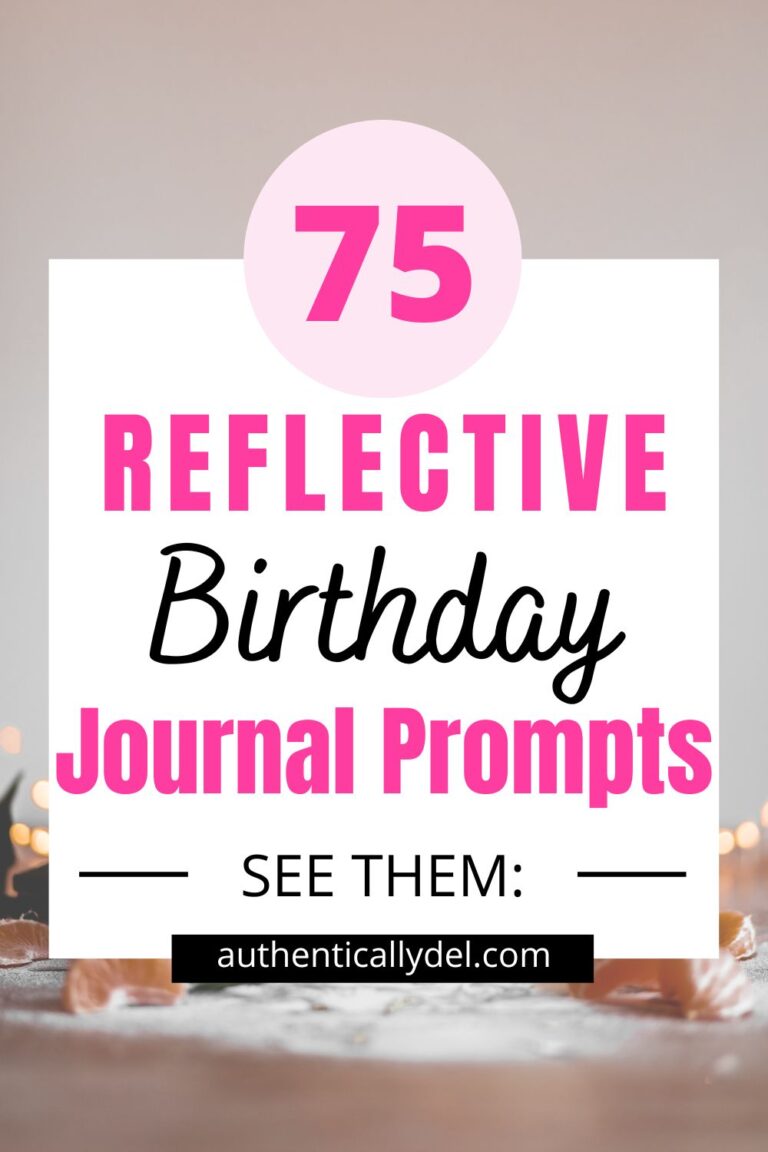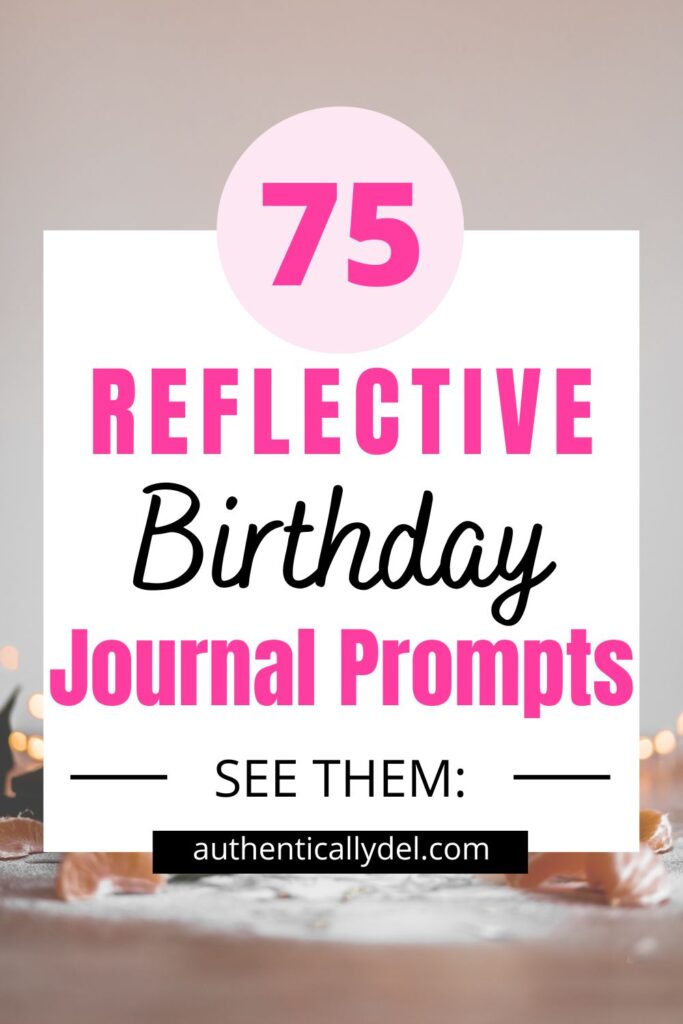 75 Journal Prompts for Your Birthday
These journal prompts are here to help guide your reflection, goal-setting, and celebration. Get creative and have some fun with these birthday journaling prompts!
Birthday Journal Prompts for Reflection
What is your earliest birthday memory? Describe it.
What was your favorite childhood birthday? Why?
What is the best birthday gift you've ever received? How old were you? Why was it your favorite?
What lessons have you learned this past year?
How is your life different on this birthday than it was on your last birthday?
What is your best memory from the past year?
What personal goals did you accomplish this past year? List some things you are proud of!
If you could describe this year with one word, what would it be? Why?
What areas of life saw the biggest improvement this past year?
How would you describe your relationship with yourself as you enter this new year?
Write a letter to your past self from one year ago describing the events of this year.
List 10 "wins" from this past year.
READ: 100 Life Accomplishments to Be Proud Of
What is the best surprise you've ever experienced? What made it great?
Who do you feel closest to at this point in your life?
Which relationships flourished this past year? Which relationships did you let go of this past year (if any)?
What was the biggest challenge you overcame this year?
How do you feel you've grown as an individual this year?
What are three things that make you happy in your life right now?
Do you have any regrets? Would you change them if you could? Why or why not?
What could've made this past year better?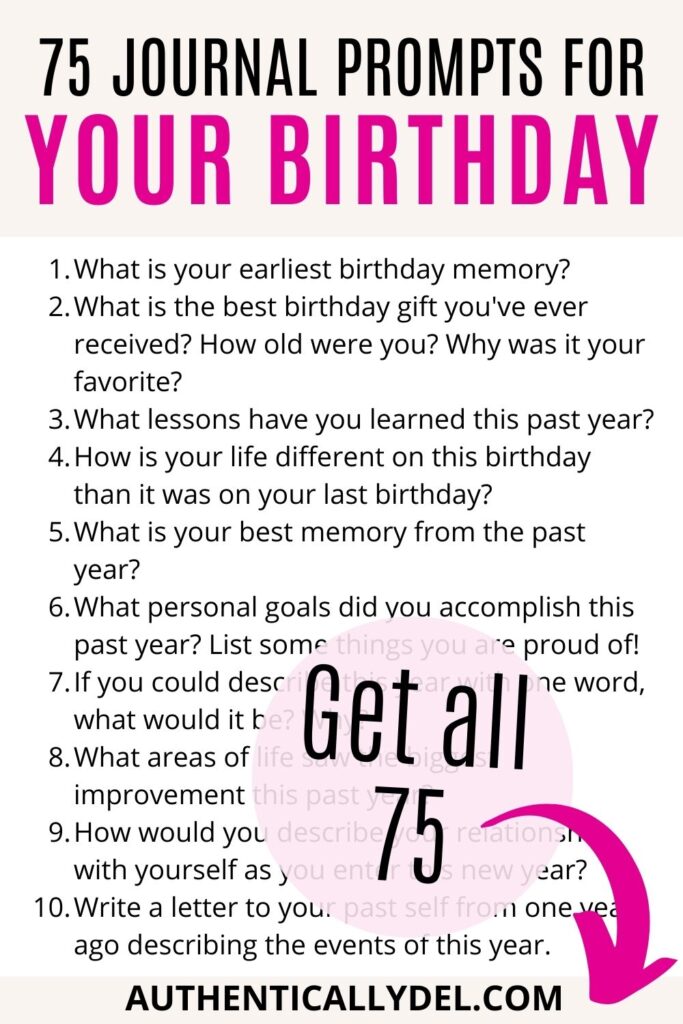 What are your current good habits? Which habits do you want to break?
What do you miss the most about being a child?
What is an activity or hobby that makes you feel like a kid again?
Write a letter to your child self. (Take this in any direction you choose!)
What are the top 10 life lessons you've learned this far?
Who inspires you? How? Why?
What is the best book you read this last year? Why?
How has your view of the world changed as you age? Do you think this is a positive or negative change?
What is your favorite and least favorite part about being the age you are right now?
Knowing what you know now, what advice would you offer your childhood self?
READ: A to Z Gratitude List (300+ Things to Be Grateful For)
What are you most grateful for right now? Make a gratitude list.
How is your life different at this age than you imagined when you were younger? How is it the same?
What do you love the most about growing up?
Make a list of all the things that feel unfulfilling in your life right now. Where are your pain points?
When is the last time you felt full-body excitement? What was it regarding?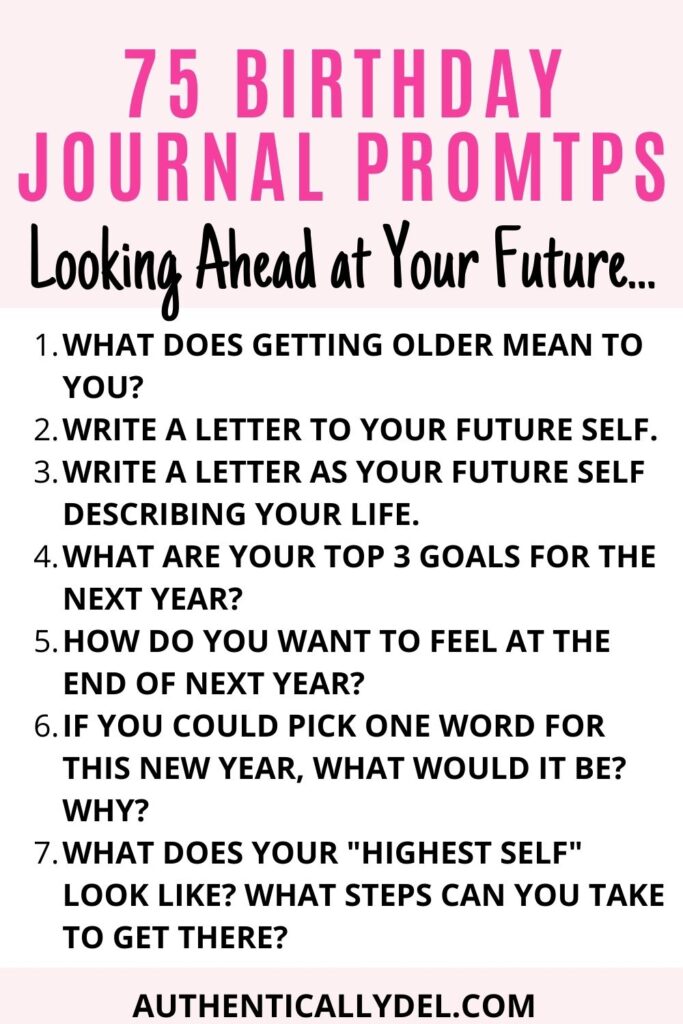 Birthday Journal Prompts for Your Future
What does getting older mean to you?
Write a letter to your future self.
Write a letter as your future self describing your life. (Get creative and ambitious!)
What are your top 3 goals for the next year?
How do you want to feel at the end of next year?
What experiences do you want to have by the end of next year?
If you could pick one word for this new year, what would it be? Why?
What does your "highest self" look like? What steps can you take to get there?
Where do you see yourself in one year? 5 years? 10 years?
What skills would you like to learn this next year?
READ: 20 Fun & Unique Things to Learn
What are you most looking forward to for this next year?
Do you have any fears or reservations for this next year?
Set a goal in each area of life for the next year.
What does getting older mean to you? Brain dump any thoughts, emotions, or words that come up when you think of the word "aging".
What books do you want to read this year? Start a TBR list.
What is your top priority going into this new year?
When you look back on this next year, how do you want to be different?
What are 5 things you've never done before and want to try this next year?
Where do you want to travel this next year? What experiences are you craving?
How can you prioritize happiness and mental wellness this next year?
What forms of self-care can you incorporate into your daily life?
How can you push yourself out of your comfort zone this year?
Write out an ideal "day in the life" 1 year from now. Get descriptive!
If all else fails, what is your one biggest hope for the next year?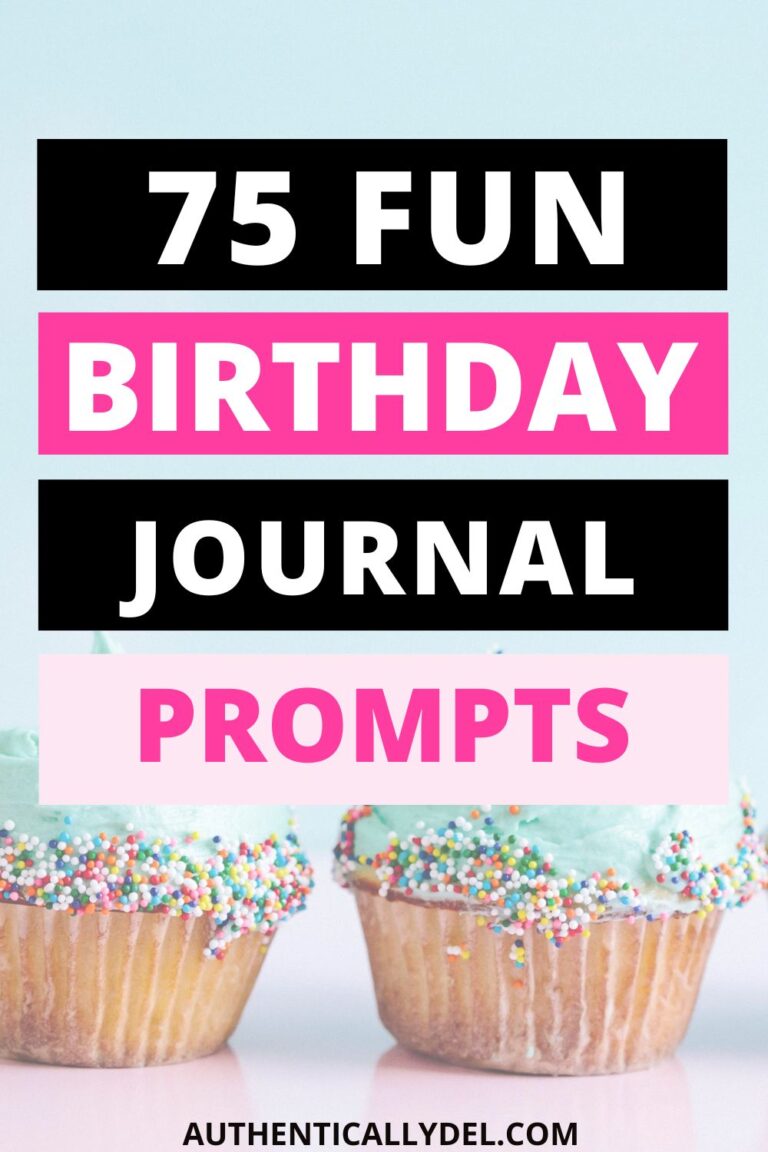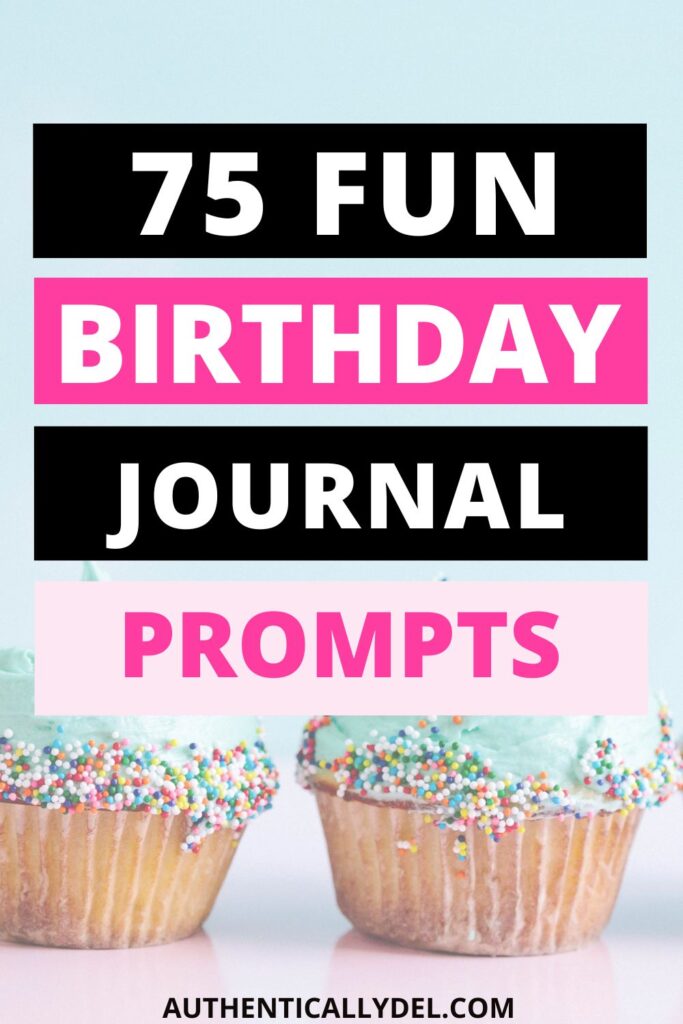 Fun & Celebratory Birthday Journal Prompts
Who would attend your ideal birthday dinner party? (Go wild. Get creative. No one is off limits.)
Draw (or describe) your dream birthday cake. What flavor is it? Ice cream? Frosting? Decorations?
What is your dream birthday wish list? Add all those splurge items.
If your past year was a TV show, what would it be called? Who would star in it?
What would your dream birthday trip be? Where? With who?
Write out your WOW (Words of Wisdom) from this past year.
If this year of your life was a song, what song would it be? Why?
What is a birthday gift you can give yourself? (Go treat yourself!)
What is your favorite birthday freebie?
Describe your funniest memory from this past year.
Make a "birthday party list" of all the people you appreciate in your life. (Great way to practice gratitude for the relationships in your life!)
What's your favorite birthday meal?
How do you feel when you are sung the "Happy Birthday" song?
Write "This Past Year" at the top of the page and doodle any image that comes to mind.
Describe your ideal birthday from start to finish.
Free 8-Page Printable PDF Birthday Journal Prompt List & Template
5 Key Benefits to Journaling on Your Birthday
There are multiple benefits to journaling on your birthday. Here are 6 of the main reasons I recommend taking time to explore some birthday journaling prompts.
1. Reflection
Another whole lap around the sun makes most of us reflect a bit…
This is such a great moment to lean into that natural reflection and dig deeper. Birthday journaling (whether guided or simply free-writing) is one of the most effective ways to explore self-reflection and introspection.
READ: 100 Questions to Ask Yourself for Deep Self-Reflection
2. Celebration
Digging deep and getting reflective is great, but birthdays are also meant for some celebratory fun! Embrace the joy of your special day by using festive and fun birthday journal prompts.
Journaling, while most often presented as a tool for personal growth, can be an excellent source of enjoyment too.
Allow your thoughts to flow freely. Have fun with it. Get creative. Enjoy yourself!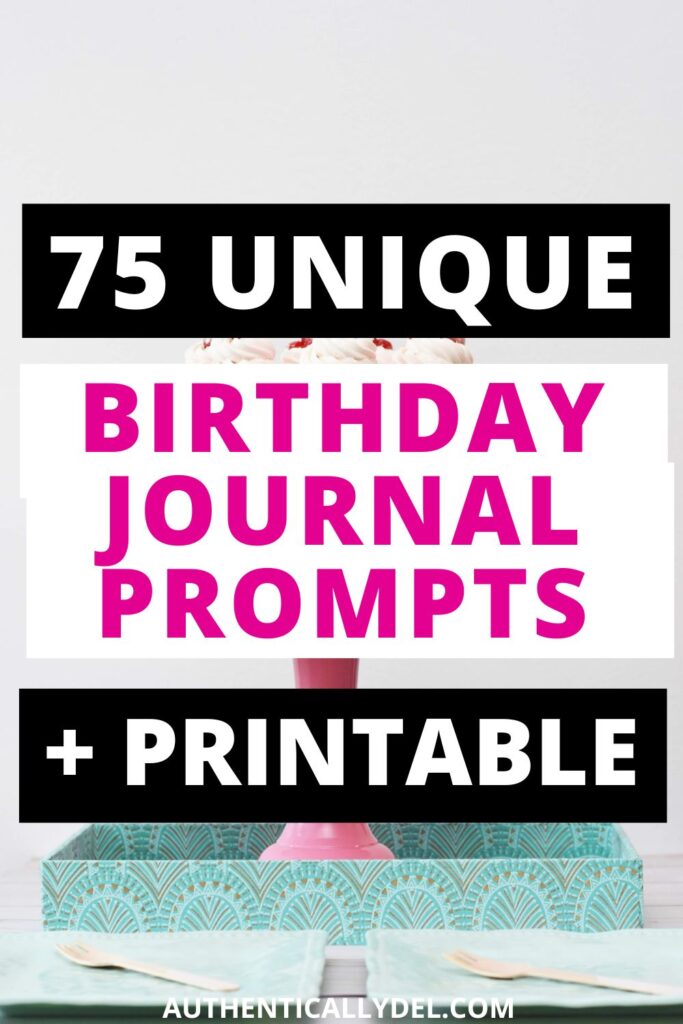 3. Goal-Setting
The deep annual reflection is often paired with a desire to look ahead as well. This is what makes birthdays such a great starting point for some fresh goal-setting!
READ: 52 Guiding Journal Prompts for Goal-Setting
Goal-setting doesn't have to be super serious or stressful. In fact, goal-setting should feel exciting and fun!
Get creative with it. Consider making a vision board, writing a manifestation list, making a fun bucket list, or doodling on your future dreams.
Take this in a lighthearted way. After all, it IS your birthday. Don't get too serious.
4. Self-Appreciation
When's the last time you truly sat and gave yourself a pat on the back for all you do? You deserve to appreciate yourself, the work you do, the life you've built, and who you ARE.
These birthday journal prompts are here to help you reflect on all the amazing things about yourself.
Your growth, your accomplishments, your personality, your strengths… take a moment to celebrate yourself on this special "day of you".
5. Gratitude
Similarly to not taking the time to appreciate ourselves, so many of us forget to pause and express gratitude for life.
Birthdays are a great time to pause and take a look around at all the gifts, blessings, and simple joys in life.
Take time for gratitude today. Make a gratitude list, write a thank you letter (to someone or something), and truly experience the feeling of gratitude in your body.
More Birthday Journal Ideas
Loving these journal prompts for your birthday and want even more festive ideas? Try these out…
Create a vision board
Plan out special days of self-care for every month this next year
Make a list of solo date ideas to do this year
Create an art project
Write handwritten letters to loved ones who have touched your life
Create a Pinterest board for how you want your next year to look
Make a fun bucket list
Share your yearly reflections on social media
Make a life pie chart for your priorities in life
Call a loved one to chat about your life lessons from the year
3 Best Birthday Journals
If you prefer some structure to your journaling, this is the perfect option for you. With built-in daily prompts, this journal offers guided reflection, gratitude, intention, and goal-setting for every single day.
Keep up your journaling practice long past your birthday with this daily guided journal.
Erin Condren is my absolute #1 go-to for all things stationery. If you're like me and love a spiral journal, this is a great option!
This journal is completely custom to include your name across the front. (How cool?!)
This is a special journal option that is affordable, functional, and super high-quality.
Happy Birthday Journaling!
Now, go celebrate your big day with some special journaling. Have a wonderful day celebrating YOU!