This post may contain affiliate links meaning that, I may make commission if you purchase through my links. Learn More. 
Healthy relationships are a key part of a happy life. These social self-care ideas are here to help you cultivate social connections that benefit your own mental health and overall well-being.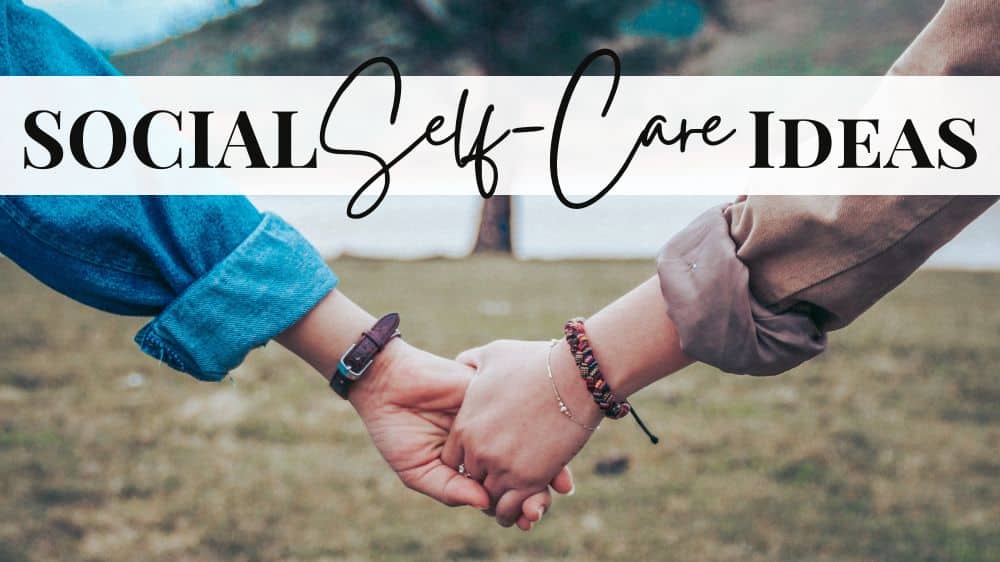 What is Social Self-Care?
Self-care isn't always a solo act.
Sometimes, the best self-care options extend beyond the self and include those around us.
As one of the main types of self-care, social self-care is a fundamental part of a well-rounded and effective self-care routine.
Social self-care is defined as the "act of taking care of one's own well-being through maintaining positive social relationships and by establishing meaningful connections and developing one's social identity". (Ray & Majumdar, 2022)
From cultivating healthy friendships to establishing a sense of community to your personal intimacy with a partner, social self-care involves all aspects of your well-being that are related to connection with other human beings.
Social self-care is personal and individual.
Like all types of self-care, social self-care will look a bit different to everyone.
The ideal frequency of social interaction, social preferences, relationship dynamics, and social activities are all unique to each person.
But one thing remains true for all: social self-care is a key part of our health, happiness, and well-being.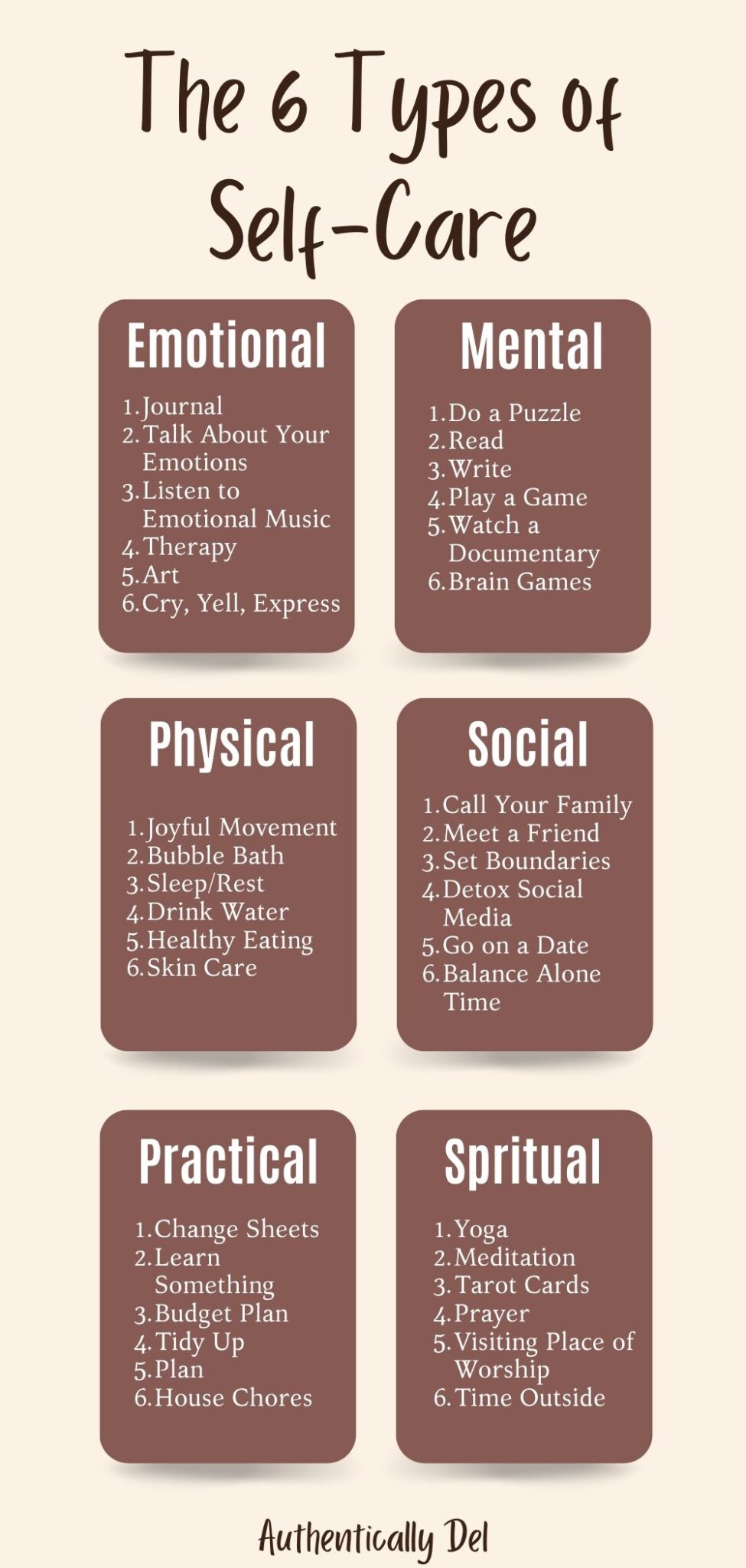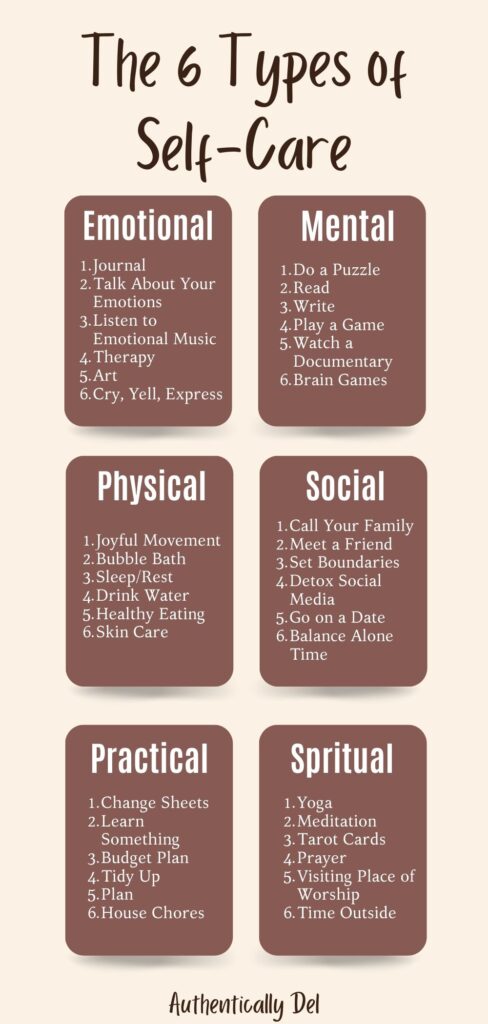 Why is Social Self-Care Important?
Human beings are naturally social creatures. Social interaction has been found to be a basic human need – as essential to health and survival as food and water.
There are many benefits to having relationships with others. Social interaction benefits our mental and physical health in drastic ways.
Studies have found that those who have "satisfying relationships with family, friends, and their community are happier, have fewer health problems, and live longer."
These health benefits are significant.
In fact, studies have shown that the benefits of social interaction may be even stronger than the consequences of unhealthy lifestyles, such as smoking or a lack of physical activity.
One study found that a "lack of strong relationships increased the risk of premature death from all causes by 50% — an effect on mortality risk roughly comparable to smoking up to 15 cigarettes a day, and greater than obesity and physical inactivity" (Harvard Health).
A lack of social interaction is linked to increased depression, anxiety, cognitive decline, and morality.
The bottom line is this: social interaction is a fundamental part of our health, happiness, and well-being as humans, making social self-care an important aspect of our everyday lives.
Do Introverts Still Need Social Self-Care?
It would make sense that extroverted individuals thrive with increased social interaction. But what about introverts?
Are the benefits of social self-care applicable even when we have more introverted tendencies? Do we have the same need for social connection?
Social connection is still a necessity for introverts.
Even though introverts may not seek out social interaction or respond to social settings in the same way extroverts do, connection should still be a priority.
Social self-care may look different for an introvert but is beneficial nonetheless.
For example, an extrovert may thrive in large groups, meeting new people, and being in settings with lots of external stimuli. On the other hand, an introvert may prefer smaller, more intimate settings, and fewer one-on-one connections.
Though different, both of these scenarios are social self-care.
As aforementioned, social self-care is not one-size-fits-all. How social self-care looks is unique and personal to the individual.
Yet, one thing remains constant: healthy social connection is beneficial for all.
Let's explore some of the many different forms social self-care can take.
ARE YOU AN INTROVERT? Check This Out: 30 Solo Introvert Self-Care Ideas
31 Social Self-Care Ideas for Joyful Connection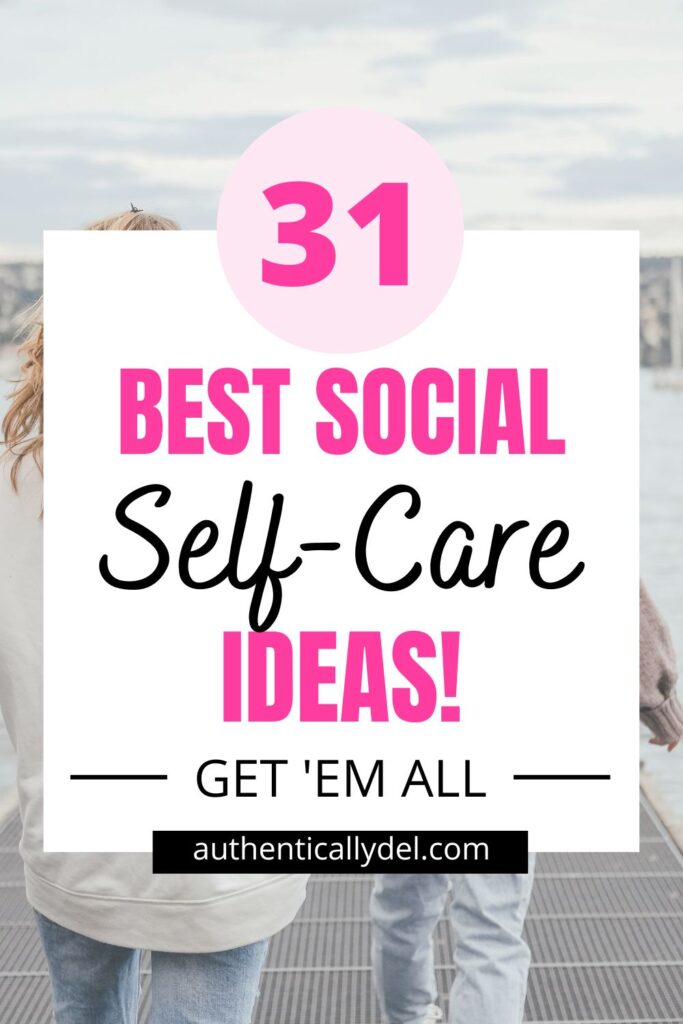 1. Reach out to an old friend
Nothing beats an old, long-term friendship!
Sometimes initiating a new friendship feels like a lot of work. Lean on those existing friendships. Those deep, core friendships are so meaningful.
Send a text to check in or initiate a plan to get together with a friend you haven't seen in a while!
2. Join a club
Either online or in person, joining a club for something you are interested in is a great way to build community, meet new people, and practice some social self-care.
I love my online book clubs where I get to connect with other book lovers over our shared interest in books!
Clubs are extra special because you get to explore a fun hobby or a passion alongside others. It's a perfect recipe for social connection.
3. Write a letter to a loved one
When was the last time you sat down and wrote out a traditional handwritten letter?
Handwritten letters have become less and less common – but they are not dead!
There is something so special about writing (or receiving) a handwritten message to/from someone you love… way more special than a text or DM!
Check out these 50 creative handwritten letter ideas if you're feeling stuck on where to begin.
4. Take your work to a public space
If you remotely or work from home, it can be really easy to isolate yourself in your WFH office space.
Don't get me wrong… there's beauty in being able to work from home in your sweatpants. But there's also beauty in the potential to work from other public spaces.
Take your work out to a coffee shop or cafe!
Just being around the energy of other people is a way to practice social self-care (while multitasking and getting your work done!).
5. Have a FaceTime date
Distance between you and a friend or loved one? No problem!
FaceTime dates can feel just as special and connective as an in-person meet-up.
Schedule a (virtual) face-to-face call with someone you love!
6. Give a hug
Hugs not only feel good, but they actually benefit our health too!
Did you know that hugs:
lower stress
boost immunity
lower heart rate and blood pressure
decrease depression
reduce pain
Healthline reports that "We need four hugs a day for survival. We need 8 hugs a day for maintenance. We need 12 hugs a day for growth."
Don't just listen to me, listen to the science… go give someone a hug today.
7. Go out to dinner with a loved one
Going out with a loved one is a bit of a double whammy in terms of social self-care.
Not only do you get to connect with your friend or family member, but you get to be around other people, communicate with wait staff, and immerse yourself in a public setting.
Plus, you get some yummy food too… talk about a win/win situation.
8. Volunteer
In addition to the socialization aspect, volunteering has many benefits for us as human beings.
Benefits of Volunteering:
connects you to others
offers a sense of community
builds a feeling of purpose
improves social and relational skills
counteracts stress, anger, and anxiety
combats depression and boosts happiness
boosts self-esteem
teaches valuable job skills
helps build a resume
inspires passion
brings fun and fulfillment
Another beauty of volunteering is how many options are available. No matter what you feel passionate about, you can almost always find a volunteering opportunity in alignment.
Love kids? Volunteer at a local school or children's hospital.
Love books? Volunteer at your public library.
Love animals? Volunteer at animal shelters or rescues in your area.
Love cooking? Volunteer to make meals for families in need in your community.
The opportunities are endless!
9. Call someone
One of the simplest ways to practice social self-care is to call someone. This is a quick, accessible, easy, and low-commitment way to get in some social interaction, build connections, and boost your mood.
Whether it's a friend, sibling, parent, grandparent, significant other, or other loved one, hopping on a quick phone call can drastically boost your mood!
10. Initiate intimacy
Intimacy can mean something different to every person. We often think of intimacy only in sexual terms – which is great. If you are comfortable and desire sexual intimacy, initiate it!
Intimacy can also be cuddling, kissing, holding hands, deep conversation, or simply intentionally being in the presence of another human being.
Regardless of what your personal view of intimacy is, this is an incredible form of self-care, relationship care, and connection-building.
11. Host an at-home movie night
This is one of my favorite social self-care ideas. After all, who doesn't love a fun movie night at home?
There are so many different directions you can take a movie night too! Spice it up and make it extra special.
Here are some fun, creative movie night themes to consider hosting:
charcuterie board night – everyone brings a themed charcuterie board
PJ party – pajamas only!
popcorn salad making – also known as movie theatre popcorn candy bowl
romcom movie night – pick 1-3 classic romcoms to binge-watch with your friends
movie jar – create a jar of movie suggestions from your friend group and pick one at random to watch
outdoor movie night – set up a projector screen in the backyard and have an outdoor movie at home!
12. Start a conversation with a stranger
Social self-care doesn't have to be planned or structured. A simple positive conversation with someone in passing can leave you feeling refreshed too!
Strike up a fun and lighthearted conversation in the checkout line, at the grocery store, or with your barista. Connect with a human!
13. Plan a date with your significant other
It can be tempting to fall into mundane habits and routines with a significant other – especially in a long-term relationship. Spice it up with a new, fun date night!
Check out these activity ideas: 250 Phone-Free + Fun Activities
You strengthen your connection with your partner when you share new experiences.
Think up a fun date activity the two of you can do together and make a plan to do it!
14. Join a support group
There is so much strength and power in community – especially when you share a deep connection over something troubling.
If you are working through your mental health, grief, addiction, or any other struggles, looking into a support group may be an excellent way to care for yourself during this time.
Whether online or in person, knowing you are not alone is so comforting.
Social media is a strong force in our lives – either positive or negative.
There are definitely some downsides to social media, especially when we are not actively seeking to make our accounts a positive place.
However, social media can also be a powerful tool used for good!
Learn to be intentional with your social media usage. Forming a positive connection with someone on social media is a very practical and accessible form of social self-care.
Give a compliment, connect with an old friend, send an uplifting DM, share some good news, or congratulate someone… go use social media for good today!
16. Bake for your neighbors
This is such a fun way to establish a relationship with your neighbors. Bake some cookies or your favorite sweet treat to drop off to the people that live around you.
Neighbors are like built-in friends and community!
Capitalize on those natural, convenient relationships.
17. Go for an outdoor walk
Find a well-populated walking trail or safe neighborhood to take an outdoor walk. Even if you head out solo, you will encounter other people on your stroll.
Just a simple smile, wave, or "hello!" is the perfect lighthearted human interaction for a mood boost!
18. Take a workout class
Practice some physical, mental, and social self-care all at once!
Find a form of movement that you enjoy and sign up for a workout class. This is a great way to move your body, break a sweat, and connect with other people.
JOIN VIRTUAL WORKOUT CLASSES ON ALOMOVES – CLICK HERE TO TRY 14 DAYS FREE!
19. Pay it forward
Did you know that studies have proven that making someone else smile actually makes us happier too? As humans, we love to feel like we are making a positive impact on the lives of those around us.
Spread some joy by paying it forward.
When you buy your coffee, offer to pay for the order behind you. Treat a stranger to a random gift of happiness. You'll boost their mood and, in turn, your mood will be boosted too.
20. Call an elderly loved one
Pick up the phone and dial a grandparent, great aunt/uncle, past teacher, or other elderly loved one.
Not only will you completely make their day, but you will boost your own mood too.
Take 10-20 minutes out of your day to call someone you love and appreciate and tell them so. Trust me, you'll never regret doing so.
21. Set boundaries
Social self-care isn't only about having relationships – it's about making sure that you have healthy relationships. Boundaries are key for this.
Your social interactions should be adding to your life, not taking away from it.
Setting boundaries is a form of self-care in itself. They allow for your relationships to be equal, fulfilling, and respectful for all involved.
Everyone benefits from having clear boundaries in a relationship!
Check This Out: 75 Encouraging Affirmations for Setting Boundaries
Take 20 minutes or so to do a social media detox. You deserve to have positive social media platforms that feel encouraging and uplifting.
Clean out your following list. Unfollow negative accounts or people that make you feel unhappy online.
In their place, add positive social media accounts that encourage you and make you smile.
Make your social media a positive place! You get to curate your following list – make it supportive of your happiness.
23. Shop local shops and markets
This is a super natural way to spark some conversation with other human beings. Take an afternoon to wander around a local farmers market or some mom-and-pop shops.
Not only are the owners/workers at these places always super chatty and friendly, but you are also able to be around other people while browsing.
This is the perfect little afternoon activity for some social self-care.
24. Host a game night
Games, snacks, drinks, and friends… this is an ideal social self-care situation.
Reach out to some friends or family members and get them together for a game night. Host a potluck-style dinner, make some fun cocktails (or mocktails!), and choose some of your favorite games.
Playing games with friends makes you feel like a kid again – it's the best!
Check out my favorite game night games for adults:
25. Start therapy
Starting therapy is one of the best ways to care for your mind, body, and soul.
Not only is talk therapy social self-care, but it is an incredible way to care for yourself all around.
Therapy is not just for those with diagnosed mental health disorders – I firmly believe therapy is for everyone!
Start your in-person therapy hunt on Psychology Today or try out Talkspace to be matched with a therapist online.
26. Take an online class
Start a hobby, learn something new, and put yourself in an environment to connect with others in the meantime… It's a win, win, win.
TRY OUT ONE MONTH FREE ON SKILLSHARE HERE
There are so many options for virtual classes. No matter what your interest is, there is most likely an online class for it.
One of the best ways to connect with others is to bond over a shared interest or passion. Taking online courses can help you build that.
Be a lifelong learner – it's good for all areas of self-care!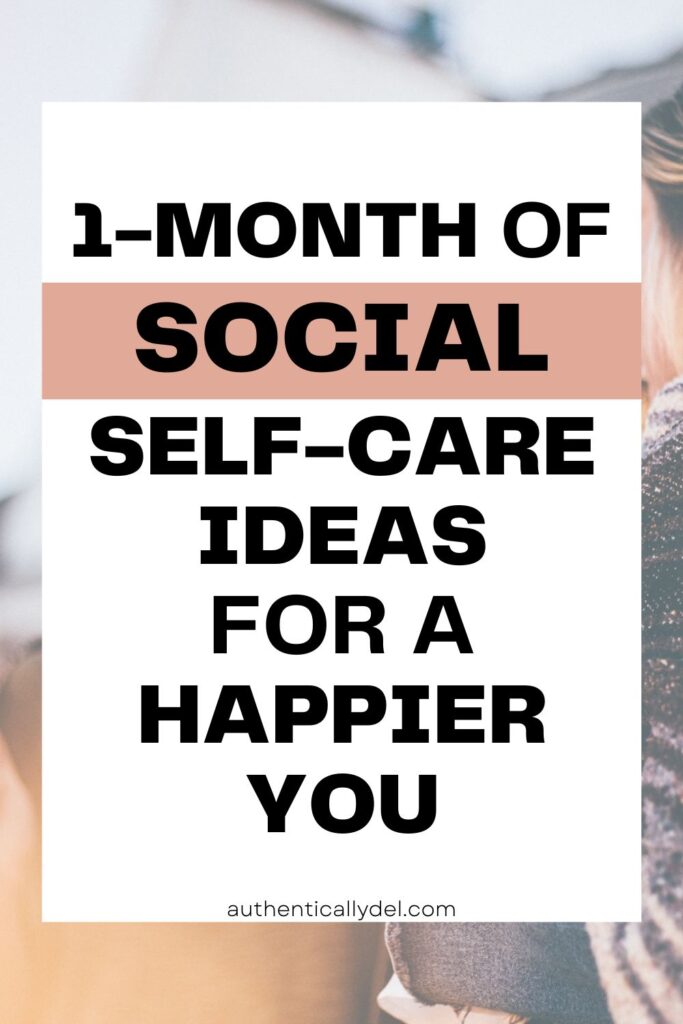 27. Build an online community
Feeling up for posting yourself online? Do it! You'd be shocked at the amount of community and connection you can build on social media.
Social media can be a really beautiful gift in the way it allows us to feel less alone and more connected to a community of people all over the world.
Just by starting to post on social media, I've established bonds and connections with others and, as a result, am way happier. Internet friends are friends too!
28. Give a gift
Gift-giving is a great way to show your loved one how much you appreciate them. This helps further establish and build connections, which, in turn, also benefits you and your social self-care.
Consider making your loved one a self-care kit, a handwritten letter, or choosing a gift for their love language.
These are all simple and quick gift ideas that they are sure to love!
29. Connect with a coworker outside of work
As adults, work is one of the main sources of socialization for many of us. See this as an opportunity for friendship, relationship, and social self-care!
Suggest a post-work meet-up with your work community or pick one specific coworker you connect with and ask to go to coffee.
This is perfect for anyone who struggles to initiate new connections – you can capitalize on the relationships already in your life.
30. Host a potluck
It's a dinner party with less prep work – what more could you ask for?
Get creative and have some fun with this.
For example, if it's summertime, an outdoor BBQ potluck is a perfect idea. If it's a colder time of year, host a cozy soup or casserole potluck!
This is a great way to engage your guests, build community, and connect with the people in your life.
31. Tell a loved one you love them
Those three words: "I love you". They're so powerful.
There are so many reasons to tell a loved one you love them. Most of all, this reinforcement of your emotions strengthens the relationship and bond between you two.
Those three words are not only nice to hear, but they fell good to say too. Practice some social self-care and go tell someone you love them today!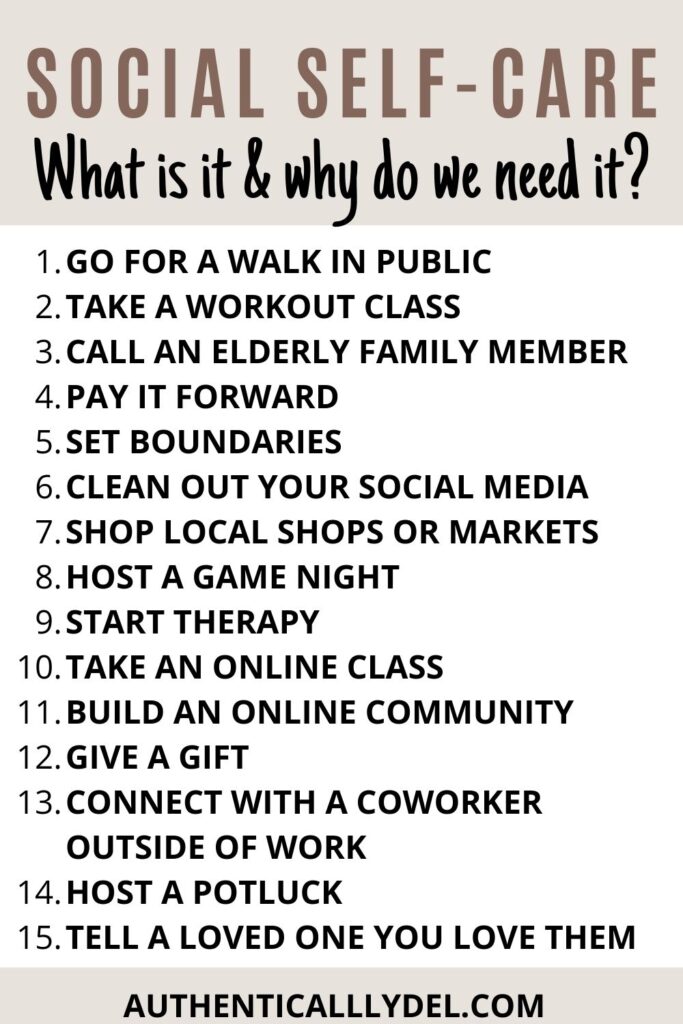 Community self-care and building strong social relationships is important to your health (mental and physical) and overall well-being.
When we think of self-care, we often imagine only bubble baths and face masks… but it's so much more than that too.
Self-care can also be giving a hug, complimenting a stranger, or telling someone "I love you".
Our relationships matter. Take the time and energy to prioritize cultivating loving, fulfilling, healthy relationships in your life. You deserve it.