This post may contain affiliate links meaning that, I may make commission if you purchase through my links. Learn More. 
Celebrating your life accomplishments is so important. You deserve to be your own biggest cheerleader. Here are 100 examples of life accomplishments you should feel proud of.
What Is a Life Accomplishment?
Life accomplishments are any moments in life where you've experienced success, growth, or a form of achievement.
These life accomplishments can be related to any area of life.
Some of the most common life accomplishments we celebrate are related to career, family, education, relationship, or financial success.
That said, life accomplishments related to mental health, physical health, personal development, and other forms of internal growth are also worth celebrating!
These life achievements are often those milestone moments that we commit to memory and can look back on with pride and a sense of accomplishment.
For example, graduations, weddings, career promotions, homeownership, etc. are all monumental moments and major achievements in life.
There are tons of other examples of life accomplishments to be proud of. We are going to explore 100 different life accomplishment examples in this post.
100 Celebration-Worthy Life Accomplishment Examples
Let's explore some major life accomplishments in all areas of life: career, finances, relationship, personal growth, environment, mental health, and physical health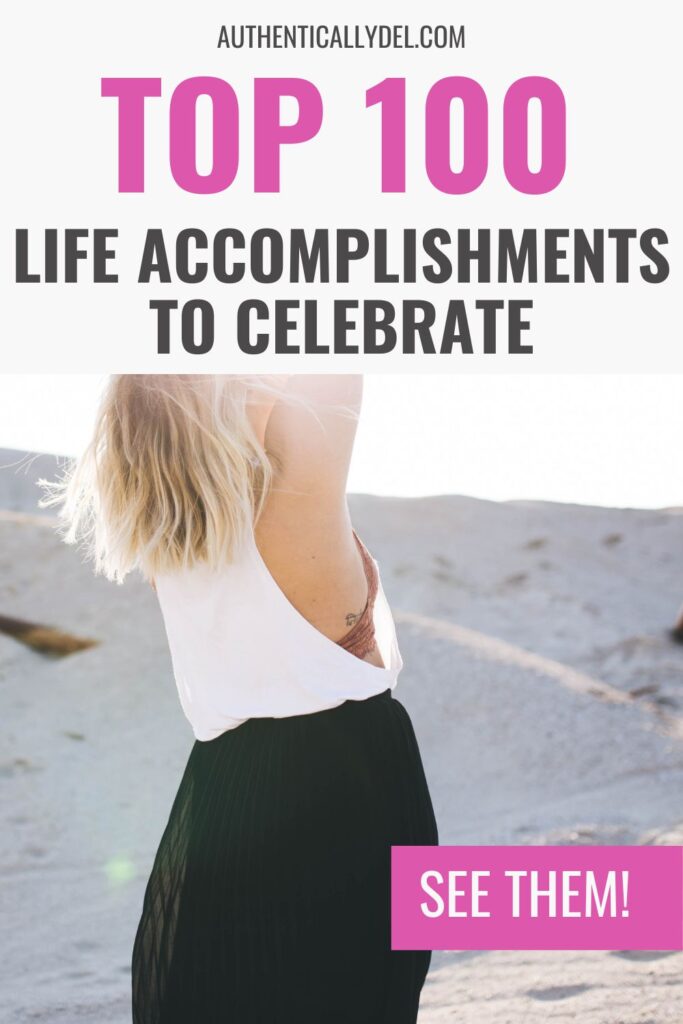 Education, Career, & Finance Life Accomplishments
Starting your first job
Graduating high school
Graduating college
Getting a higher level of education (Master, Doctorate, etc.)
Getting a new job
Completing an educational work course
Getting a raise
Reaching a certain amount in your savings account
Starting your own business
Getting a promotion
Starting your IRA
Investing your money
Making a big career switch
Quitting a job that doesn't bring you joy
Going back to school
Completing a special job certification program
Becoming self-employed
Starting a passion project side-hustle
Having a presentation or job duty that goes well
Getting praise for your work
Relationship, Lifestyle, & Environment Life Accomplishments
Falling in love with yourself
Falling in love with another human
Ending a relationship that was unhealthy for you
Moving out of your parent's house
Living on your own for the first time
Buying your first home
Buying a car
Traveling by yourself for the first time
Visiting a new country/state
Completing your travel bucket list
Making a new friend
Attending a high school reunion
Getting engaged
Getting married
Having a child
Getting a pet
Renting your first apartment
Setting boundaries in your relationships
Taking a road trip
Being an involved/active friend/family member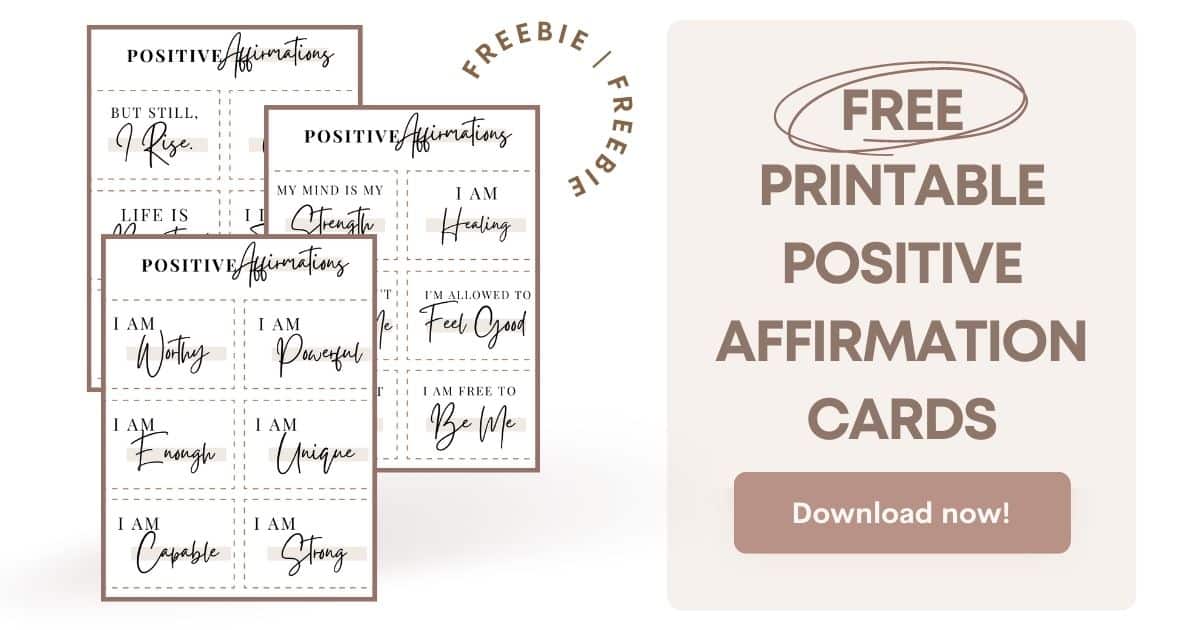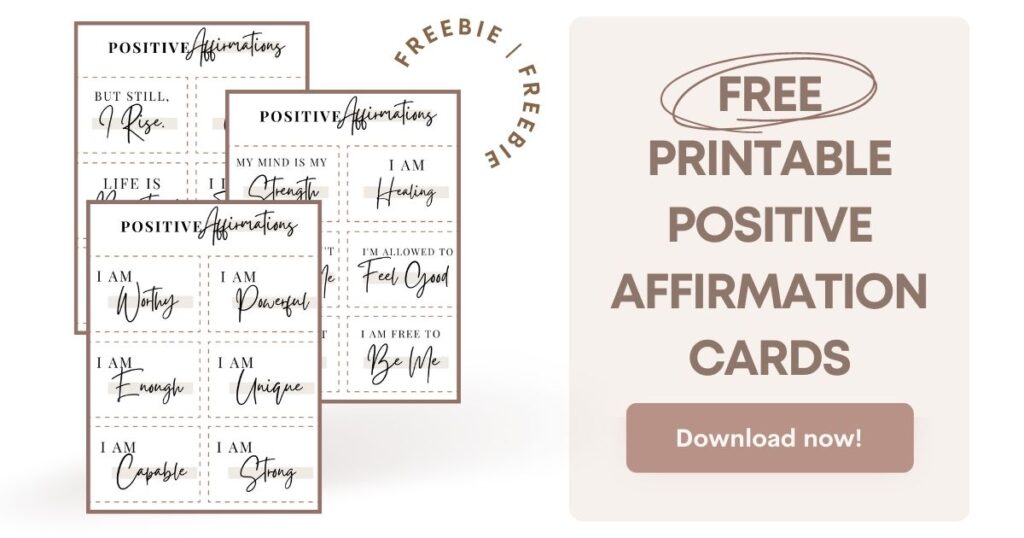 Personal Growth Life Accomplishments
Learning to love yourself
Journaling daily
Finding a new hobby
Healing your relationship with food/body image
Distancing yourself from unhappy environments
Creating art
Learning how to meditate
Turning another year older – every birthday is one to celebrate!
Creating a fun bucket list
Quitting a bad habit
Developing a good habit
Improving self-confidence
Making your bed in the morning
Keeping a tidy space
Learning how to cook
Learning a new skill
READ: 20 Creative Things to Learn When Bored
Learning a new language
Reading all the books on your TBR list
Taking a risk
Standing up for yourself
Setting new goals for yourself
Facing a fear
Volunteering
Being an advocate for something you believe in
Voicing your opinions
Learning to play an instrument
Starting a self-care routine
Spending time in nature
Achieving a goal you set for yourself
Feeling at peace with yourself and your life
Mental & Physical Health Life Accomplishments
Overcoming a mental health struggle
Learning to love yourself
Drinking more water
Exercising because you love your body
Eating more fruits and vegetables
Finding joyful forms of movement
Reading more books
Achieving a strength/weight-lifting goal
Running a 5k/half-marathon/marathon
Starting therapy
Overcoming battles with anxiety/depression
Practicing positive affirmations
Learning to put your happiness first
Taking care of your skin
Attending all your regular check-ups and medical appointments
Flossing your teeth
Quitting yo/yo dieting
Becoming skilled at making healthy recipes
Finding simple joys in everyday life
Learning how to accept help/support/love
Managing stress and prioritizing peace
Creating a self-care routine
Quitting smoking/drinking/drugs/etc.
Creating a positive relationship with social media
Developing a healthy relationship with food
Getting enough sleep
Making room to enjoy treats
Learning to listen to your body's needs and cues
Lowering stress levels
Treating yourself with love and kindness
Celebrate Your Life Accomplishments
It's easy to get caught up in always chasing the next best thing. In some ways, this can be a positive. Wanting growth and having goals is great!
But when's the last time you took a moment to truly reflect and celebrate yourself for everything you have already accomplished?
Big or small, your achievements deserve to be acknowledged and celebrated – by you and by those around you.
Never downplay how amazing you are. You are strong, brave, powerful, and accomplished.
Celebrate that.
What are your top 3 life accomplishments?
I'd love to celebrate your accomplishments in life with you! What do you feel are the 3 life achievements that you are most proud of?
There's no such thing as a "right" or "wrong" answer here. If you feel pride, it deserves to be celebrated!
Let me know in the comments so I can cheer you on!
More Posts for You
100 Things to Love About Yourself
50 Solo Date Ideas for Self-Love