This post may contain affiliate links meaning that, I may make commission if you purchase through my links. Learn More. 
Want to add journaling into your routine but don't know quite what to write about? These 80 easy, simple journal prompts for beginners can help get you started.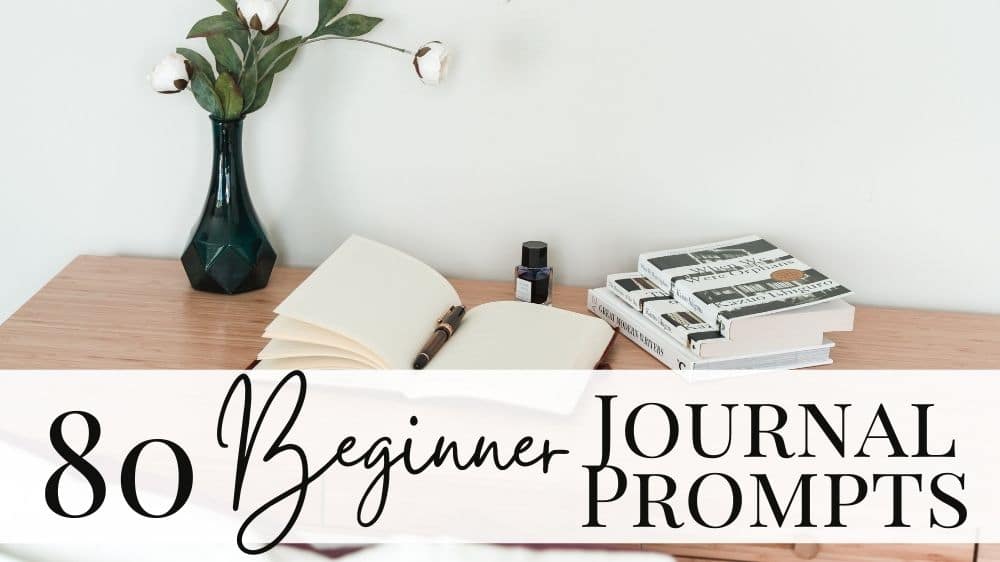 Journaling is an incredible form of self-care that allows you to connect to yourself and express your inner thoughts.
As a long-time journal-lover myself, I try to incorporate both morning and nighttime journaling into my everyday routine.
Journaling is a great way to relax, clear your mind, calm your body, and connect with yourself. Oftentimes our heads get clouded with thoughts and journaling helps to unpack them.
If you are new to journaling, it can feel like a task on your to-do list rather than a form of self-care.
How do I journal? What do I write? How much do I write? Am I doing this right?
These are all really common thoughts in the mind of a beginner journaler. But, I'm here to help make this easier on you!
These 80 journaling prompts for beginners are simple and easy. They're the perfect way to get those creative juices flowing.
So grab your favorite empty notebook, pick up the perfect pen, and let's get started writing!
80 Simple & Easy Beginner Journal Prompts
To break these beginner writing prompts down a bit more, I've broken them into categories!
There are endless possibilities for what you can journal on, but for the sake of these beginner prompts, we will focus on 4 main journaling categories:
Reflection
Manifestation
Brain Dump
Fun
Reflection Journal Prompts for Beginners
Use these journal prompts to guide you towards introspection and encourage you to reflect on a moment or phase of life.
How was your day today?
If you could describe your day in one word, what would it be? Why?
How do you currently feel? Physically, mentally, emotionally, etc.
When was the last time you felt pure joy? Who was there? What were you doing?
What is holding you back from complete happiness?
Make a list of everything you are grateful for.
What is something you've achieved this week? How does that make you feel?
What is something you've achieved this month? How does that make you feel?
What do you feel happy about right now?
What is making you feel unhappy right now?
Are there any major stressors in your life right now? Can you identify them?
I feel most relaxed when I…
Write about your love language and describe a time you felt loved.
Who is someone you need to forgive?
CLICK HERE FOR MY CUSTOM-MADE DAILY REFLECTION JOURNAL
What is your first memory?
Write about a childhood tradition you cherish.
What mistakes have you made that you need to forgive yourself for?
Are you happy with the person you currently are? Why or why not?
What is something that currently worries you?
When you can't fall asleep, what's on your mind?
What anger or resentment are you still holding onto? Release it onto the page.
What areas of life feel secure to you right now? Where are you content?
What areas of life need some work right now? How does that make you feel?
Describe this phase of life. When would you say this "phase" began? What words would you use to describe this phase?
What is something you need to get off your chest? Let it out.
Manifestation Journal Prompts for Beginners
While the previous section was all about reflecting back, these journal prompts are all about looking forward. Let's explore what you want for your future and how you can get there.
RELATED POST: How to Write a Manifestation List
Write out a day in your "dream life". (Be sure you write as though it is true and happening right now!)
What are your current monthly goals?
Where do you want to be in 5 years? Think career, relationships (with others and yourself), financial, etc.
What is one thing you can do tomorrow that will get you closer to your goals?
List out everything you hope to attract into your life.
Translate the list from #30 into present-tense statements. (ie. if you wrote that you want to meet your soulmate, write "I am living my happiest life with my soulmate by my side". This is the key to manifestation!)
How can you make tomorrow a better day than today?
How can you add joy to your life?
Make a list of "look-forward-to"s for the next week. How can you do something fun every day?
Plan out self-care activities for the next month.

What is something you are looking forward to?
Describe your dream partner in great detail. Looks, personality, etc.
Write a list of positive affirmations for yourself.
Make a bucket list for the next year.
Make a bucket list for the next 5 years.
RELATED POST: 100 Bucket List Ideas for Your 20s
Describe your ideal vacation in great detail. Who's with you? Where are you? What are you doing?
Describe your dream home. Sketch a picture if it helps you to visualize it!
Make a list of actionable steps you can take to improve your life.
Moving forward, what is something you hope changes in your life? How can you facilitate that change?
Do you believe you are worthy of your dream life?
Split your page in half. List out all your short-term goals on one side and your long-term goals on the other.
Write a letter to your present self from your future self. Describe everything you've achieved in the future.
Make a list of any goals for your life. Get them all on paper.
Create a vision board with fun images, words, and quotes. (Get a vision board kit to guide you!)
Brain Dump Journal Prompts for Beginners
Sometimes our journals are simply a tool to clear our minds. When our brains get filled with thoughts, worries, questions, and emotions, it can be a lot to carry.
Using your journal to get free yourself from those thoughts can help. Here are some prompts to help guide your brain dump.
Write down anything causing you stress right now.
Without worrying about organizing them, make a list of all the to-dos on your brain.
Write down any words that come to mind when you think about your life right now.
What outstanding tasks do you have?
Make a list of all your work to-dos that are on your mind.
Make a list of all your home to-dos that are on your mind.
What do you need to let go of? Write anything that comes up?

Look at the upcoming week. Write down all your to-dos/tasks and assign them a day.

Doodle, draw, sketch, or scribble. There are no rules for this.

Set a timer for 5, 10, or 15 minutes and just write anything that comes to mind.
Creative & Fun Journal Prompts for Beginners
Journaling doesn't have to be deep, reflective, or meaningful all the time. Sometimes we can journal just for fun! Here are 20 prompts for those just-for-fun journaling moments!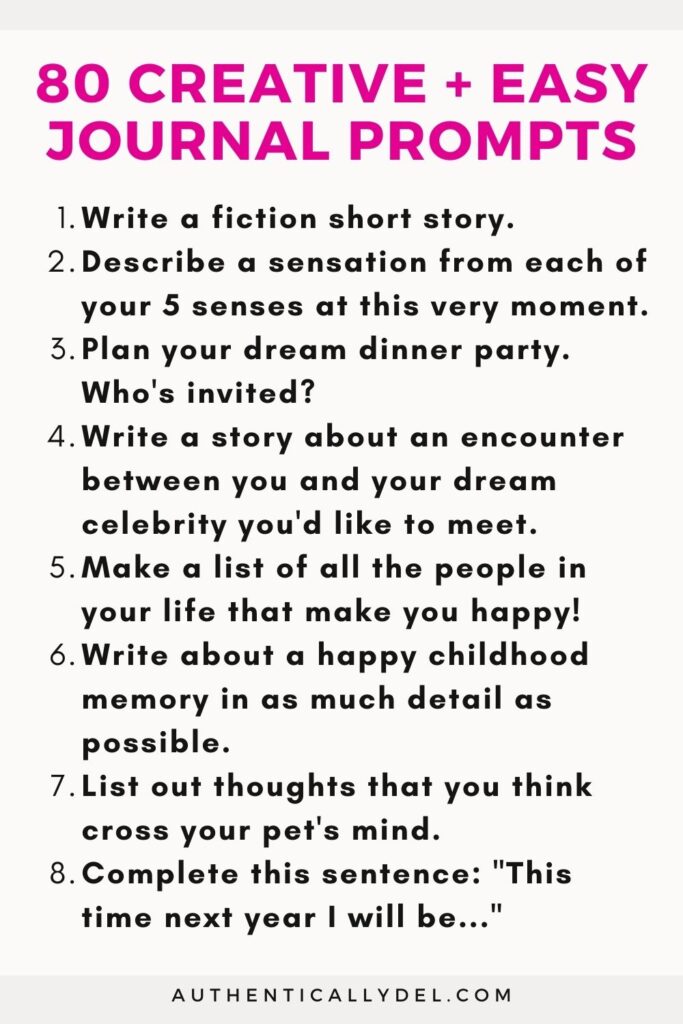 Write a fiction short story.
Look out your window and write a story including the first thing you see.
Describe a sensation from each of your 5 senses at this very moment.
Plan your dream dinner party. Who's invited? Have fun with this. Get creative!
Shuffle your music and use a line from the song as the first line of a story.
Write a story about an encounter between you and your dream celebrity you'd like to meet.

Make a list of all the people in your life that make you happy!

Write about a happy childhood memory in as much detail as possible.
List out thoughts that you think cross your pet's mind.
Make a list of movies and/or books you want to watch/read. (There's a guided sheet for this in my self-care journal!)
Complete this sentence: "This time next year I will be…"
Write about your dream day in detail.
If money was not a factor, what would you do?
Doodle, sketch, or draw.
If you could invent a new holiday, what would it be? What would you call it? How would you celebrate?
What would you do if you could not fail?
If you had 3 wishes, what would you ask for? (You can't ask for more wishes… nice try!)
If you could meet any fictional character, who would it be? Why?
Write about as many "firsts" as you can remember. (First kiss, first teacher, first friend, first vacation, first significant other, etc.)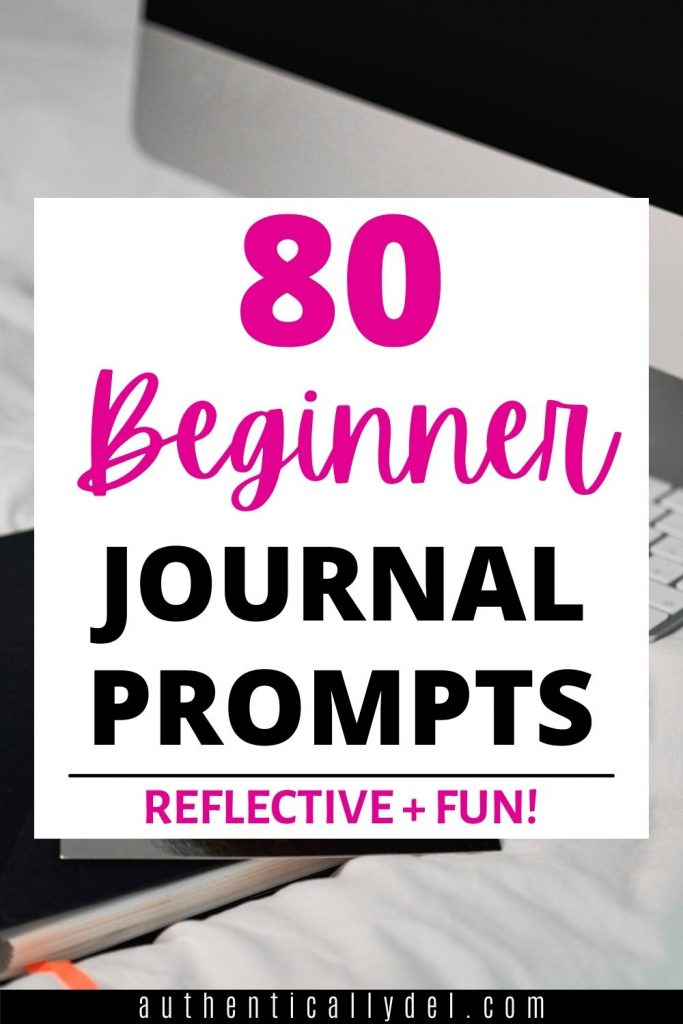 How to Use These Simple Beginner Writing Prompts
"I don't know what to journal about."
This is such a common phrase among beginner journalers. It can feel overwhelming and intimidating to start journaling with no clear prompt or guide.
These beginner journal entry ideas can help get the ball rolling.
Over time, it only continues to get easier and feel more natural. By starting with simple journaling prompts like these, you get in the habit of journaling and can start to practice your skills.
Later on, you may not even need journaling prompts to write.
You may find that free-writing journaling comes naturally… Or you may still enjoy using writing prompts as a way to get inspired.
I am about 50/50. Sometimes a good, simple journaling prompt is exactly what I need to get started writing.
5 Tips for Easy Journaling:
Find a quiet space to write
Take your favorite journal and your best pen/pencil
Choose a prompt (by hand or randomly select)
Write the prompt at the top of your journal page
Let your creativity take it from there!
Have fun with this! Allow your internal thoughts to spill out onto the pages.
There are no rules or limitations. That is the beauty of journaling.
Relax, take the pressure off yourself, and enjoy your journaling time!
Shop My Printable Journaling Collection