This post contains affiliate links meaning that, at no additional cost to you, I make a small commission if you purchase through my links. For additional information, visit my affiliate disclosure. 
These positive Wednesday affirmations are here to help you overcome the mid-week slump, remain motivated, and finish out the week strong.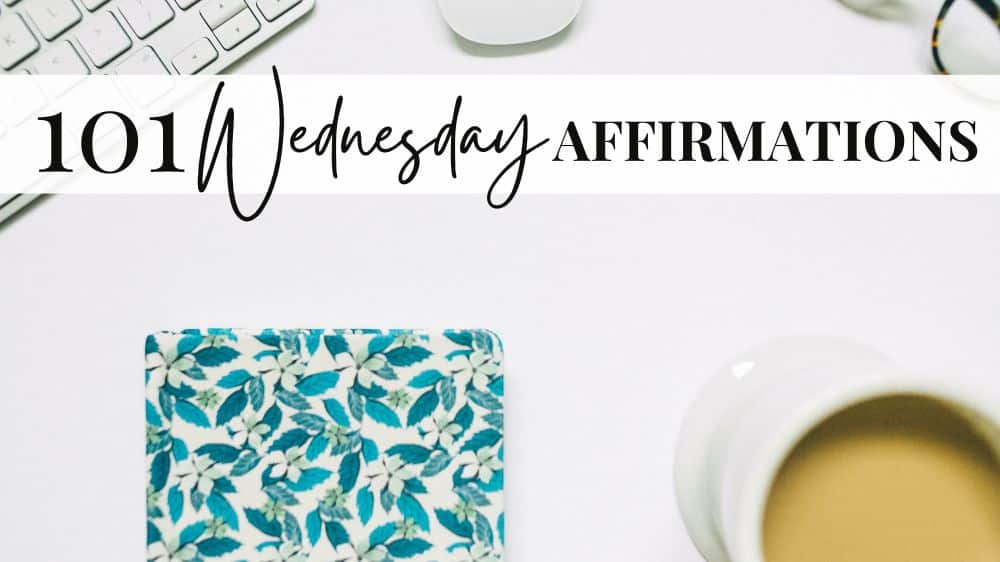 There's no better way to overcome that midweek slump than with these positive Wednesday affirmations.
Whether you need a mood boost, motivation to remain productive, a quick laugh, or a reminder of how wonderful you are, using these midweek affirmations is going to help you transform your Wednesday from 'blah' to beautiful.
Hump day is hard. Let's be real.
But you don't have to let exhaustion, fatigue, or overwhelm weigh you down.
Get reenergized to finish out your week on a high note by adjusting your mindset with positive affirmations for Wednesdays.
Let's dive into 'em!
100+ Positive Wednesday Affirmations
Below you will find affirmations for Wednesday morning/night, work motivation, wellness, happiness, humor, and more!
Wednesday Morning Affirmations
I can make this Wednesday anything I choose.
A fresh day is an opportunity for a fresh start.
I am rested and ready to take on this Wednesday.
I run today. Today does not run me.
Today is going to be filled with beauty.
I am going to make the most of anything thrown my way today.
No matter what, I am capable of making it through today.
I will show up for myself today.
Today, I feel refreshed and rejuvenated.
This Wednesday brings new opportunities for growth, success, and happiness.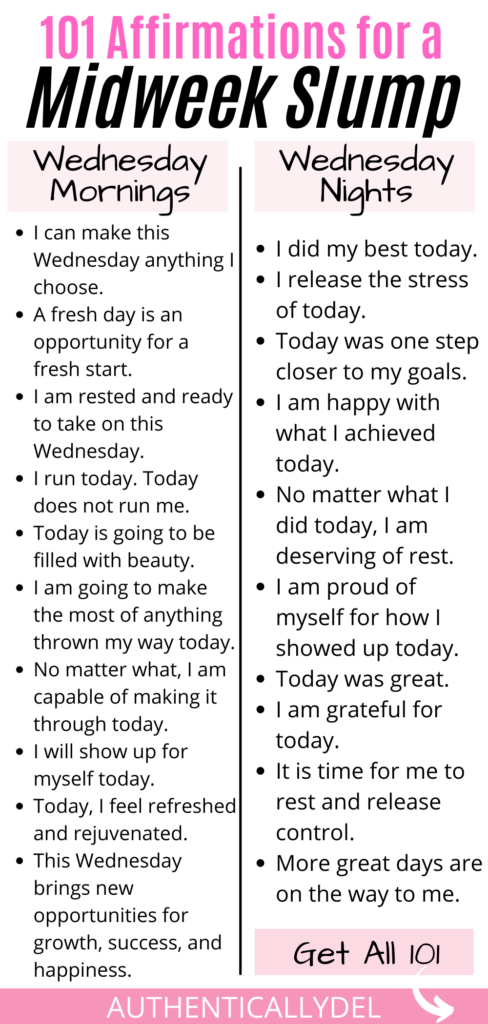 Wednesday Affirmations for Work
I am showing up ready to work this Wednesday.
My job is meaningful.
I am proud of the work I create.
I am focused and on-task this Wednesday.
The halfway mark of this week motivates me to complete my goals.
I am incredibly skilled at my job.
Work is a joy, not a task.
I am focused and driven.
I am appreciated for the work I do.
My worth is more than my work and productivity.
I am taking steps toward my goals.
This job is helping me grow as a human.
I am productive, successful, and high-achieving.
I am grateful for the opportunity this job offers.
My goals are within reach.
I see obstacles as a chance for growth.
Every day I am one step closer to my dreams.
I am talented.
My work is bettering the lives of those around me.
I am needed and valued in my workplace.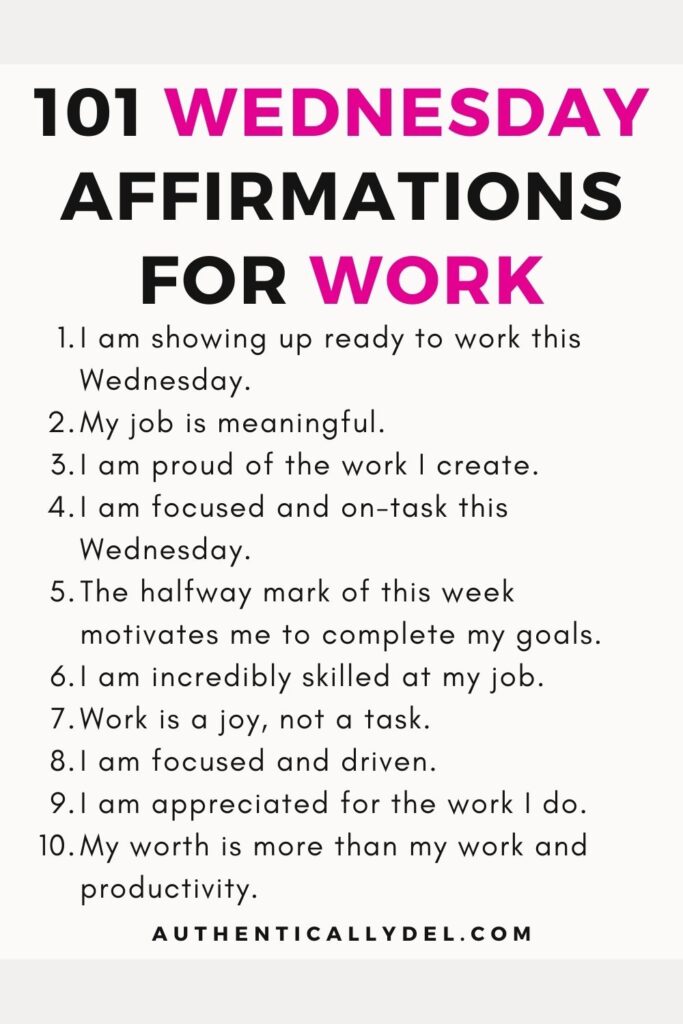 Wellness Wednesday Affirmations
I prioritize my mental and physical health.
I allow myself to rest.
My worth is unwavering.
I am healthy.
I am happy.
All is well in my life.
I am so grateful for my health.
My body is such a gift.
I am caring for my mind and soul.
I can do things that fulfill me.
My body is working for me.
I deserve to feel well.
Healthy habits come naturally to me.
I am deserving of self-care.
Taking care of myself is always a priority.
I am worthy of the love and care I show others.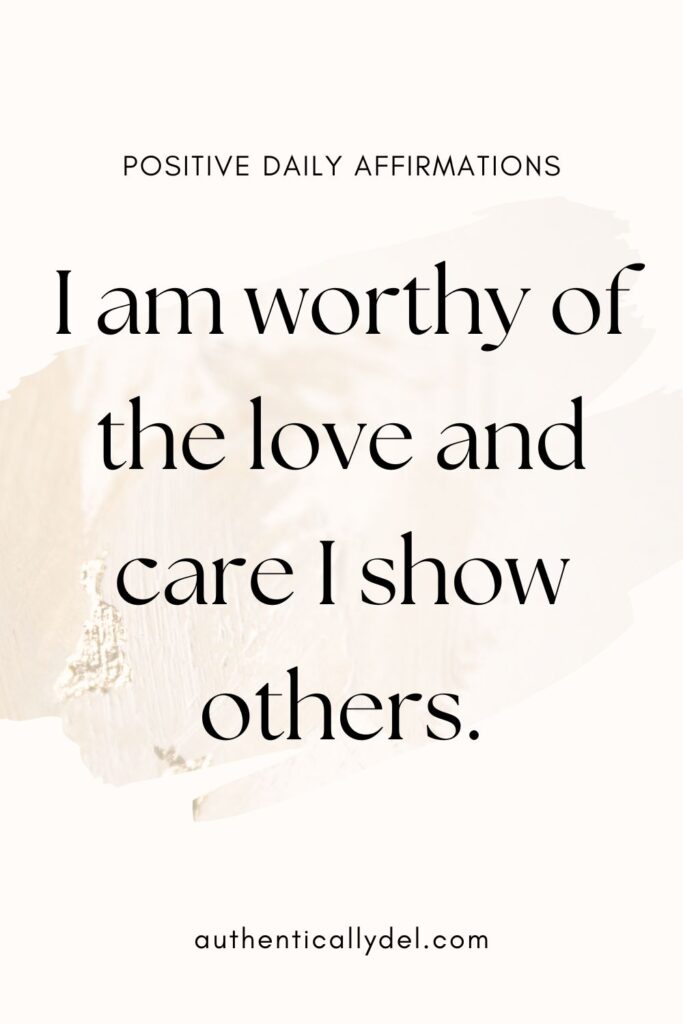 My health and well-being come before work.
I am developing good mental health habits.
My mental health is improving.
I will speak to myself with kindness and positivity today.
Happy Wednesday Affirmations
I love Wednesdays.
Happy Hump Day!
I radiate positive energy.
Happiness surrounds me.
I am blessed with great relationships in my life.
Every area of my life is filled with joy.
I have the power to make this Wednesday a happy one!
I am grateful for my life.
Happiness is a mindset.
I am worthy of feeling happy.
Simple joys are all around me.
I am learning to appreciate the simple pleasures in life.
Happiness is headed my way.
I can find joy – even in challenging situations.
I trust the universe to deliver me things that bring me joy.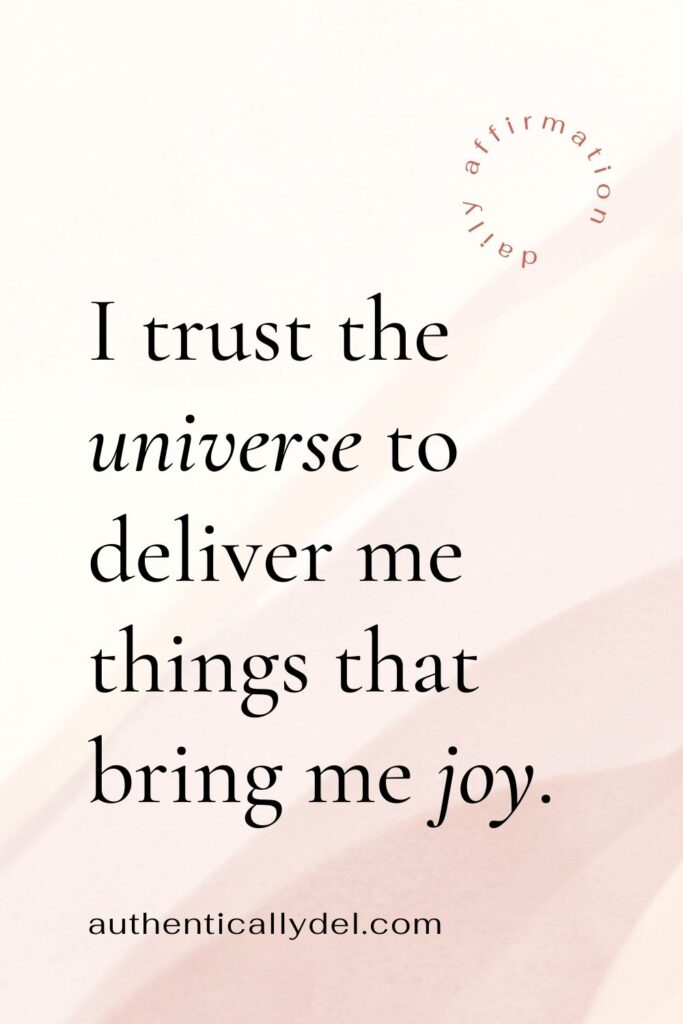 Wednesdays are beautiful!
I am happy to be alive.
There are so many reasons to smile.
I am grateful for the life I live.
I have amazing people and wonderful blessings in my life.
Funny Wednesday Affirmations
With strong coffee, I can do hard things.
Wednesday – it's not Friday, but it'll do.
At least it's not Monday!
It's almost, sorta, kinda, (not really) close to Friday.
I am manifesting a short workday and a full coffee cup this Wednesday.
With coffee, all things are possible – even Wednesdays.
May this Wednesday be great – or at least short.
I am choosing to think 'wow, it's Wednesday already!', instead of 'wow, it's only Wednesday?'.
This Wednesday, I will have a Friday mindset.
I will choose to see the glass half full today – as long as it's filled with coffee.
Wednesday Night Affirmations
I did my best today.
I release the stress of today.
Today was one step closer to my goals.
I am happy with what I achieved today.
No matter what I did today, I am deserving of rest.
I am proud of myself for how I showed up today.
Today was great.
I am grateful for today.
It is time for me to rest and release control.
More great days are on the way to me.
More Positive Wednesday Affirmations
I have the power to take control of my life this Wednesday.
Wednesdays are a gift.
I am strong, confident, and powerful.
Wednesdays are the best.
I can show up as my best self this Wednesday.
The midweek slump does not control me.
I am overcoming obstacles and getting stronger every day.
Wednesdays are my favorite day.
I am ready to finish the week strong.
I am grateful for this Wednesday.
101. I love Wednesdays!
How Wednesday Affirmations Can Benefit Your Life
There are multiple reasons why Wednesday affirmations may be a valuable addition to your weekly routine.
The midweek/Wednesday slump is a very real thing.
After Monday and Tuesday, it's incredibly common to be feeling fatigued, exhausted, and struggling with low energy.
Wednesdays are tough, too, because you know you still have two more days to go in the week.
You're exhausted from the first half of the week but aren't close enough to Friday to have that "almost there!" motivation.
They call it hump day for a reason. You gotta push through to get over the hump in order to finally feel the relief of the downhill slope to Friday.
This is where positive Wednesday affirmations can really make a difference.
Benefits of Wednesday Affirmations
1. Boost Motivation & Productivity
Sometimes it's hard to get going on a Wednesday.
There are times when you'd rather curl up in bed and pull the covers over your head than get up and face the day. We've all been there.
Overcoming this motivation block starts with shifting your mindset. This is where affirmations come in.
Positive affirmations have been linked to improved motivation, achievement, and energy levels.
Even if it feels like the last thing you want to do, taking actionable steps to reframe your thoughts and approach the day with a more positive, motivated outlook can make a huge difference.
Speak these positive, motivating Wednesday affirmations into existence next time you need that extra push.
2. Increase Self-Confidence
Are you someone who struggles with self-confidence?
Whether it be self-doubt regarding your work, your relationships, your body image, or something else, low self-confidence can be a total mood-crusher.
When coupled with the midweek slump and exhaustion, these negative self-talk thoughts can be even louder.
Positive affirmations are one of the most effective ways to transform the way you think about and speak to yourself.
The way you talk to (and about) yourself matters!
As an ED recovery and body image coach, I use positive affirmations with my clients to help transform their inner dialogue and the way they perceive themselves.
Challenge your ingrained negative beliefs about yourself and move forward with security and confidence in yourself.
Push yourself to face your Wednesday (and the rest of your week) with a more confident, self-assured attitude by using positive affirmations and mantras.
3. Improved Mood & Positive Energy
Wednesdays are tough… when you face them with a negative mindset.
If you wake up on hump day feeling cranky and pessimistic, your Wednesday is going to reflect that same energy back to you.
You get what you put out!
Using positive affirmations can completely change the energy that you present yourself with.
Affirmations have been directly linked to improving happiness levels, boosting mood, and feeling happier.
When you give off high vibes and positive energy, you will receive that same good energy back from the universe.
In other words, these Wednesday affirmations are the key to a happier day and more positive rest of the week.
More Weekday Affirmations + Journal Prompts